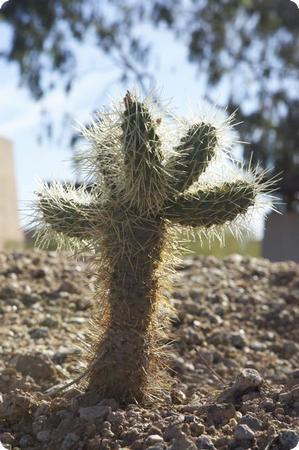 Welcome to the first themed edition of Photo Friday... if you have a warm weather photo to share, please do! If you don't, you shouldn't let that stop you from joining in.
One of the things that has been fun here in Arizona is seeing such a wide variety of cacti growing everywhere. The kids are fascinated, and picky E has even volunteered to try eating cactus if I can find it on a restaurant menu.
A few seconds after snapping this photo, my husband accidentally stepped on a piece of cactus from a dead plant. D was intensely interested as he carefully removed the spines from his shoe. Every morning since then, as we leave the hotel, she admonishes him "Daddy, I don't want you to get a cactus on your shoe again."
Related Links:
Phoenix, AZ with Kids
Photo Friday: Please Share Your Photos:
Share a favorite travel photo by adding your link below. First timers, here is more Information about Photo Friday
10 comments | Posted on January 1, 2009 |

Save to del.icio.us



Subscribe to our feed