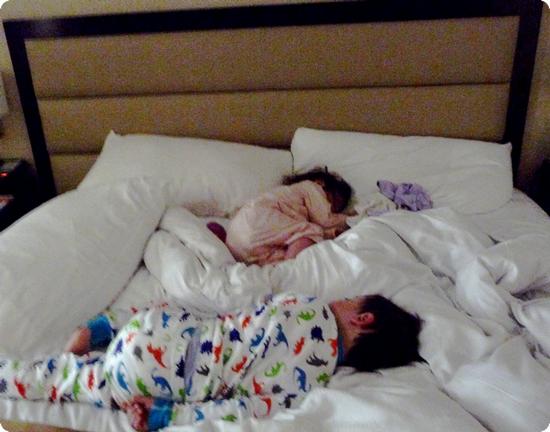 I am on an ongoing (and completely unsuccessful) mission to teach my kids to fall asleep in the same bed when we travel. Before each trip, I enjoy delusions about the kids drifting quietly off to sleep together while my husband and I sit in the suite's living room sipping tea or watching a movie.
Of course it never works out quite that way. The evening starts with the kids super excited about the prospect of sleeping in the same bed, so excited that they can't settle down. The kids promise to avoid a litany of funny sounding behavior that will get them separated "no shenanigans, hocus pocus, dilly dally, or chitter chatter" and then proceed to break every rule. When one settles down, the other suffers from renewed energy. I'm so desperate that I give them about 1000 chances to clean up their act (which only makes matters worse). Finally I separate them, sulking in a darkened room with D until both kids are asleep and I can move her back in to the bedroom.
Sometimes, like on this trip to Chicago, we have only one room, and the kids are awake until they finally can't hold their eyes open for another minute & then I sneak in to take a picture of them sprawled out on the bed -- fuel for renewed optimism on our next family vacation.
Photo Friday: Please Share Your Photos:
Share a favorite travel photo by adding your link below. First timers, here is more Information about Photo Friday
10 comments | Posted on January 29, 2009 |

Save to del.icio.us



Subscribe to our feed