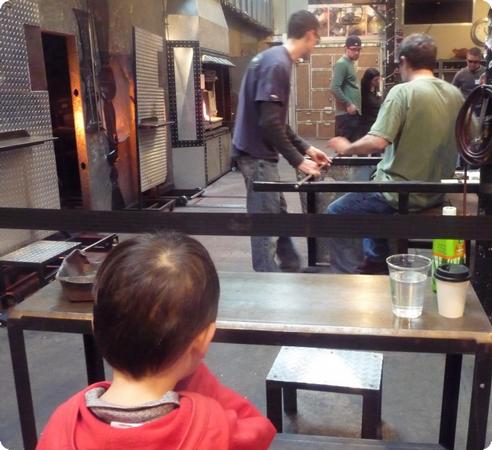 With breakable (and expensive) artwork everywhere, and searing hot ovens in the back, a glassblowing studio hardly seems like a great destination for children. Still, when we're downtown, and the kids are in a manageable mood, the Seattle Glassblowing Studio makes a fun outing.
The shop is filled with blown glass objects, from colorful fish and reef displays, to vases and practical objects like lighting or bowls. Each item is hand blown, unique, and a great reminder of why Seattle is known as the center of the craft glass art movement.
Once they've received strict instructions not to touch a thing, the kids love exploring the shop. D squeals with delight whenever she discovers something new. When they finally tire of the displays, we head to the back of the studio and take in the action at the hotshop. On week days, we're most likely to see artists working in the studio, and on weekends we get to watch the basics of glassblowing over and over as students learn how to create blown glass. The process is fascinating, and it's fun to try to field the kids questions - ranging from why everyone is wearing such thick gloves to how the glass gets "squishy." When we're all done, the crepe shop next door is the perfect place to grab a snack before we head off to our next destination.
Related Links
Seattle With Kids
Seattle Glassblowing Studio
Photo Friday: Please Share Your Photos:
Share a favorite travel photo by adding your link below. First timers, here is more Information about Photo Friday
13 comments | Posted on June 11, 2009 |

Save to del.icio.us



Subscribe to our feed