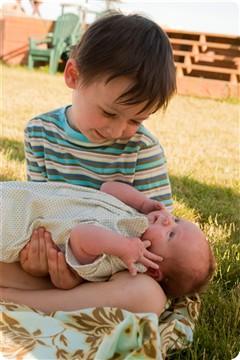 I recognize that a day-trip an hour north of your home doesn't normally count as a road trip, but with three kids under four (one of them only two weeks old) every trip out of the house feels like a monumental effort worthy of awards.
Still, when friends invited us to spend the day with them at their Camano Island beach house (Camano is about one hour north of Seattle, and easily reached via a bridge) we jumped at the chance. We might be overwhelmed and sleep deprived, but at least we'd be overwhelmed and sleep-deprived it in a beautiful environment!
The big kids had a wonderful day playing in the sun. With grass, sand, mud, a hose, gobs of sunscreen and even a rocket fueled by baking soda and vinegar, they required even more wardrobe changes than little Eilan. Removed from the "tempting" piles of laundry, dirty dishes and mounds of unread mail my husband and I were able to relax, recharge and enjoy our changing family too. As the sun went down, it felt natural to cuddle a little before putting PJs on everyone and loading them in the car. E took this opportunity to hold his little brother and whisper secrets in his ear. Perhaps he was telling him how to score and extra Smore?
Related Links
Seattle With Kids
May 2008: Daytrip to Camano Island
19 comments | Posted on June 18, 2009 |

Save to del.icio.us



Subscribe to our feed