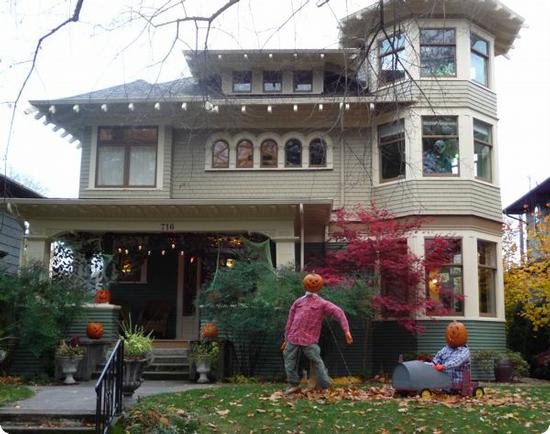 I sometimes hear people claim that our American cities lack a sense of community or somehow imply that city dwellers aren't "real" Americans. In my view, nothing could be further from the truth. I love my urban life. Limited real estate means that there are few big box stores, and I spend more time in independently owned markets, bakeries, toy stores, and book shops and getting to know the owners and employees. A tight knit parenting community means that I often run into friends and acquaintances when I am out and about. My kids grow up interacting with all kinds of people, from recent immigrants to families who have lived in the area for generations. From people so wealthy it kinda makes your head hurt to people just struggling to get by. They're all here, and very little separates us. That might make some people uncomfortable, but it suits me just right.
Nothing brings people out of their houses more than Halloween, though, and I thought it would be fun to share a few photos of what Halloween looks like here in Seattle. You tell me if this looks like a heartless, cold city (ok, I'll admit the cold part - we definitely picked costumes for their coziness)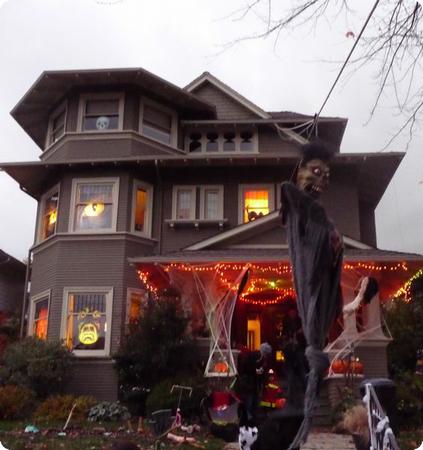 Our neighborhood is too hilly for short legs, so we like to Trick-or-Treat in the Capitol Hill neighborhood. Our city's founders thought that the state capitol would be located here, and built their turn of the century mansions on this hill. The old mansions double perfectly as haunted houses, and almost everyone goes overboard with Halloween decorations.
As the sun sets, the streets become clogged with trick-or-treaters, and it can be overwhelming for the little guys. This year, a few of the streets were closed to traffic, and kids were invited to join in an early evening Halloween parade. D & E loved showing off their Halloween finery.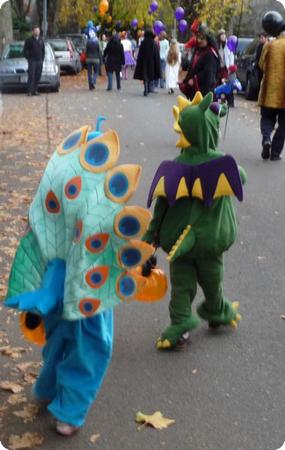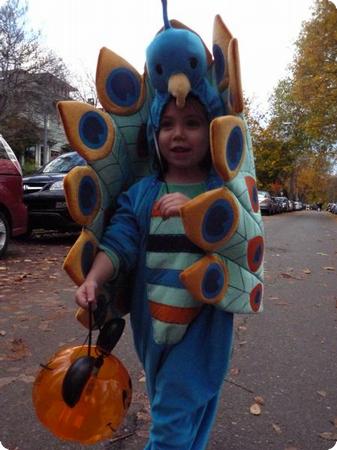 After the parade we started trick or treating, and hit about 15 houses before their little legs gave in. We were back home counting our candy just as it got dark.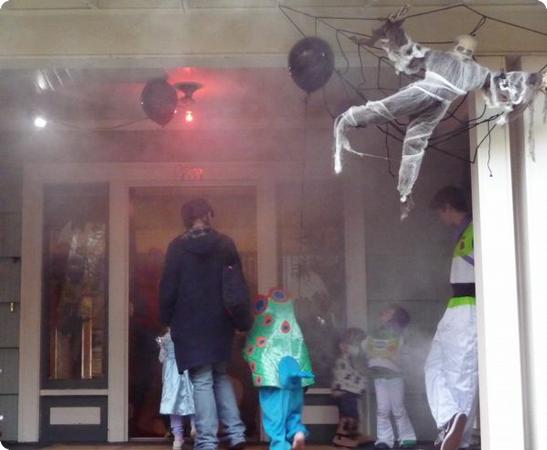 Come join me next year. The city really isn't so heartless afterall - even on the scariest day of the year.
Photo Friday:
Share a favorite travel photo by adding your link below. Please take a moment to make sure that you are linking directly to your photo post instead of your homepage. If your url is longer than 100 characters, you will need to use a url shortening service, like bit.ly
First timers, here is more Information about Photo Friday
20 comments | Posted on November 5, 2009 |

Save to del.icio.us



Subscribe to our feed