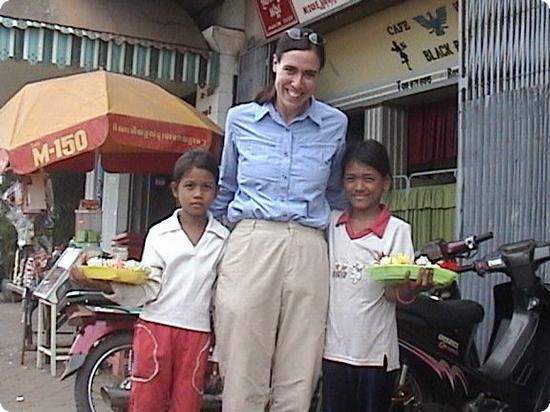 When I think about the time we spent in Phnom Penh, Cambodia, I always remember these two sweet, silly sisters. Each afternoon, they roamed the streets selling bracelets made out of flowers. After we had been town for a few days, we started to look familiar, and they would play games with us - tapping us on the back and then running around to the other side before we turned, or generally being silly.
These girls were too sweet to resist, and instead of giving them money we took them, almost daily, to a restaurant where we bought them a warm meal and some juice. Who knows where they are now? In my mind they haven't aged, and the school we're building is for them.
Please come back on Monday to see the list of fabulous prizes you can enter to win just for making a $10 (or more) donation to help build the Passport School in Cambodia
Related Links
Passports With Purpose - We're Building a School in Cambodia!
Photo Friday:
Share a favorite travel photo by adding your link below. Please take a moment to make sure that you are linking directly to your photo post instead of your homepage. If your url is longer than 100 characters, you will need to use a url shortening service, like bit.ly
First timers, here is more Information about Photo Friday
2 comments | Posted on November 27, 2009 |

Save to del.icio.us



Subscribe to our feed