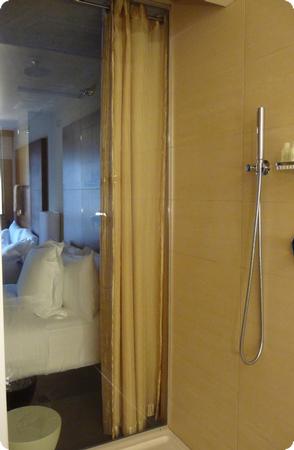 I stayed at the Dana Hotel at my own expense. Whenever I accept a complimentary service for review, I will always let you know
When I visited Chicago this summer for BlogHer and TBEX, I spent one night at the Dana Hotel and Spa. Perhaps, I thought, I could relax a little by osmosis? Needless to say, with a 2 month old in-tow I skipped the spa.
I was surprised to find myself in a very sexy, yet modern hotel room - this is the view through the glass walled shower into the hotel room. It felt a little strange to be staying here without my husband, but the hotel turned out to be surprisingly baby friendly. Not only did the staff deliver up a crib, but I could easily keep an eye on baby Eilan while I showered!
Related Links
Chicago With Kids
Choosing a Family Friendly Hotel
Photo Friday:
Share a favorite travel photo by adding your link below. Note that I am using "Simply Linked" instead of Mr. Linky this week - it should be straightforward to use, but please send me email if you have trouble. If your url is longer than 100 characters, you will need to use a url shortening service, like bit.ly My address is debbie at deliciousbaby dot com
First timers, here is more Information about Photo Friday
5 comments | Posted on September 24, 2009 |

Save to del.icio.us



Subscribe to our feed