I always hope that the kids will be inspired by our travels, and that the opportunity to see new places will help them be open to new ideas. Of course I have no control over which ideas will resonate with them, and sometimes that puts us in amusing circumstances.
For the past year and a half, E, my little literalist has insisted that when he grows up, he wants to be a "grown-up." Not a firefighter, a police officer, chef or a doctor.... a "grown up." And then, when we were at Disneyland a few weeks ago, he saw this: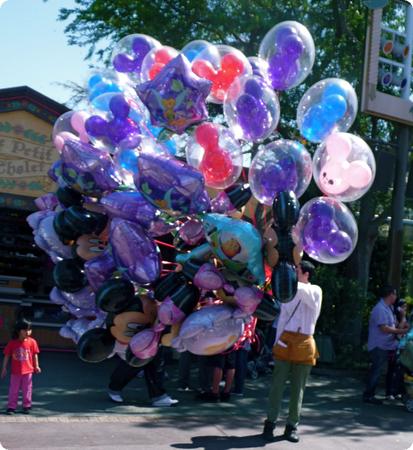 Turns out he was just waiting to find his calling. His new chosen profession? Balloon seller!
Related Links:
City Guide: Orange County With Kids
Photo Friday:
Share a favorite travel photo by participating in Photo Friday. I've been getting a lot of spam lately, most of it linking to the homepage of a website - if you are participating in Photo Friday, please make sure that you link to your post directly so that I don't delete it by mistake. If your url is longer than 100 characters, you will need to use a url shortening service, like bit.ly
First timers, here is more Information about Photo Friday
5 comments | Posted on April 23, 2010 |

Save to del.icio.us



Subscribe to our feed