We were guests of the Hotel Monaco in San Francisco on this trip. I received no other compensation beyond the room, and the hotel did not require that I express a particular point of view.
Unlike most travelers, we arrived at the Hotel Monaco on foot. We will rent a car later in the trip, but for our two days in San Francisco, we will use public transportation exclusively. It's always a bit strange to show up at a nice hotel exhausted, disheveled, and carting all your luggage!
The Hotel Monaco is a few blocks from Union Square in Downtown San Francisco, making it a good launching point for a family adventure in the city. I have stayed at Monaco and other Kimpton properties in other cities before (at my own expense) and the hotels are usually a bit quirky and kind of fun. Most have special amenities for travelers with kids and travelers with pets.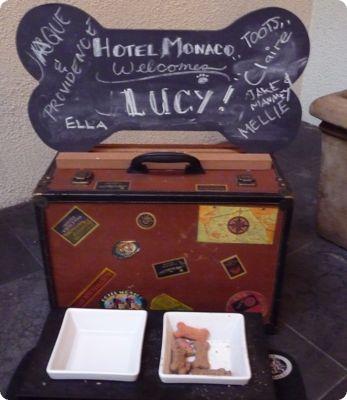 The Hotel Monaco San Francisco was no different. There were goldfish bowls on the front desk and a dog bowl at the entrance. from the goldfish on the front desk to the game cabinet where the kids could check out games to bring to our room (they chose Candyland), then we were shown up to our room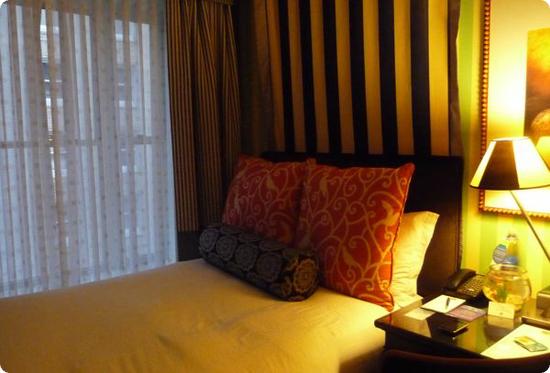 With two double beds and a crib, the room was a tight squeeze for our family of five, but it was also comfortably appointed - with a nice desk, downy beds and a huge bathroom.
The kids thought the in-room goldfish was extra cute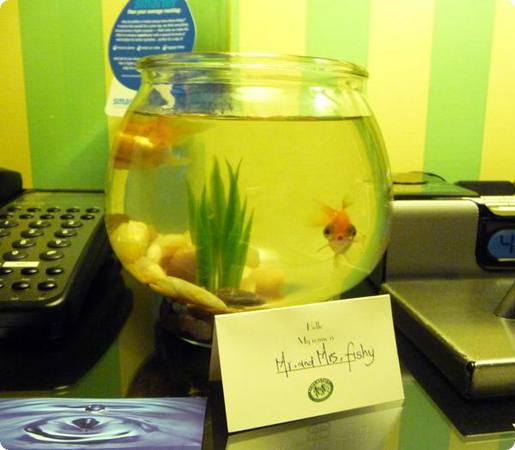 But mostly they were thrilled with the contents of their gift bags: Crayons, coloring pages, a card game, and bubbles. We took those bubbles with us to Golden Gate park the next day!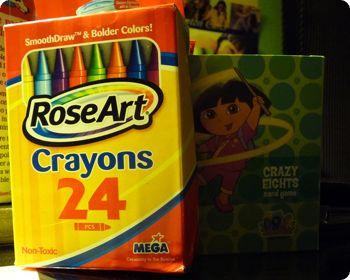 We ventured out to dinner in Chinatown. With the Cable Car line just a few blocks away, this seemed like the perfect time to take a ride. Needless to say, the kids absolutely loved the ride. I, on the other hand was terrified - a little jolt would have sent them all flying. Here's a shot my husband took of me trying to hodl on to everyone!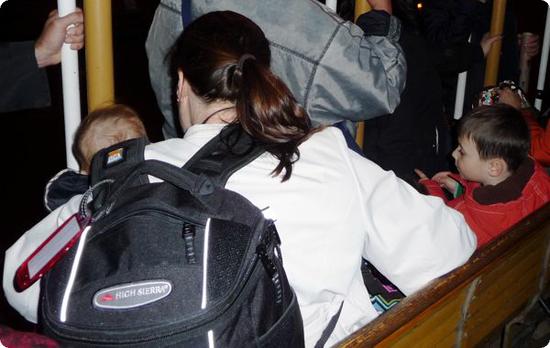 Next time we'll be sure to sit inside.
We arrived in Chinatown just as most of the shops were closing up. That gave us little time to peek in and see what seemed like a totally different world (even compared to the Seattle's flourishing international district). A seafood shop sold live fish, shellfish, frogs and turtles. Produce shops sold fruits and vegetables in every imaginable shape and color. The kids were fascinated, but also tired and hungry.
Being here with the kids was an odd sensation. I have my own childhood memories of Chinatown and it's strange sights and smells. To be here at night was to remember eating bbq duck on the sidewalk while watching the Chinese New Year parade. The area hasn't changed much, and it was fun to explore, even briefly with the kids.
After dinner we headed back to the hotel where the kids took their first ever shower (our room was tub-less) so that they'd have an excuse to wrap themselves up in these cute kid-sized bathrobes. The shower was giggly, silly fun - and as often happens, it's this memory (not all the sites we visited) that will stick with me long after this trip is over.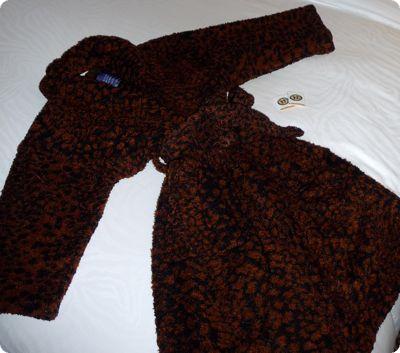 Bedtime sweets are one of my pet-peeves, and when we're not fast enough to spirit the turndown chocolates away before the kids see them, we wrestle over saving them until morning. E's developing writing skills came in handy this time, and he felt confident that he really would get his chocolate the next day once everyone's treat had their name on it. On a funny side note, my kids no longer need aliases on this blog, because they have changed their names to Jack and Annie, the brother and sister in the Magic Tree House Book Series
.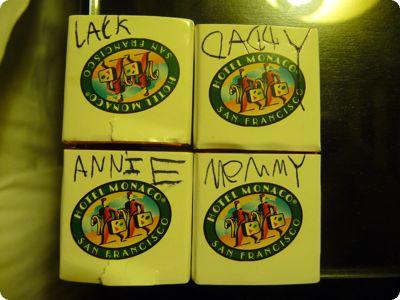 E is all ready for bed, but D was a little to rambunctious and finally ended up drifting off to sleep in her daddy's arms and getting placed in the bed later.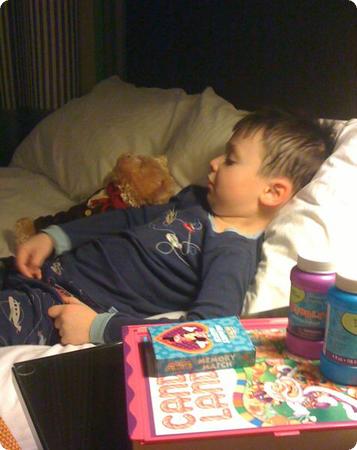 Check back tomorrow to read about our first full day in San Francisco
Related Links
San Francisco With Kids City Guide
Hotel Monaco Review
San Francisco's Union Square with Kids
3 comments | Posted on February 2, 2010 |

Save to del.icio.us



Subscribe to our feed