We've all heard people talk about trips that were "ruined" by bad weather, and of course you never know what might happen when you travel. Still, there's usually some way to salvage any vacation (in part by allowing enough time that a day or two of weather or illness doesn't derail your plan entirely).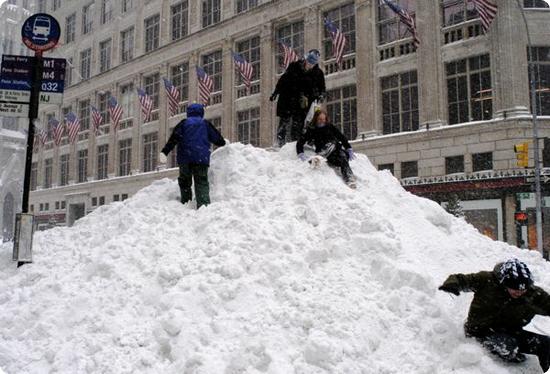 This is one of my favorite photos from New York. A huge blizzard swept in during our vacation, shutting down the city almost entirely. Offices were closed. The museums were closed. Most shops were closed. Taxis stayed home and people went cross-country skiing down 5th Avenue. This "mountain" is right across the street from Saks!
Were we dismayed? No. We wandered the city checking out all the action, waltzed into a wonderful restaurant for dinner (most diners had canceled) and cuddled up in our hotel room. We'll have another chance to visit the museums.
A storm like this would have been debilitating for most cities, but not New York. The next day the roads were cleared and everything was up and running again almost as if the blizzard had never happened.
Related Links:
New York With Kids
Photo Friday:
Share a favorite travel photo by adding your link below. Please take a moment to make sure that you are linking directly to your photo post instead of your homepage. If your url is longer than 100 characters, you will need to use a url shortening service, like bit.ly
First timers, here is more Information about Photo Friday
11 comments | Posted on February 4, 2010 |

Save to del.icio.us



Subscribe to our feed