Baby Eilan is in what I consider the hardest age for traveling with children - the 6 months between age one and 18 months. He is mobile enough to want to get into everything, has little or no judgment about what is safe, and needs a new toy approximately every three minutes.
When we travel together, I'm constantly on the lookout for everyday objects that can serve as travel toys, and then be discarded. Guess what the smash hit toy was on our flight home from Puerto Rico this weekend?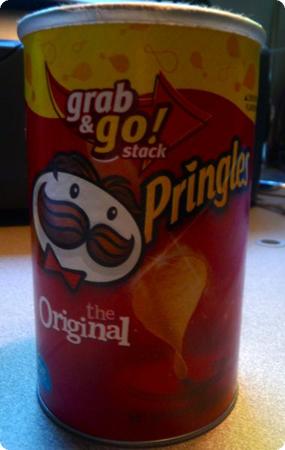 That's right, a travel sized can of Pringles purchased on board our air flight. Why? The lid is soft, and fun to pull off. The can is big enough to fill with other, smaller toys, and best of all the metal bottom makes a satisfying "clang" sound when you put something hard in the can. When you get tired of all that, the can makes a nice hat for your mom.
Readers: What's your favorite "found" travel toy?
PS. I have no relationship with Pringles, and don't even buy this brand of chips normally.
Related Links
Favorite Travel Toys
Ten Tips for Keeping a Toddler Busy on a Plane
Ten Great Travel Toys You Already Have at Home
9 comments | Posted on July 27, 2010 |

Save to del.icio.us



Subscribe to our feed