It's difficult to write about returning to the place where you grew up without resorting to cliche. We left Monterey when I was 8, and yet everything looks so familiar. There are few things that I remember explicitly, yet at one point we were driving down the a windy road and I announced "this is where we used to turn off to get home," and after looking up the address on Google maps, we found that I was correct.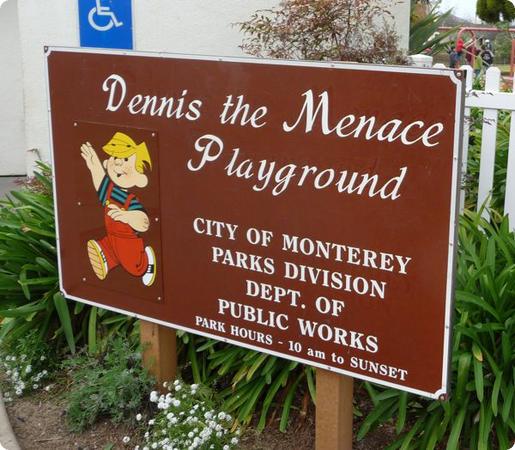 One of the few things that I do have strong memories of is Dennis The Menace Playground. This was a favorite destination after school, on weekends, and especially for birthday parties. Besides the Monterey Bay Aquarium, this was the top item on my agenda for our visit.
I kept my expectations low, the park has been renovated a couple of times since I was a child, and not all of the original features remain (some of them would never pass today's safety tests). Plus, you never know how your kids are going to feel about a particular destination. I was hoping to just run around with my own preschool age kids and enjoy the playground that I enjoyed so much when I was in preschool.
I couldn't believe how the memories started rushing back to me when I finally did step onto the playground. See this? It's the train my brother and I used to climb all over as children.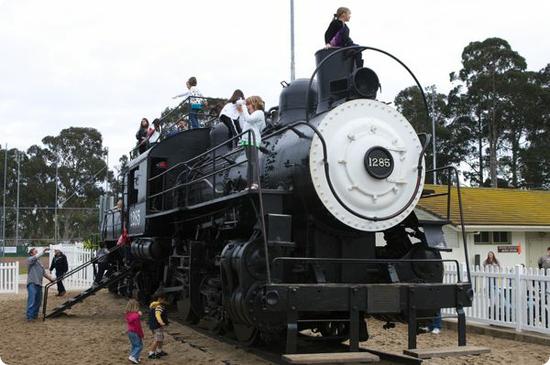 This seemed like a surefire hit for E, who has been completely obsessed with trains lately.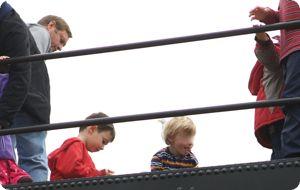 As usual, E had his own ideas about how to best experience it. He is on a mission to learn how to write words, and carried a pad of paper and pen everywhere with him on this trip. When he saw the train, he rushed off, climbed to the very top, and sat down to write for 15 minutes or so. Who knows what secrets lie in that journal of his?
D had her own ideas. Not interested in the train, she raced away to summit the sunshine bridge. Just looking at this bridge makes me feel happy - and it seemed like she felt the joyful too. If not, a quick ride down the rollerslide (and then another, and then another after that) certainly fixed that. She wishes we had a playground like this at home.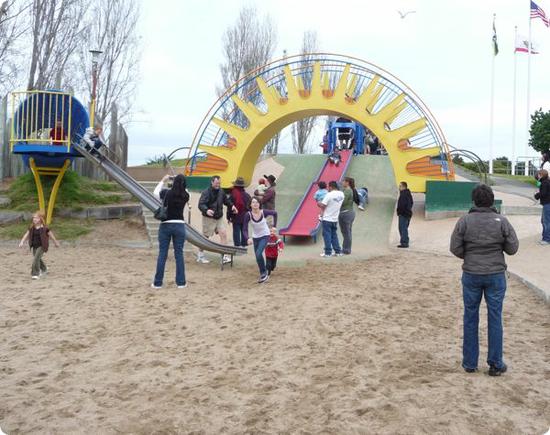 Before we left, I made sure that both kids had a drink from the lion drinking fountain. I can remember exactly how it felt to be preschool-height and stick my head in the mouth of a lion!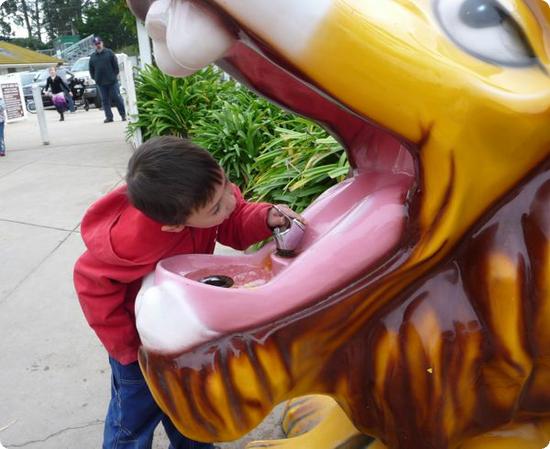 Dennis the Menace Park isn't just a fond childhood memory, it's a local gem, and if you visit Monterey with kids, I'd strongly encourage you to check it out!
Related Links:
City Guide: Monterey, Carmel and Pebble Beach With Kids
8 comments | Posted on March 17, 2010 |

Save to del.icio.us



Subscribe to our feed