I have written before about how passionate E is about Seattle's new Light Rail. For the past few months we have been exploring each of the stations along the short route and keeping track of what the kids enjoy. That seems like a great list to share, and if you live in Seattle you should consider making the light rail a family outing one weekend - you'll be surprised at how much fun it is to get out and explore - even in your hometown. In fact, it might just give you the confidence you need to tackle a bigger city with kids in tow.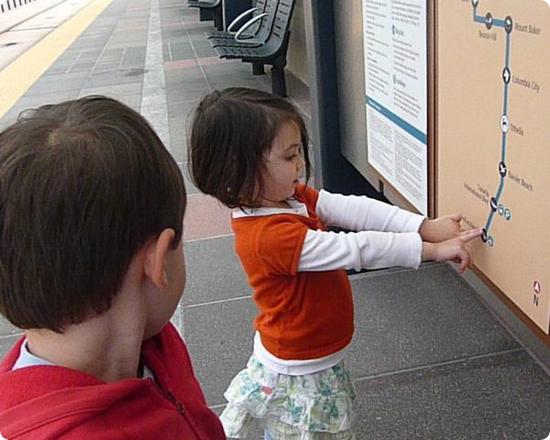 Tips for Riding the Light Rail With Kids

The light rail map is a great way to teach beginning map reading skills. You can print one for your trip here or check out the large-scale maps at each station
Each station has interesting artwork that is engaging for young children. You can check out this list of Sound Transit's Public Artwork in advance, or just explore each station as you go
Use this Trip Planner to figure out how to get to the light rail on public transit
We like to start our journeys at Mt Baker Station because it has an inexpensive parking lot. Another option is to start your trip at Westlake Center. You can park in their underground lot and then take the elevator to the basement level. From there, you can enter the transit tunnel. Finally, there is free parking at the Tukwila station, but this lot is often full.
Link Light Rail is very stroller friendly. Some stations are underground, but elevators are always available.
While the trains are generally not crowded, they can be crowded on game days. Don't be afraid to ask an adult to give up their seat for your child.
Kids ride free!
Starting from Downtown, here are our favorite things to do at each Link Light Rail station
Westlake Center
From here you can do anything on my Downtown Seattle With Kids itinerary, or hop on the Monorail (just take the elevator up to the top of Westlake Center) and ride to Seattle Center
Here are some other ideas:
Eat conveyor belt sushi and cream puffs at Blue C Sushi's new 7th Avenue Location
Visit the fish tanks in Nordstrom's children's department (enter Nordstrom directly from the Metro tunnel
Explore Westlake Center without ever stepping foot outside (great for winter days). Start by picking up some stickers, pens or cute bento boxes at Daiso Japanese dollar store. Next take the escalator up to the top floor for a snack or lunch, and finish it all off with hot chocolate at Dilettante Chocolates Mocha Cafe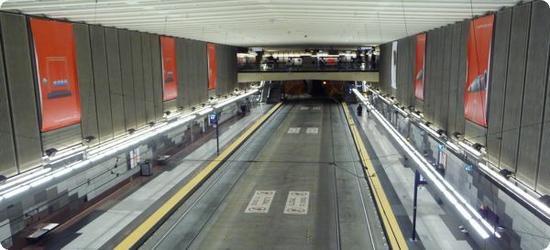 University Street Station
From here, it's an easy walk to Pike Place market or to a Tiny Tots Concert at Benaroya Hall. Here are a few of our other favorites:
Pioneer Square Station
It's a steep downhill walk to Pioneer Square, but once you are there you'll find lots to do.
Kids will find the walrus heads decorating the outside of the Arctic Club Hotel amusing.
Magic Mouse Toys (603 1st Ave, Seattle, WA) has a wide selection of toys ranging from Lego to Playmobil and Haba
The Elliott Bay Book Company has a quiet children's section complete with playhouse - catch it in it's original location before it moves to Capitol Hill this spring
Older kids will enjoy the Seattle Underground Tour
Check out the Firefighters' Memorial in Occidental Park (S Washington and Occidental)
Visit the hidden "Waterfall Garden" at 219 2nd Ave S (between S 2nd Avenue Extended & Main St). Consider bringing a picnic lunch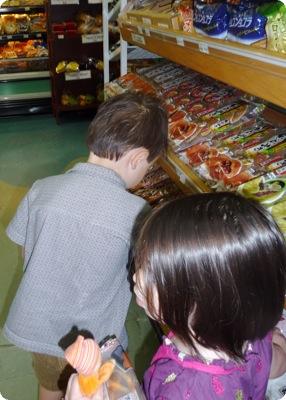 International District/Chinatown Station
This bustling station lets you off at the edge of the International District. If you are prepared to do some walking, this is a fun area to explore.
Uwajimaya (600 5th Avenue South) is my kids favorite market in the city. The produce department, with its wide selection of fruits and vegetables is fun to wander through, and you can pick up cute lunchbox accessories in the kitchen section. The food court at Uwajimaya is a fun place to grab a snack or lunch. In addition to Pho, Sushi, Korean food and more, you'll find freshly roasted chestnuts by the front entrance and a Beard Papa Cream Puff shop.
Stop for a sweet or savory crepe at Unicorn Crepes (421 6th Ave S - between Jackson St & Jefferson St). Unicorn Crepes is a Japanese style crepe shop, complete with a plastic crepe display to help you choose what you want.
Kinokuniya Book Store (525 South Weller Street) has a nice childrens book section that includes adorable Japanese activity books and a nice selection of childrens books set in Asian countries or about Asian themes. If your child likes cute pens, pads of paper or Japanese erasers, Kinokuniya has a great selection.
Stadium Station
From Stadium Station you can easily walk to Seahawks Qwest Field, WAMU Theater or Mariners' Safeco Field. If it's a game day, there's no reason you can't visit one or more of the food stands outside the stadiums even if you do not have tickets to a game.
SODO Station
From SODO station, the walk down to 1st street is not particularly interesting, but once you are there you will find lots to do. Also, several different train lines come through this area.
Macrina Bakery & Cafe (1943 First Avenue South) is a great place to grab lunch. The menu is limited, but the premade flatbread pizzas will appeal to kids.
If you are able to resist the pastry case at Macrina, head over to Krispy Creme (1900 1st Ave S) and watch donuts roll off the conveyor belt
Paper Zone (1911 1st Ave S) is a great place to browse for stickers or craft materials with your child
Here's a link to part two of my post on Seattle's Link Light Rail with Kids
8 comments | Posted on January 13, 2010 |

Save to del.icio.us



Subscribe to our feed