Earlier this week, I shared some of my favorite spots for kids along Seattle's Link Light Rail Line That post covered the stations beginning at Westlake Center and ending at SODO station. Here are my favorite kid-friendly spots near the remaining light rail stations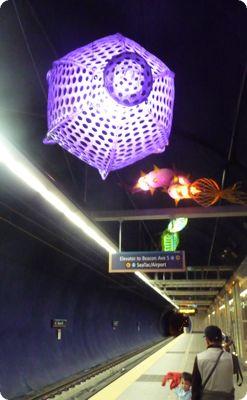 Beacon Hill Station
Even if you don't want to explore the surrounding neighborhood, you should get out of the train and see this station. Beacon Hill Station has my favorite station art on the Light Rail line. It also happens to be the deepest station anywhere - approximately 16 stories beneath the ground! In addition to the station art, here are a few things to do near Beacon Hill Station
Stop for a story at the Beacon Hill Library (2821 Beacon Ave S)
Ready for a sweet? Check out Delite Bakery (2701 15th Avenue S) This Philipino Bakery serves, among, other things, a purple cake! What child wouldn't love that.
El Quetzal (3209 Beacon Ave S) is my favorite Mexican Sit-Down restaurant in Seattle, and it is casual enough for kids. Check out their Huaraches, a sort of mexican "wrap" sandwich. They're amazing.
Mount Baker Station

Grab a bite to eat at The Original Philly's (3019 Martin Luther King Jr. Way S)
Slush and Husch (2801 South Hanford Street) across the street serves coffee drinks and blended cold drinks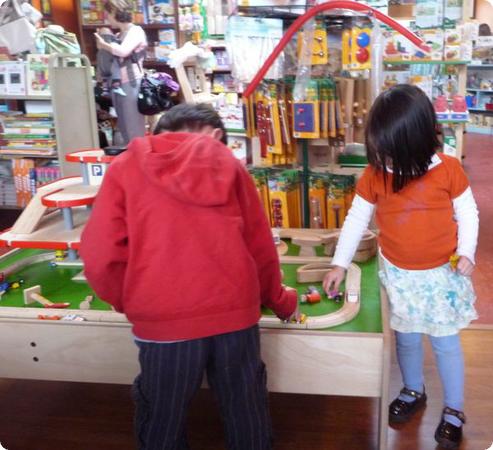 Columbia City Station
You'll have to walk through several blocks of residential streets to get to Columbia City's main drag. Once you do, you'll be richly rewarded.
On Wednesday afternoons from May to October (3pm-7pm) the Columbia City Farmers Market (4801 Rainier Ave S) is a great place to explore. In addition to all the produce and locally made food you would expect, there are music, cooking demonstrations, and a weekly kids activity.
Retroactive Kids (4859 Rainier Ave S) has a fun selection of toys and clothing (there is also a kids hair salon in the back). The store focuses on high quality wooden toys, favorites you'll remember from your own childhood, and handmade items. A train table and dollhouse near the back of the store make this a nice stopping point as you explore the area.
Columbia City Bakery (4865 Rainier Ave S) has a small selection of sandwiches and a big selection of cookies, cakes and assorted pastries.
Bookworm Exchange (4860 Rainier Ave S) has a nice selection of used children's books
Tutta Bella (4918 Rainier Ave S) pizza and Full Tilt Ice Cream (5101 Rainier Ave S #105) are a little further afield, but worth mentioning because they are both so good! Full tilt has a small selection of video games in addition to their homemade ice cream
Sweet Peas (4820 Rainier Ave S) children's consignment shop carries a large selection of used items and a small selection of new clothing and toys at below retail prices.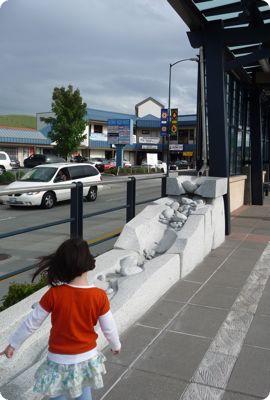 Othello Station
As you step out on to the platform at Othello station you'll notice a wide variety of international restaurants just across the street. This is a nice area to explore different types of food without leaving Seattle. The station art here is designed to be interesting when it is raining - so if you have your rain jackets on, this is a great station to visit in the rain.
What better place could there be to eat after riding a train than on a bus! Tacos El Asadero (7300 Martin Luther King Jr Way S) serves the best "taco truck" style tacos in Seattle from their kitchen inside an old bus. You can sit inside or in a covered tent out front.
Hoang Lan (7119 Martin Luther King Jr Way S) serves great Vietnamese rice dishes. The owners are very friendly and happy to help you navigate the menu.
Othello Playground (4351 S Othello St) is a nice playground with a very long slide, basketball courts and (sometimes) live music on Sundays.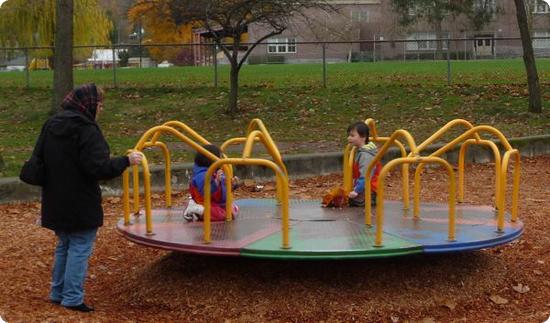 Rainier Beach Station

Head East on Henderson to find several playgrounds behind the South Shore School. We love the old fashioned merry-go-round, there are very few of these left in the city.
Vince's (8824 Renton Ave S) old-style Italian-American restaurant is just a block away from the station (kids menu available)
The Vegetable Bin (8825 Martin Luther King Jr Way) just across from the light rail station has a selection of Hawaiian Snacks as well as hot food (very few of which are actually vegetables)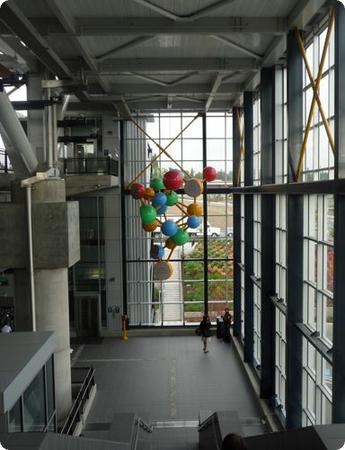 Tukwila International Blvd Station
The art at this station is worth seeing, and there are a few fun options nearby
This is probably the only time you'll ever see me recommend McDonalds (15210 Tukwila International Blvd). This location, within walking distance of the Light Rail, has an indoor playground - making it a nice stop on a rainy day.
Pancake Chef (15215 Military Rd S) Serves pancakes all day
SeaTac / Airport Station

Cross through the parking lot and over the sky bridge (fun in its own right) and check out the airport! If you'll be flying soon, this is a great opportunity to have your child watch the TSA inspection checkpoint and get comfortable with the security process.
Related Links
Light Rail With Kids Part 1
Seattle With Kids
3 comments | Posted on January 15, 2010 |

Save to del.icio.us



Subscribe to our feed