We were guests of the Clam Cannery on this trip. I received no other compensation beyond the room, and the hotel did not require that I express a particular point of view. We paid our own way at each of the activities and restaurants we visited on this trip, and those businesses did not know that I would be blogging about my experiences.
I'm the first to admit that I haven't properly explored Washington State. I enjoy exploring cities, so when we hop in the car for a local road trip, we tend to head to Portland or Vancouver. Because I grew up in California, I don't have childhood road trips to draw on. Washington is beautiful, though, and many tourists use the Seattle more as a launching off point to explore the Pacific Northwest rather than a stand-alone destination.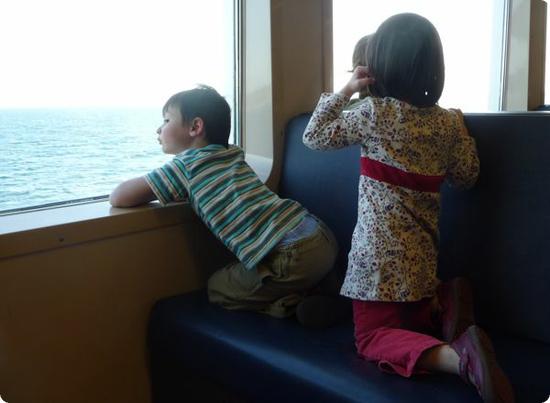 To get to Port Townsend from Seattle, you head north and then take a short ferry ride to Kingston. The kids think there's nothing more fun than driving our car onto a boat and then exploring the snack shop, and they were thrilled to be off on an adventure. We left for Port Townsend at the end of the school day, when everyone is tired out, so it's lucky that the boat ride is short, and that even the kids enjoy watching the view change.
When I planned this weekend, I thought we'd want a snack after the ferry ride, and after searching for ideas around Kingston, I found out that CB's Nuts factory is just a few miles from the ferry terminal. CB's nuts is a local small-batch roaster of nuts. I have seen their peanuts at Whole Foods, but have never splurged on a bag. Somewhere in between childhood and adulthood, I forgot how great fresh roasted peanuts can taste, and started associated peanuts with inexpensive dessert toppings and food allergies. Still, I'm never one to skip a factory visit, especially if it involves snacks.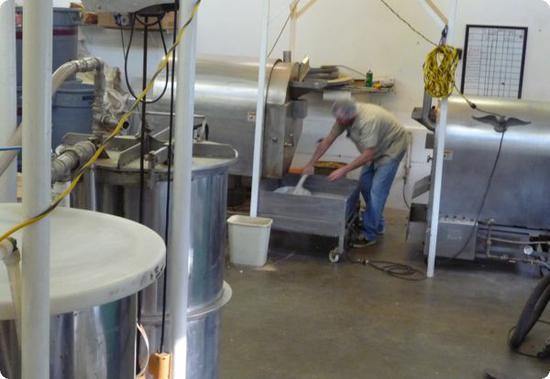 I'm so glad that we did stop in, because this is one of my favorite memories from this trip. The owner, Tami Bowen, was working in the shop. Her husband, Clark was in the back roasting peanuts. The shop itself is small, and it seems to serve mostly as a place for locals to stop in and pick up bucketfuls of the fresh roasted nuts.
D and E were hungry, and excited to finally be somewhere, especially somewhere with snacks. They weren't very interested in the nuts, but then Tami ground up some fresh peanut butter, and dipped pretzels in it for the kids. Wow did they love it! After school lunches with sunbutter and jelly sandwiches, I think they we were all surprised at how great real peanut butter tasted. E was bubbling over with enthusiasm for the peanut butter, for Tami, and for being on a road trip. Tami let him peek in the back, showed him how to crack open peanuts and how to grind them into peanut butter, and let him eat lots and lots of peanut butter.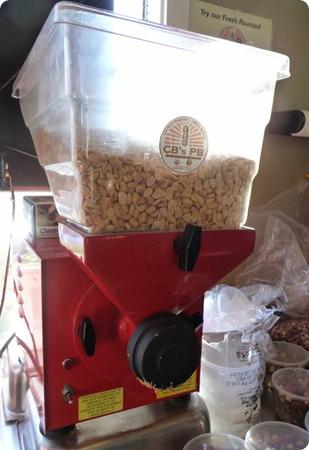 We walked away with a huge container of peanut butter and another filled with pretzels - and they served as great snacks for the rest of the trip. Peyman and I loaded up on roasted nuts, including peanuts fresh out of the roaster, and so hot that I was instructed to wait 30 minutes before cracking open the first one. It turns out that fresh roasted peanuts are pretty much the perfect road trip food, and I imagine that a stop at CB's will become a ritual after future ferry crossings.
From Kingston, it was a short drive up to the Port Townsend where we checked into the hotel and then headed out to dinner at Fountain Cafe. The Fountain Cafe was a great find, and I owe a big thank you to Pam who recommended it (you should read her review of Port Townsend area restaraunts). The restaurant was the sort of dark, quiet and cozy place that you wouldn't normally think to bring children, but they did have a children's menu and the staff was very welcoming. More importantly, our food was delicious. The Fountain Cafe specializes in local seafood, and serves traditional seafood dishes like Cioppino, Paella, and crab stuffed mushrooms. This type of food is more about great execution than creativity, and I really enjoyed the returning to the savory (and sometimes heavier) seafood dishes I grew up with.
Related Links:
City Guide: Port Townsend with Kids
0 comments | Posted on March 22, 2010 |

Save to del.icio.us



Subscribe to our feed