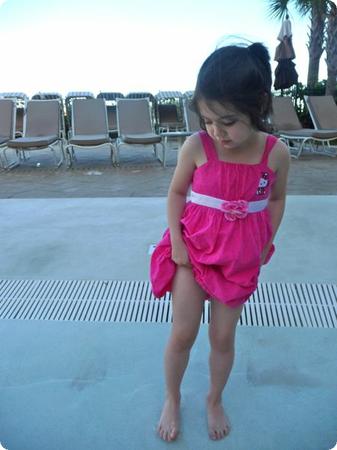 There's something funny about the way a four year old understands "getting wet." Everest's Pre-K teacher used to tell me that the kids would splash in huge deep puddles if they had their rainboots on - as if the rainboots would protect them all the way up to their foreheads. And here's little Darya, cautiously sticking her toes in the pool at the Sandpearl Resort. She's desperate to check it out, and I've told her it's ok, but she's terrified of getting her favorite dress wet.
Related Links
Clearwater Beach with Kids (City Guide)
What is Photo Friday?
Post a travel photo on your site. It can be about any topic, as long as it is G-rated.
The focus of the post should be on your photo.
You don't need to be a professional photographer (I'm not), but do showcase your best work, and make it big enough to see well!
It's nice to include a few sentences about the photo, but it is not required.
Link back here so that your readers can see all the other great Photo Friday posts.