We were invited guests of the Four Seasons Resort Whistler on this trip. The hotel did not require that I express a particular point of view, and I always strive to present a fair and balanced review regardless of who is paying the bill.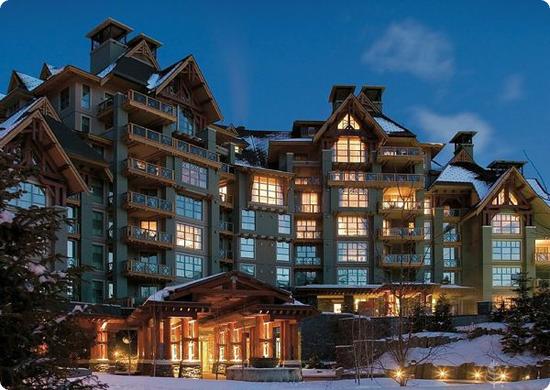 It's always a thrill to be invited to stay overnight at a Four Seasons Hotel. We've been lucky enough to stay at a few properties now (the Four Seasons Seattle, the Four Seasons Vancouver, and I'm starting to learn that each has it's own character. One thing that's surprised me at each property, though, is how many kids I see as we traipse through the lobby each day. Each property seems to have its own way of catering to families, and it's fun to discover what's available at each one.
With several stays under my belt now, I wasn't as nervous about pulling up in a car full of kids, crackers, and broken crayons as I had been after our road trip to the Four Seasons Aviara two years ago. I knew that we'd drive up to a covered, heated drive and that the valet who opened my car door who would graciously ignore the mountains of car toys and torn paper that showered down as the kids raced to get out of their seats. Still, it's such a relief to find myself giggling with the valet about the crazy chaos my trunk can barely contain, four-year-old Darya's struggle to get her shoes on the proper feet, and the antics of baby Eilan. We were off to a good start before we even step foot in the lobby.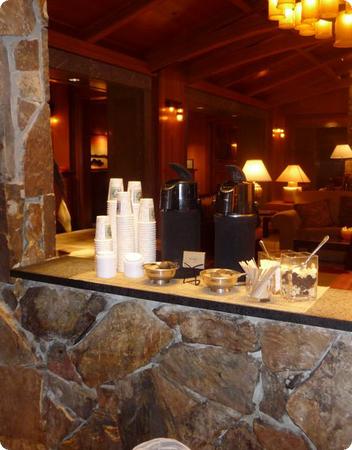 A Hot Chocolate display greets us as we walk through the door (Shaved German Chocolate and hot milk thank you very much - powdered mix is simply not welcome here)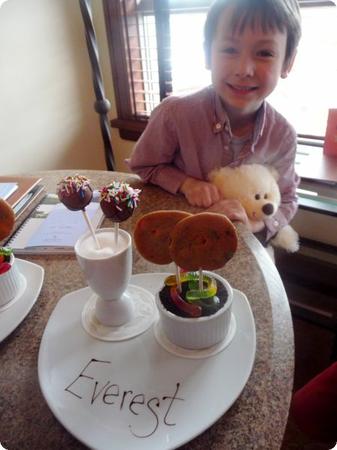 And the kids were greeted with cuddly Teddy Bears, who later showed up in story books that arrived with our room service breakfast. But the real gift, as far as they were concerned, was the sugary welcome treat in our room.
The Room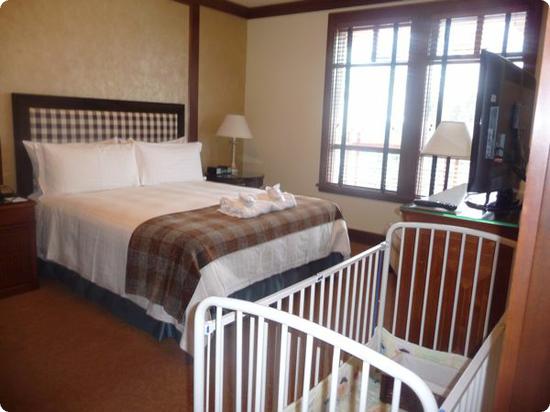 Our room, an Executive King Suite, was huge. The kids slept on a sofabed in the living room while Peyman and I stretched out in a king sized bed in the bedroom. Eilan's crib fit neatly near the foot of our bed.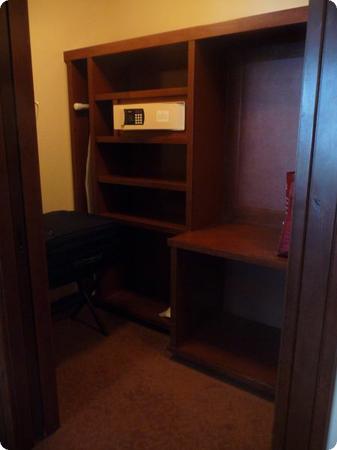 Perhaps, it seems like a surprising thing to be excited about, but I was thrilled with the walk in closet. With five people to get dressed each morning, and the additional complexity of layer upon layer of ski clothing, things get a little tricky. This closet had tons of cubbies and a low closet rod stocked with kid sized hangers. Everything stayed neat and easy to find! After our first adventure in the snow, housekeeping delivered up a wooden drying rack and the kids socks and wet items hung there each night to dry.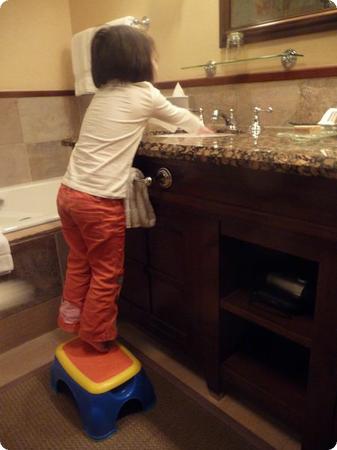 And the bathroom. You'd expect luxury, right? But you know what's really luxurious when you're a mom? Not having to lift your 4 year old up to that marble sink each time she needs to wash her hands. You know what else makes a bathroom luxurious right now? A diaper genie to contain Eilan's dirty diapers. Now that's the kind of babyproofing I love!
Location
The hotel is about a five minute walk from the Blackcomb base, and about 15 minutes walk from Whistler Village (it's a pretty walk, complete with a bridge over a snowy creekbed). A hotel shuttle runs about every 15 minutes, and though I would have walked if I were on my own, with the kids it was easier and less whiny to hop on the shuttle. All that means that if you stay here, you'll probably use the amenities in the hotel more than you would if you were smack dab in the middle of the Village.
Pool and Fire Pit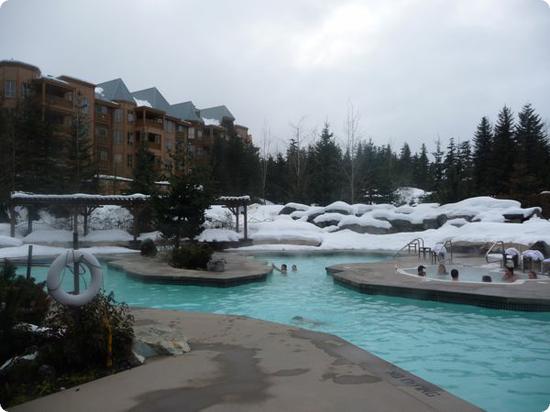 What really made this pool work (besides the cozy bathrobes that we wrapped ourselves in before heading down from our room) was the heated pool deck and the selection of different pools and hot-tubs. Somehow the kids and adults-without-kids seemed to segregate themselves out so that the kids could have fun in the water without splashing into someone's martini. The poolside bar service (complete with complimentary cookies for the kids) was also a lovely touch!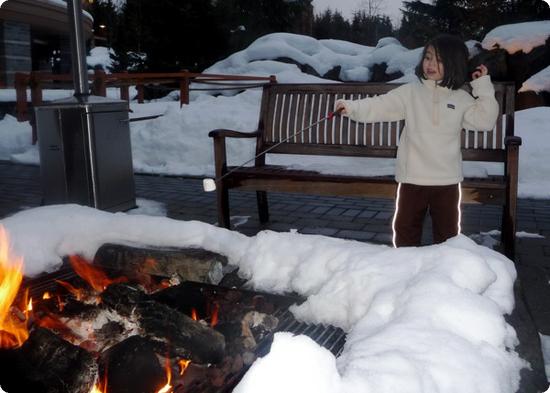 And I'd be remiss if I left out Darya's favorite Apres-Ski activity - roasting Marshmallows for S'mores at the resort's fire pit. Just try explaining the S'more tradition to three tourists from London as we did one afternoon!
Ski Concierge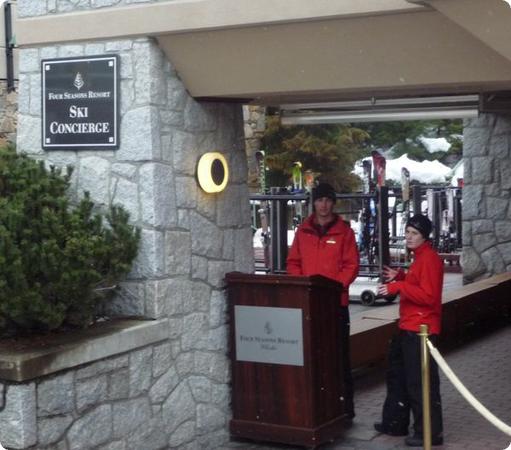 The Four Seasons runs a Ski Concierge (complimentary to hotel guests) just at the base of Blackcomb mountain. Since we rented our skis from the hotel shop, we never actually touched the skis until we arrived at the Concierge on our first morning. It really was lovely to have someone help me and the kids with our boots in the mornings, bring our skis to us once we were all ready, and store any unneeded items (like our shoes) until we returned for the day. The Concierge greeted the kids with a warm cookie at the end of each day, and guess what, I was able to finagle one for myself too ;)
Ski Shop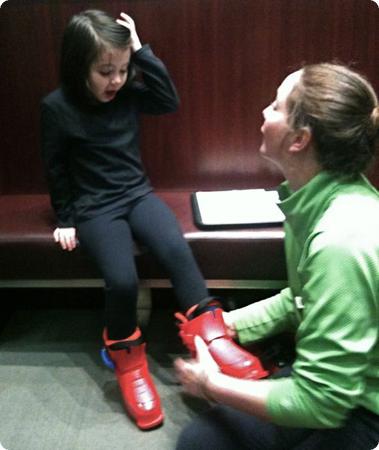 Ski rentals are available downstairs, and the hotel even maintains a selection of clothing items that guests can borrow if needed. When my pre-baby ski pants turned out to be too small to wear, I opted to borrow a pair from the hotel instead of buying new ones - hopefully my old ski pants will fit again by next winter, so this really was a cost savings for me. Ski accessories, like goggles, are available for sale in the shop. If you rent here, your skis are magically transported to the Ski Concierge at the base of Blackcomb mountain before your first run. No need to lug everything on the shuttle.
Spa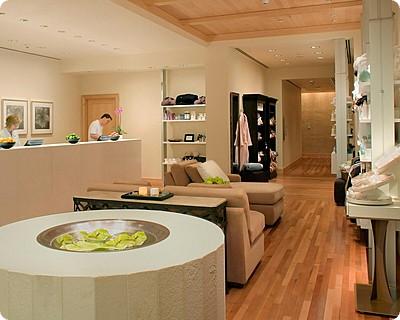 I usually don't get a chance to relax in the spa when we travel. With three kids under 6 we usually need all grownups present at all times! What made this work was the childcare available through Whistler Kids. While Everest and Darya learned to Ski, Eilan hung out with other toddlers, and I checked myself into the Spa.
The spa facility was huge, with a comfortable locker room I would have liked to move into full time. I arrived early, and after changing into my robe, I read and relaxed in a quiet lounge. My treatment, the Sea to Sky Signature Massage was meant to mimic the drive from sea (Vancouver) up to Whistler and combined a seaweed treatment and Lomi-Lomi style strokes for a full 80 minutes of kid-free relaxation. Afterwords, I made full use of the spa facility, relaxing in a quiet room with a cup of tea and fresh fruit, clearing my pores in a eucalyptus steam room, and finally cooling down in an ice shower before finally getting dressed and picking up the kids from camp. The spa had a full menu of services, and tons of space to relax. Some spa packages also include access to the hotel's outdoor pool for the day, so this would be a great way to splurge even if you are not staying at the Four Seasons.
Sidecut Restaraunt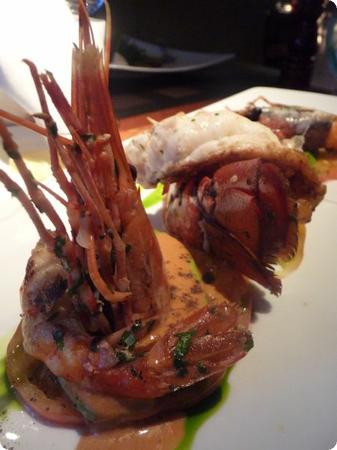 One of the things I enjoy about staying in the Four Seasons is how well the restaurants cater to both kids and adults. Sidecut is no exception. The high end steak restaurant (there's also a lounge with live menu) rivals any of Seattle's finer steak places (and a big plate of protein is just what you need at the end of a ski day), and still serves PB&J, Mac & Cheese, and Pizza. That makes it a slam dunk. When the kids started to get a little crazy, I ran them out to the firepit and back!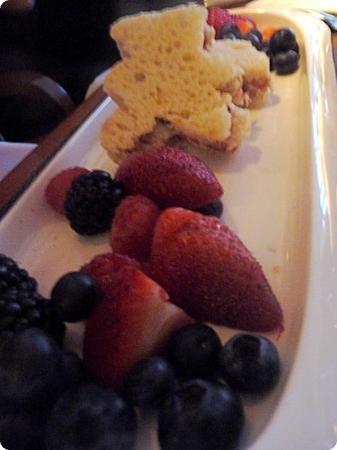 Related Links
Skiing my troubles away at the Four Seasons Resort Whistler
http://www.deliciousbaby.com/journal/2011/apr/11/first-ski-lessons-whistler-bc/
City Guide: What to do in Whistler With Kids
8 comments | Posted on May 18, 2011 |

Save to del.icio.us



Subscribe to our feed