This article includes a review of a complimentary hotel room at the Four Seasons Aviara in Carlsbad California. I received no other compensation besides the hotel stay and brunch, and the hotel did not express any requirement that I express a particular point of view. I do not accept pay-per-post or pay-per-positive reviews, and on the rare occasion that I do accept a free service from a sponsor I will always let you know..
There's nothing quite like pulling up to the valet at a Four Seasons Hotel after even a short road trip with two toddlers. As we wound down the drive, I was so busy ogling the beautiful flowers and fountain that I didn't pause to consider the state of the car (or myself). The moment the car stopped, the race was on... would I dust off the cracker crumbs and unearth my once-presentable self in time? Or would the valet find his shoes buried in an avalanche of art projects and sippy cups? I won't say who won, but I will say it was a far cry from the last time I pulled into a Four Seasons Hotel - 9 years ago in my spotless wedding dress.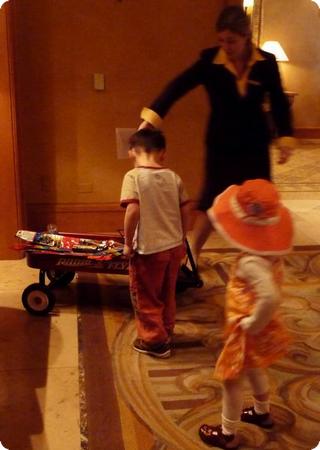 I've been curious about the kids-amenities at the Four Seasons for quite a while. The chain is one of very few that promises amenities beyond a free stuffed animal or cookies at the checkin desk, but I was curious. . . would the kid-friendly perks really make our stay easier, or would they just feel like a gimmick? When I learned that there was a Four Seasons property just a few miles away from LEGOLAND, it seemed like the perfect place to spend a night before visiting the park with friends.
Accepting freebies is always a little bit tricky - I'm careful to present a balanced point of view about anything I review, but in general I choose to only spend my time reviewing products and services that I think I will be likely to be able to recommend. Vacation time is precious, and I don't want to waste a minute of it on a product or service that doesn't meet my needs, free or not. With the Four Seasons, I actually worried about the opposite. We rarely stay in a hotel this nice with the kids, and I worried a bit that I would be so enamored of the overall level of comfort and service that I would gloss over whether the stay was actually easier with kids (or just fancier).
Our arrival was not much different than it would have been at any other upscale hotel, a bellhop took our bags from the trunk and the valet took our car keys. We unloaded the kids, and headed inside. Gradually, the differences revealed themselves though. As I registered, the kids were greeted by name (I had supplied their names and ages when I booked the room) and the receptionist brought out a "toy wagon" filled with goodies. Free toys don't normally sway me, (I travel with a nice stash of small travel toys, and our kids are hardly toy-deprived) Still, the kites the kids selected were a nice touch, and they enjoyed using them later that day at the beach.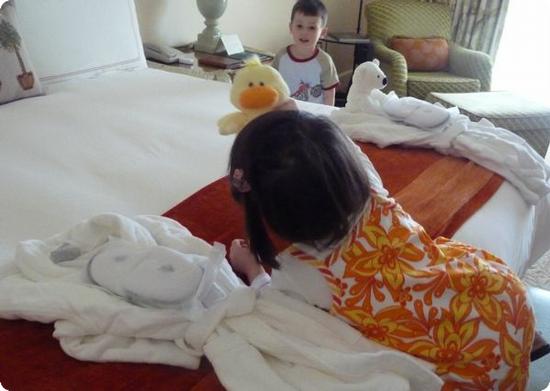 The biggest difference was the room itself. Each of the room's low tables was dressed in a padded edge guard. There was a diaper pail in the bathroom, and the crib was stocked with the kind of baby essentials that you might be low on or have forgotten at home (soap, wipes, a few diapers, and most surprisingly a high-quality swim diaper). The room itself was as gorgeous as you might expect, with plush carpets and the requisite high thread count sheets and marble bathroom. But what impressed the kids were the kid-sized robes and slippers laid out on the bed - each one topped with a stuffed animal. E has never paid more than a passing interest in any of the countless stuffed animals he's been given in the past, but for some reason, this one really made an impression. It's the first animal he ever named (characteristically, my little literalist named it "Teddy") and he has insisted on taking it with him everywhere since he got it.
Those thoughtful touches didn't mean that we got to stop being diligent parents though - an unlocked mini-bar sat at toddler height, a blown glass dish filled with candies graced the coffee table, and in general we still had to watch the kids and keep them safe in the room, just as we always do. Still, having the most time consuming parts of babyproofing the hotel room done in advance saved us time and stress.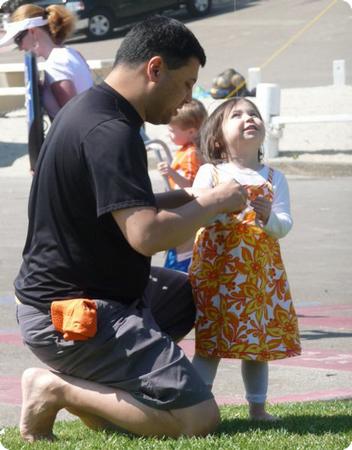 Next stop, the beach! Though they enjoyed the hotel, the kids had been chattering about the beach all day. When we asked the hotel's valet for directions to the closest beach (about 7 minutes away by car), he suggested that we drive a little bit further, recommending a beach with a playground. He also suggested a local fish shop where we could pick up fresh fish tacos for a picnic. Both suggestions were great!
We spent little time at the actual beach. Instead, we found a shady spot on the grass next to the playground, and set up our picnic. The kids snacked, played in the sand filled play area, and slid down the slide while we relaxed. D was delighted to help fly her very own kite, yelling and screeching as it rose high in the air and then swung back down. We enjoyed yummy fish tacos.
Eventually we returned to the hotel to check out the pool area. Though it certainly wasn't as enormous as the pool at the resort in Phoenix, it was more easily accessible. We appreciated the extra services like terry-wrapped lounge chairs and poolside service. The kids spent most of their time in the kiddie pool. I'm always amazed at how entertaining a wading pool is for toddlers - even when their parents neglect to pack a single pool toy. E, who was terrified during swimming lessons as a baby, has finally gotten comfortable with the water, and pulls himself around using his arms, claiming to be "swimming." I think he's finally ready to try lessons again this summer!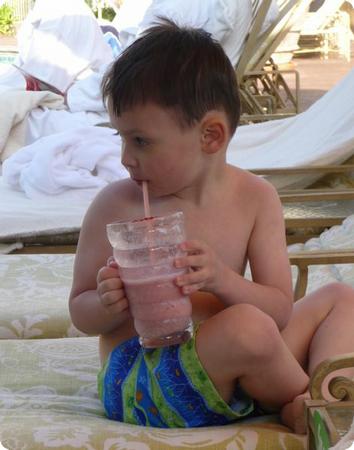 After a long tiring day, we were finally ready for dinner. Unfortunately, the kids were probably about an hour past dinner time, and when D started melting down in the car, we quickly diverted from reader-recommended Nozomi Sushi to the far less glamorous El Pollo Loco that happened to be among the first fast food restaurants to cross our path. Sometimes fast and reliable is simply more important than great.
With D's appetite sated, we loaded everyone back in the car. When D gets overwrought, getting her to sleep is an exercise in frustration. Being in a shared hotel room makes it worse because the drama she creates prevents her brother from sleeping too. Instead of muddling through, my husband dropped E and I off at the hotel while he drove D around to sleep.
A little older and less tired, E was clearly satisfied with his day. He surprised me by cooperating with every aspect of getting into bed. As I draw closer to my due date, I've craved time with E more and more - perhaps because I know that I will expect the most independence from him during those exhausting first months. The problem is that, as he grows, he craves independence, and he's not always as open to cuddling and affection. For some reason, tonight was special and I'm incredibly grateful for the moments we had together. Without daddy or sister around, we snuggled up together in the huge king-sized bed and I sang E to sleep just like I used to when he was a baby.
Related Links:
Carlsbad, CA (and LegoLand) with Kids
Day 2 in Carlsbad
Four Seasons Aviara Review
8 comments | Posted on March 30, 2009 |

Save to del.icio.us



Subscribe to our feed