Wherever we go, it's nice to have a few toys in my daypack that the kids can use to run around outdoors. That way we can have fun even when we cannot find a playground. I always go for things that are lightweight, cheap to replace, and work well when you want to play with kids you just met in a piazza or playground. Here are some of my favorites: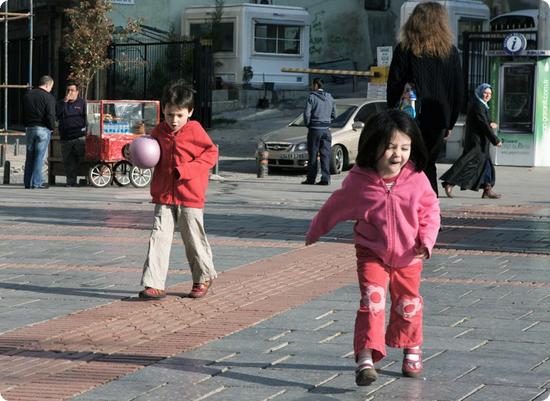 We carry a Gertie Ball wherever we go. It's compact, easy to inflate, and tough enough to withstand the rigors of my kids.

Water balloons are lots of fun if you are in an area with lots of taps (like Rome)
Regular balloons work great just about everywhere else!
Sidewalk Chalk works well on even the smallest scrap of urban sidewalk
Birdseed (or some scraps of bread from breakfast) provides instant entertainment
Paper for making paper airplanes, boats, or coloring in a restaraunt
Bubble solution (yes, you can even put it in a ziplock and carry it through airport security). I've successfully refilled the containers on the road with a mixture of hotel shampoo, water, and a little sugar.
Glow Stick Bracelets are super fun on the beach at night. Don't ask me why. They're inexpensive, and it's nice to bring along extras to share.
A Pocket Kite works well if you think you'll find a wide open park.
Blue Painter's Tape can be used to mark out tracks or starting lines for just about any game you might dream up.
Reader Question: What's in Your Daypack When You're on a Warm-Weather Vacation
Related Links:
Favorite Travel Toys
6 comments | Posted on May 23, 2011 |

Save to del.icio.us



Subscribe to our feed