Personal commitments kept me from attending the LEGOLAND grand opening in Florida last week, but I'm so lucky to have an East Coast friend with kids who was able to check it out and write about her experience! Kristen Stewart is a freelance writer whose work has appeared in Parenting, Parents and AARP: The Magazine, and I feel very lucky to have her writing here. Kristen's kids are 13, 10 and 6.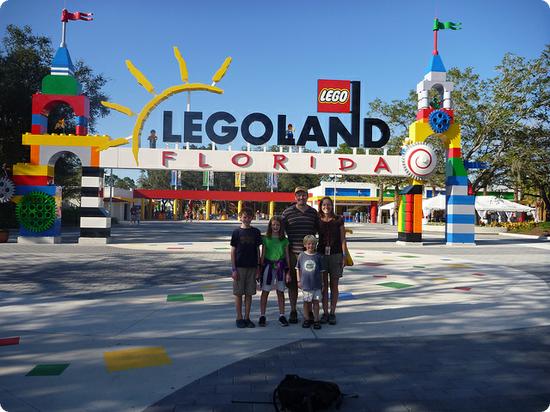 As promised here is the second post about our recent trip to Legoland Florida. (You can find part one of the story about LEGOLAND Florida's Grand Opening here.) I had planned to write it all as one entry but there were so many aspects to discuss it got too long. In a funny way this challenge in reporting on the park was actually a real benefit to our park experience. Mileage may vary with older kids depending on their likes and dislikes but for us there was a nice variety of attractions to keep everyone occupied.
Highest on my kids' radar were the four roller coasters and they didn't disappoint. Two are the same in Legolands Florida and California—the Dragon and Test Track (note the Florida park map calls it Test Track but the actual sign on the ride says Project X)—while the Flying School and Coastersaurus are unique to the Florida location (note there is a roller coaster named Coastersaurus at Legoland California but despite the same name it's a very different ride in intensity).
One nice thing about the coasters was they were all very different from each other so what the park may have lacked in quantity (compared to Six Flags for example) it made up for in quality. My oldest enjoyed the Coastersaurus the most, appreciating that it had multiple drops that were all relatively good in size. My younger two, on the other hand, went with the "go big or go home" philosophy and chose the Test Track as their first choice. As my 6 year old said, "It had the biggest drop I've ever been on!"
Here is the family on Flying School…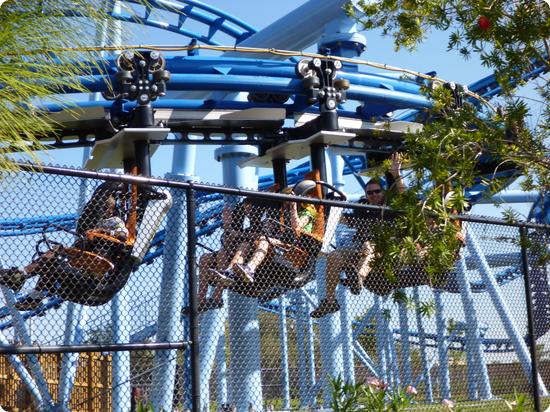 However, the park is much more than just the roller coasters. The FORD Driving School gave the kids a chance to practice their skills maneuvering on city streets complete with signs and stoplights. Unlike any other car driving type rides I've seen there were no tracks guiding these vehicles. The kids were actually fully in control to go wherever they wanted—for better or worse! (As a nice touch two versions were created--a more elaborate one for older kids and a simpler type for the little ones.)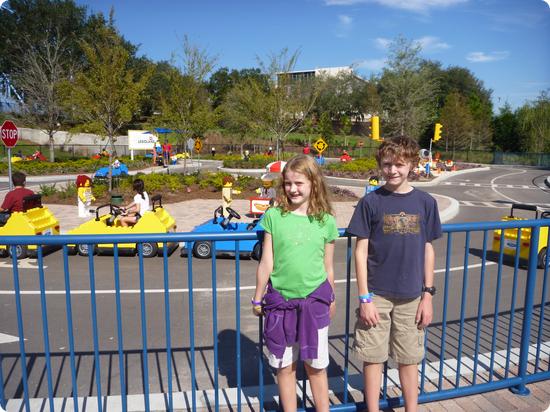 Other highlights included the Boating School where kids could drive parents, the Island in the Sky ride which offered a 360 degree view of the park and the Rescue Academy where families could work together to move their rescue vehicles and spray water to put out a "fire." The Lost Kingdom Adventure (riding in small cars while shooting lasers at targets through an old-time Egyptian landscape) was also a hit.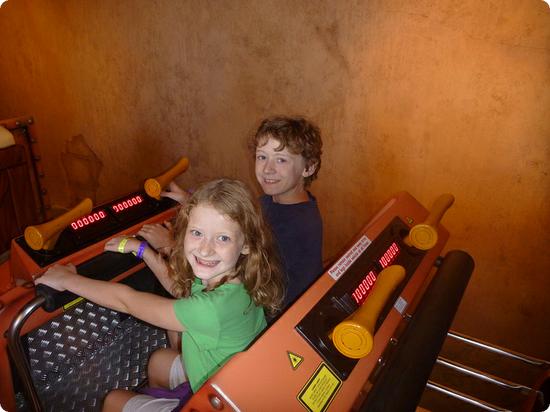 No visit would be complete without a stop in Miniland. Seven city replicas (plus a pirate adventure section) all built out of Legos made up this area. It was particularly fun for us as we had been to all of the cities represented and the kids were able to point out landmarks they remembered. Cities include Las Vegas, Washington, DC, New York City, a San Francisco/ Hollywood theme and Florida (Kennedy Space Center, the Daytona Speedway and a few other highlights). Even for families who have not visited the cities, however, Miniland can be mesmerizing. Between the incredible detail and the fact that vehicles are driving around many areas we had to remind ourselves to keep moving or we could have stayed at each display indefinitely. Here's my daughter in New York City…
And my son at Cape Canaveral…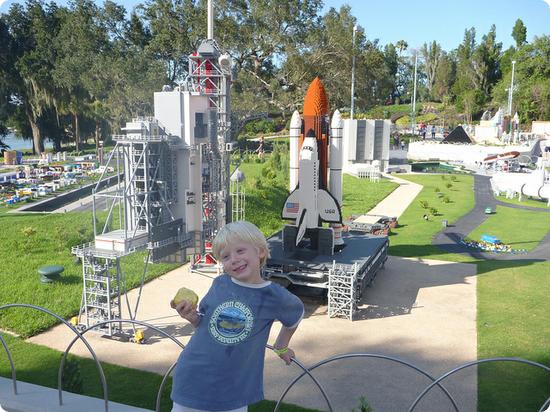 Keeping in mind their pledge to cater to kids starting at age 2, Legoland also had a variety of things for the younger set. Since my youngest is 6 we did not take advantage of this but there are several playgrounds, a DUPLO Village section with small rides and even a two-story carousel.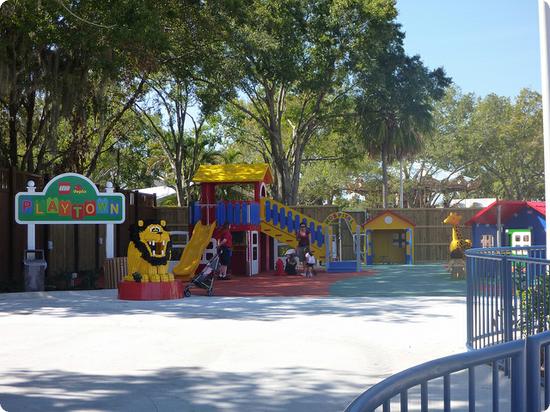 Finally, Legoland Florida had a couple things that made it pretty unique— a Lego pirate-themed water ski show and a beautiful garden area. Both these attractions were holdovers from Cypress Gardens, the original theme park on this location. We really enjoyed the water ski show—my youngest got to shoot one of three water canons and I spent a fair amount of time wondering how people could actually waterski wearing the head-to-toe Lego costumes.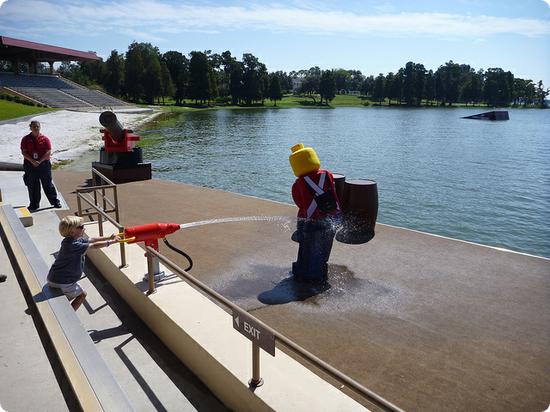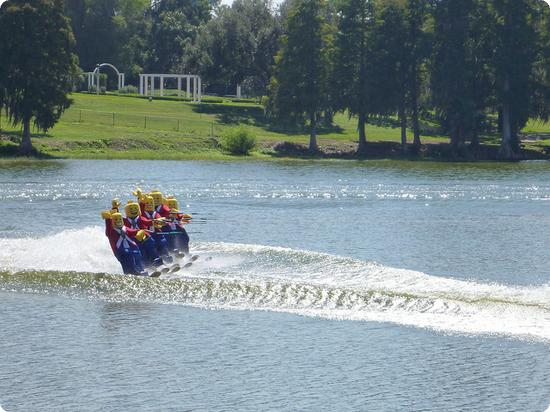 We also appreciated the peaceful winding trails, impressive botanical display and southern plantation feel of the gardens. Having only ever lived in California and New Jersey it was fascinating to see all the different kinds of greenery. Most amazing, however, was an enormous Banyan tree (planted as a seedling in a 5-gallon bucket in 1939 according to the press information).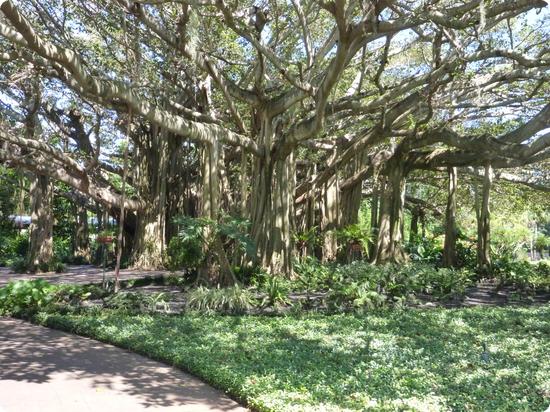 My family tends to like food on the simple side so we didn't explore most of the restaurant offerings but we did enjoy lunch at Fun Town Pizza & Pasta Buffet. The food was surprisingly good for theme park food—various kinds of pizza, garlic bread and a salad bar. It was quick and easy too. But perhaps my favorite thing (in a "mom" sort of way)--they had special silverware dispensers where you pushed a lever and your plastic fork came out of an enclosed container. No more one fork per plastic bag polluting the environment or my big pet peeve of a hundred grubby hands reaching into the open silverware bin.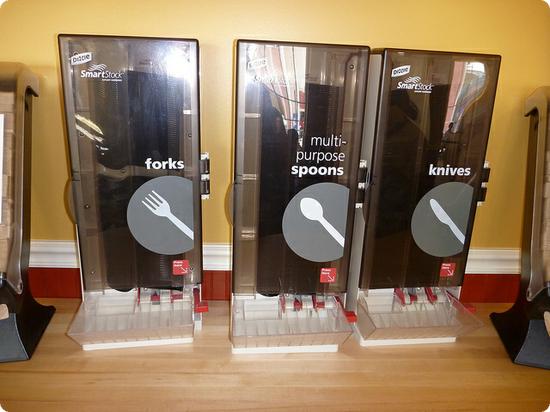 I should note despite our overall enjoyment of the experience the preview day was not without its glitches. We enjoyed the Flying School roller coaster so much we went back later in the afternoon only to find it was closed due to technical difficulties. Ditto for the Island in the Sky (here's a picture of Island in the Sky taken from our seats at the water ski show earlier in the day when it was operational…)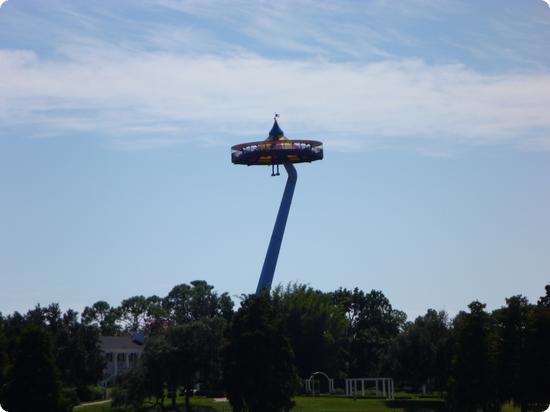 I also wonder if the Boat School will need some tweaking. Many people (including us) were having trouble controlling the boats. There were quite a few 360 degree turns going on in what was designed to be a pretty straightforward course. Fortunately an employee was on land offering instructions and another was in the water to help move/hold the boat. No one was stranded but I think it was a little more challenging than it was probably meant to be.
I find the older my kids get the faster life seems to be flying by. In that light I do see Legoland as having a limited lifespan for our family and likely for most families with teenage kids. However, I'm happy to say we are not quite there yet.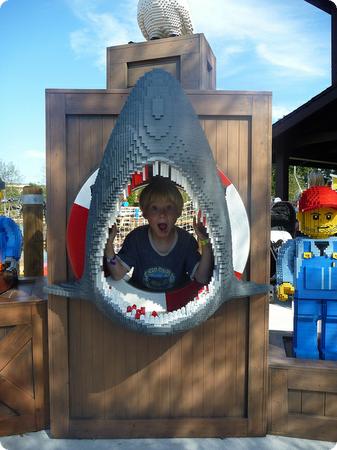 Related Links
LEGOLAND Grand Opening Part 1
Orlando With Kids
LEGOLAND California with Kids
Clearwater Beach Florida with Kids
Kristen was invited by LEGOLAND to cover the grand opening celebration for DeliciousBaby. LEGOLAND paid for many (but not all) of her family's expenses on this trip. LEGOLAND did not request that Kristen express any particular point of view, and the opinions in this article are her own.
2 comments | Posted on October 26, 2011 |

Save to del.icio.us



Subscribe to our feed