Like most people who travel frequently, I'm always on the lookout for the perfect carry on bag. That's hard enough when you're packing for one, but having a baby along brings the issue to a whole new level. Recently, I've been noticing that many parents who click through to Amazon from my site are buying the Okkatots Travel Baby Depot Backpack Bag
, so I asked the company if I could have one to check out for myself. I'm glad they were so accommodating. Not only did I get to check out a cool new bag, but I'll be giving it away to one lucky reader in a giveaway that begins tomorrow!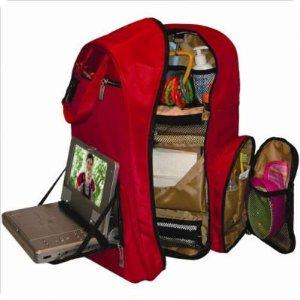 Features
This bag has a special compartment for just about anything baby might need - diapers, wipes, pacifiers, etc.
Outside pockets give you easy access to the items you need most
Carrying handles are designed to let you hang the backpack in a closet, over a hook, or in some new place you dream up.
The backpack zips all the way open, like a book, so that you can get to the contents easily - you might, for instance, leave it open on your hotel dresser as an organized changing station.
There's a large insulated pocket where you can store baby bottles or other items that need to be kept cool
The Good
The interior of the bag is very roomy with lots of pockets to keep things organized
The outside pockets are roomy and would work great for liquid items that need to be removed through security or for frequent access items, like a cell phone or wallet
The backpack's insulated pocket is fully separate from other items, meaning that if something leaks, it won't end up soiling your spare clothes or clean diapers. It would also be easy to wipe out when dirty
A special pacifier keeper pouch clips on close to the top of the backpack for easy access.
I loved the two huge handles at the top of the bag. They'd make it easy to hang up this bag just about anywhere - and keep it away from curious little hands.
Overall the bag seemed sturdy and well made. I'd expect it to hold up well through your baby years, even if you are a frequent traveler.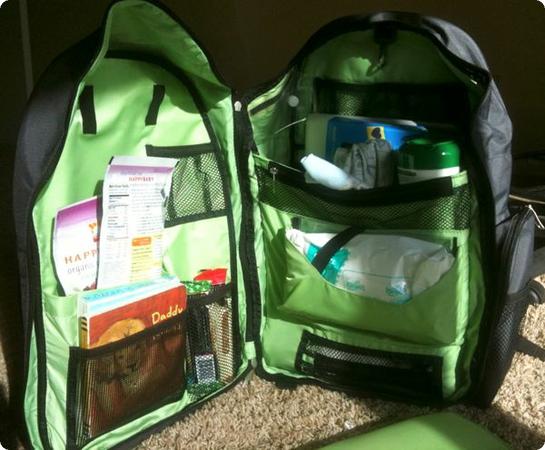 Things to Consider
The heavy gauge plastic wipes dispenser and pacifier keeper could just as easily be replaced with Ziplock bags when they eventually wear out.
The included large padded change mat can be tough to keep clean on an extended trip. if you're willing to forgo the padding, I'd use a Disposable Changing Pad instead. (You can carry a few, and reuse them until they're soiled.)
This is a high quality bag, but the fit and finish are not as good as you would expect from a premium brand backpack manufacturer (like Eagle Creek or Timbuk2).
The bag is missing some of the fit-related features that you would expect in a hiking backpack. Without lift loaders, a waistbelt, or even a sternum strap, it might weigh heavy when fully loaded
This backpack would be a bulky to lug with you to an airplane bathroom. And once there, it would be difficult to open up and access your diapers. Instead, you'll probably grab what you need at your seat and then repack it when you return.
The Bad
Diapers and wipes are stored down at the bottom of the backpack, meaning that you'll probably have to open the whole backpack in order to get to them
Though there was plenty of room to fit my laptop, I would have loved to have a fully padded laptop slot. (I guess that when I started being a mom, I didn't stop being a geek.)
I'm not sure you need the DVD player pocket on the outside of the bag. Though the cover is somewhat padded, I wouldn't feel comfortable storing the DVD player on the outside of the bag where it would be easily hit. In most situations it would be easier to just perch the DVD player on a tray table or have the child hold it in their lap. The DVD player holder would not work with a tablet or iPad.
Recommendation
The Okkatots Travel Baby Depot Backpack Bag is best suited to families with a new baby who think they'll travel enough to make the expense worthwhile. The nooks and crannies make it easy to keep all the odds and ends you need with a young baby organized. After a few years (unless you have another baby) you'll probably move on to a more traditional travel backpack.
I received Okkatots Travel Baby Depot Backpack Bag
for review purposes. Since I do not keep products that are given to me for review, I will be giving it away to one lucky reader in a giveaway that begins tomorrow! My opinions are always my own, and I strive to write fair and balanced reviews.
Related Links
Buy
Okkatots Travel Baby Depot Backpack Bag
on Amazon
My favorite gear for traveling with kids
My favorite suitcases and carryon bags
11 comments | Posted on September 19, 2011 |

Save to del.icio.us



Subscribe to our feed