With more states requiring that kids continue to ride in a booster seat until they're at least 8 years old and 4 feet 9 inches tall, you're more likely to need one either at home or when you travel. Sadly, buying a new booster seat is more tricky than it should be, so here are some helpful links and resources that I use to choose a car seat.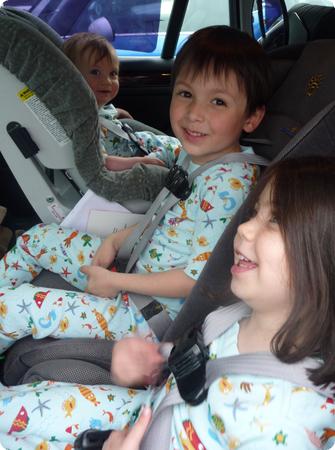 Does My Child Need a Booster Seat When We Travel?
The National Highway Traffic Safety Administration now recommends that all children who've outgrown their car seat continue to ride in a booster seat until they're at least 8 years old and 4 feet 9 inches tall. State laws may require booster seat use too, even if you are not required to use a booster at home. For example, since Jan 1, 2012 visitors to California (and residents) will be required to seat kids in a booster until they are 4'9" tall or 8 years old, even when they are riding in a Taxi or rental car.
If you plan to travel, here's a helpful list of car seat laws by US state and here's a list of car seat laws by Canadian province. Lists sometimes get out of date, so it's worthwhile to Google the specific state or province you are visiting. For example "Washington State Car Seat Law."
I don't use a booster at home, should I rent a car seat?
I don't recommend renting a booster seat for two reasons. The first is that they're often unsafe or dirty. The second is that they're expensive, rental car agencies charge as much as $15 per day and don't guarantee that the seat you need will be available when you pick up your car. Instead, I recommend either bringing the seat you use at home or investing in an inexpensive booster seat for travel. At $15 per day, the booster seat would pay for itself with only a few days of use.
If you do plan to rent a booster seat when you travel, here are some helpful safety tips for renting a car seat .
Should I buy a used booster seat?
Car seat experts recommend that you never buy a seat unless you know whether it has been in an accident. In addition, it is important to know that all car seats have an expiration date after which they are considered unsafe to use. In addition, many older booster seats did not position the child properly in the car and designs have changed in the past few years. I'm an advocate of buying used, or borrowing, many items for kids, but this is one place where it's worth investing in the latest and greatest.
Can I use my booster seat on a plane?
Booster seats are designed to properly position a shoulder belt. Since airplanes don't have shoulder belts, they serve no purpose in in airplane seat and cannot be used.
How do I tell if my Booster Seat is the Right Size for my Child and Car? Here's a link to some pictures that show exactly how a booster seat should position the car's safety harness: Booster Seat Fit Guide
It's a great idea to try before you buy - ask to try the floor model if you are buying from a retail store. If you are buying online, look for a retailer that offers free return shipping if the carseat does not work out.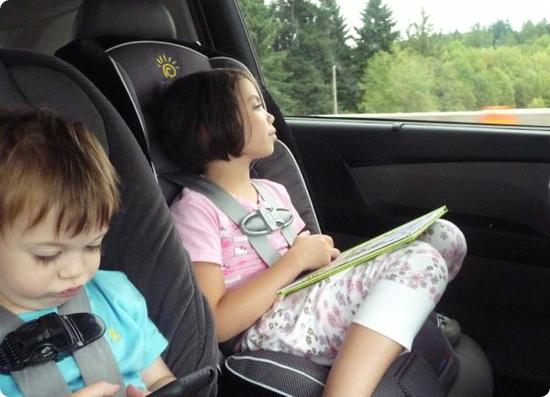 What Features Should I Look For in a Booster Seat?
Part of the reason it's so difficult to choose the right seat is because there are so many kinds of seats, with different types offering different safety features and flexibility. When you are choosing a seat, here are some questions you should ask yourself:
Do I want impact protection? If your car has side airbags, you'll want to make sure that your child sits up straight in their seat and is not leaning against the door or the side of the car. The best way to do that is to purchase a seat with sides that they could lean against. Those sides are also comfortable if your child naps in the car on long rides.
Will it be used for carpools or permanently installed in my car? If you plan to use the seat for carpools, you might want a more compact model or a car seat that is very easy to install. If you plan to have the seat in your car permanently, you may want to choose one that attaches using the seatbelt or latch so that it doesn't become a projectile in a fast stop or crash.
Will it be used by more than one child?If you're choosing a seat with harnesses that will be used by more than one child, you may want to find a seat with external harness adjustment (meaning that you don't need to remove the carseat to adjust the harness size).
Would I prefer a 5 point harness? A five point harness is the safest harness, even for adults, but some kids feel like they've outgrown the harness, or you might prefer the simplicity of using the car seatbelt
Color and Design. That cute pink cover might seem like just the thing for your precious baby girl, but if you plan to have more kids, consider a neutral color.
What is the "track record" of the company that manufacturers the seat? Newer seats may have appealing features. On the other hand, an established company will have lots of data about how their seats perform in a crash.
Do you need 3 across? When you have your first child, it's hard to imagine ever needing to seat three kids in the back of your car, but the fact is that if you end up carpooling during the school-age years you may wish you'd bought an extra narrow seat
Do you ever need to seat a younger child in that seat? If you carpool, you may sometimes need to carry a not-booster-seat-aged child in your car, it's useful to have a carseat that would accommodate both your booster seat aged child and a younger child so that you don't need to swap out seats.
Does your car have a headrest at the appropriate height for your child?If not, you'll need a high-back booster seat.
Does it Fit?Check the seat's height and weight ratings to make sure you'll be able to use it until your child is 8 years old and 4'9" tall
Is it WashableA daily use booster seat should have a machine washable cover.
Do my Kids Need Cupholders If your car doesn't have cupholders that your kids can reach, you might consider a booster seat with a built in cupholder.
What Kinds of Booster Seats Can I Choose From?

How do I Choose A Safe, Well Made Booster Seat
Sadly, there's not one best seat for every family, nor is there one best source to get all the information you need in order to make a decision. Here are the resources I use when evaluating a carseat.