Our week in Scotland is past, and I'm still wading through mountains of photos and memories. I've struggled with how to share such a big trip with you - somehow a post per day of the trip seems like too much, but obviously the description I've been giving to friends and family "It was really crazy fun" is too little. I'll start by sharing some of my favorite moments over the course of a few picture-heavy posts, and then dig in with posts about how the logistics worked and some more detailed stories in my photo friday posts. Along the way, I hope you'll dive in with questions or comments!
I owe a big THANK YOU to Adventures by Disney who invited us to join them for a 5 day condensed version of their new Scotland Family Vacation.
After a jetlagged day of wandering Edinburgh and visiting a few of the city's many museums, Everest and Darya were just itching to begin our tour. We hauled our luggage from the apartment I had rented to our Adventures by Disney home base, the Balmoral Hotel. The kids must have felt like they were wandering into a castle. I mean look at this place, wouldn't you?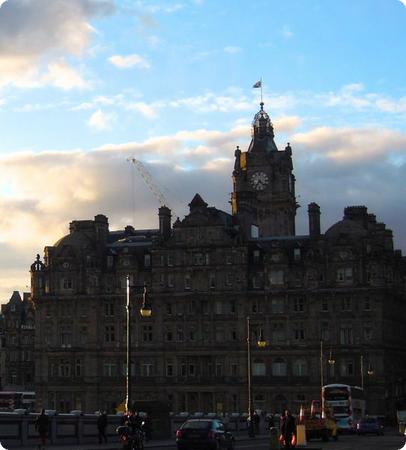 This grand old hotel opened in 1902, and is right in the heart of the city. Sometimes an older hotel can feel, well, older, but the Balmoral was elegant through and through.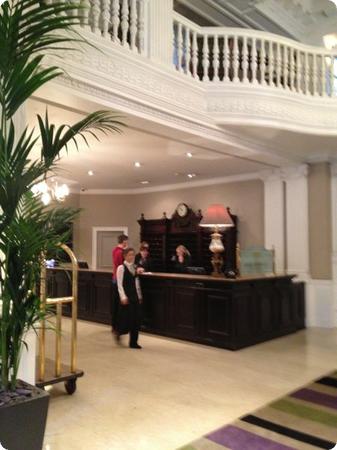 But grand architecture doesn't hold a child's attention for long, so our first stop was a hotel lounge where we'd meet our Adventure Guides.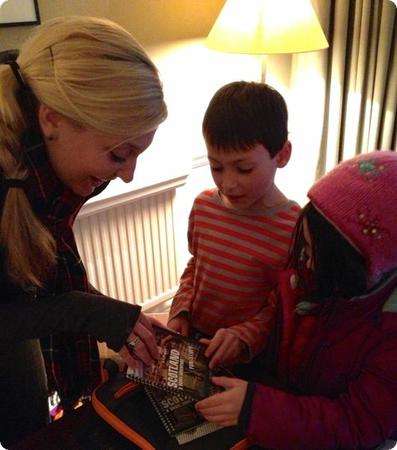 That's Hanaka, one of our two Adventure Guides. The competition for this job is fierce with over 1000 candidates applying for about 12 jobs each year, but the kids don't know a thing about that. They're just excited to be the focus of the greeting in what's usually a "grown up" world. Over the course of the trip, they really warmed up to both guides, and Darya, who was particularly fascinated by these glamorous older girls, spent an entire meal on Hanuka's lap. I warmed up to them too. Who would love a guide who, upon realizing that your child really only likes PB&J for lunch calls ahead and arranges a special meal for your group's picnic?
Our trip began in earnest with a welcome banquet at the Balmoral Hotel. Each family had a chance to introduce themselves, and with that invitation in place, Everest was quickly up in front of the group announcing that his birthday would take place later in the week. Darya, on the other hand, sensing we'd be stationary for a while, was asleep in my lap before her appetizer arrived.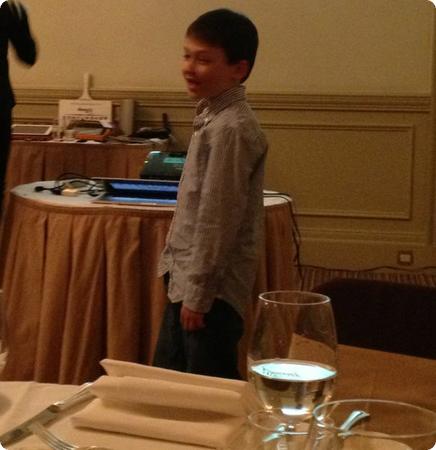 I could barely wake poor Darya for what was, for most of the kids, the highlight of the evening... a romp down the hotel's hallways in search of a message from a "Wise Woman." We listened for sounds until we came to a closed door, opening it to find...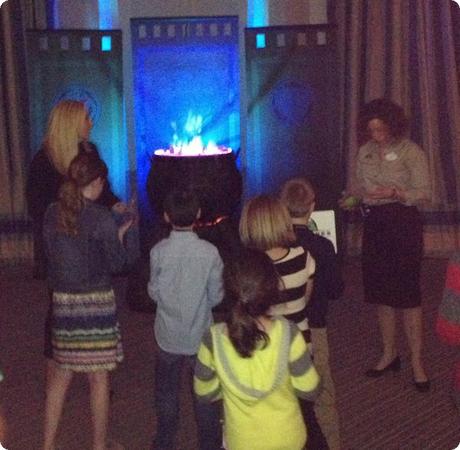 ...the witch's cauldron from Brave. And what did that steaming cauldron tell us? That we needed to grow together as a clan over the course of the trip. Darya was too tired to get involved, but for Everest, it seemed to kick off the spirit of fun and togetherness of the trip.
Related Links
Edinburgh with Kids
Jetlagged in Edinburgh
Children's Books and Toys for a trip to Scotland
6 comments | Posted on April 24, 2013 |

Save to del.icio.us



Subscribe to our feed