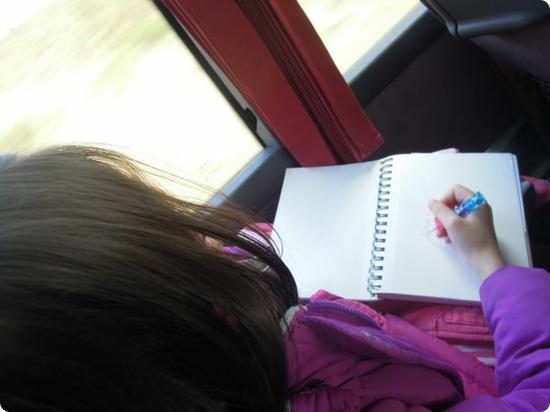 One thing I am very glad to have done on this trip was to let the kids design their own journals. I'll write more about that soon, but the great thing was that since they "owned" the journals they were much more enthusiastic than usual about writing in them. Here's Darya sketching the scenery on our ride up to Glamis Castle.
Reader Question: Do your kids keep a journal when you travel? Do you?
Related Links
Children's Books and Toys for a trip to Scotland
Travel Guide: Edinburgh with Kids
More stories about Scotland with Kids
What is Photo Friday?
Post a travel photo on your site. It can be about any topic, as long as it is G-rated.
The focus of the post should be on your photo.
You don't need to be a professional photographer (I'm not), but do showcase your best work, and make it big enough to see well!
It's nice to include a few sentences about the photo, but it is not required.
Link back here so that your readers can see all the other great Photo Friday posts.