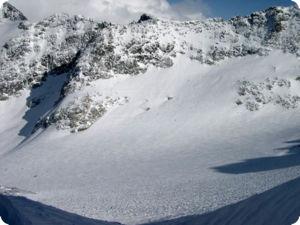 I was shocked this morning as D climbed out of bed, forgoing her usual morning cuddle to race to the window and scream "gondola." Afraid she would wake up her very tired brother, I hauled her out of the room and we went off in search of coffee. A quick stop at Behind The Grind gave us a chance to scope out their delicious (and hearty) looking breakfast options while I picked up some coffee to go.
Once everyone was awake and dressed we escorted P to the slopes and the kids and I headed up the Blackcomb gondola for some more snow play. We don't see much snow in Seattle, so we don't have much snow gear. The kids wore snug footless pj's as a base layer, lined pants, and rain pants on top. I kept their feet warm and dry with thick socks and rainboots. Gear like this might not be great for skiing, but for 20 minutes or so in the snow it worked great.
We warmed up with lunch at Zog's Dogs, otherwise known as "the toddler dream restaurant." Zog's serves hamburgers, hot dogs, and fries with different toppings. E had his fries plain with ketchup while D and I shared fries topped with gravy, cheese curds and sausage. It was fun to talk to E about how quickly the food cooled down in the cold air, and how it steamed as if it was straight out of the oven even when it had reached a comfortable temperature. He was a bit puzzled, and I bet we'll return to that discussion next time we're eating warm food in cold weather.
Next stop, back to hotel for D's nap (and a little down time for me) After deciding that E is probably still a little too young to go tubing independently, E and his dad returned to the Whistler Core Climbing and Fitness Center for more climbing and play. P discovered that in addition to the climbing area, they have a selection of books, some chalk and a chalkboard and other quiet activities.
After D's nap, the kids and I headed out to explore the village. What I thought would be a short stop at Hatly turned into a long one as my kids explored their great selection of PVC free rain boots and umbrellas. E and D (who have been fighting over our one child friendly umbrella for the past few months) picked out matching frog umbrellas and delighted in carrying them everywhere for the remainder of the trip.
Our final stop was at Expressions Art Studio where the kids got to paint on ceramic tiles. D had more fun painting with the water than the paints, but did manage to choose two favorite colors (blue and yellow) and get quite a bit of them on her tile. E, who likes orange and green for EVERYTHING (a green sippy with an orange lid makes milk taste best and his birthday party didn't so much have a theme as a green and orange color scheme) decorated his tile exclusively in those two colors. E was fascinated with the kiln (which was visible in the studio) and cannot wait to return in the morning to pick up his tile.
Related Links
Whistler With Kids
Whistler Family Vacation Day 1: Snow and Sun
Finding Kids Activities on a Family Vacation
0 comments | Posted on April 22, 2008 |

Save to del.icio.us



Subscribe to our feed