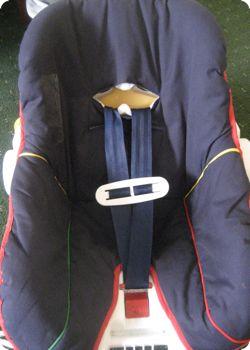 As I sit down to write this, ABC's San Diego station is running their coverage of Unsafe Car Seats at Advantage Rent A Car as the lead story on their website.
Here is a link to the video: New Complaints about Advantage Rent A Car's Unsafe Car Seats
I feel very proud to have been a part of this story. As with our story earlier this year Advantage Rent A Car's Unsafe Car Seats the team at ABC was ultra-professional and I learned a lot from working with them. I am particularly excited that the California Highway Patrol is now looking for a grant to do spot inspections of rental car agency's car seat rental programs.
Why did I investigate?
Several people have asked me how I made the decision to fly down to LA and investigate this issue myself. I could have easily published a story based on Barbara's experience and left it at that.
When Barbara contacted me, first by commenting on our original story on Advantage Rental Car's Unsafe Car Seats and then following up in email, I felt terrible. I had truly hoped that Advantage would keep their promises of a strong car seat safety policy and I published them on my website. This wasn't a case where Barbara had stumbled into the problem. She had seen my story, and decided to rent from Advantage because of the new car seat policies I had included in my article. She reasoned that, less than 6 months after a very public news story and a sweeping policy change, her son would be safe in a car seat rented from Advantage.
I think there is a point for every blogger, where it becomes clear that the blog is no longer just a way to share stories with a close circle of family, friends and regular readers. Seemingly overnight, people they have never met are using the information they provide to make real decisions with real consequences. This was my moment of realization. My emotions ran the full gamut, from guilt, anger, to a sense of responsibility.
I wanted to make sure that Barbara's story had enough weight behind it to be told as publicly as the original story did, and I wanted to warn even more parents about the dangers of renting a car seat, from any agency.
I also felt a sense of responsibility to make sure I had the full story. Before accusing Advantage of breaking their promise, I wanted to know whether Barbara's experience was the norm or an exceptional case. By visiting the location myself, I was able to experience first hand what Barbara went through. I was able to ask for manuals over and over. I was able to talk to a manager and see whether she would follow the agency's policy where employees had failed (Barbara also talked to a manager) and I was able to look at each and every car seat available for rental that day to see what condition it was in.
Over the past few months, I have realized that my blog is a platform where I can do some good. There is a reason that PR professionals are so focused on targeting bloggers (and mom bloggers in particular) right now. It's because we have become very effective at sharing our stories and influencing people. That influence has become so powerful that PR executives are willing to pay for it, but I think it is also important for bloggers to ask themselves how they want to use use their power.
Is it possible to change things for the better?
Some might see this story as a failure. Advantage was caught, they made some very public promises, and then they broke the law again... putting more children at risk.
I don't see it that way. With digital cameras and blogs, parents are in a better position than ever before to share information about issues that impact them. This story was picked up on countless blogs and newsgroups. Parents forwarded it around in email. All of those things helped get the word out to more people than a single news broadcast might reach.
Even better is the news that the state of California is looking for a way to step in. Based on these stories, the California Highway Patrol is looking for a grant to perform spot inspections of rental car agencies.
Having a publicly documented series of stories helps too. If this issue keeps getting raised, the agencies will start to take it more seriously. It's not just bad PR, but a documented trail of negligence is a legal liability too.
Are you done now?
Yes. I know from the email and comments I get from my readers that this problem isn't limited to just one rental car agency or just one city. It is going to take time to change a practice that has been going on for years. It won't happen with just one news story or even one piece of legislation. I plan to keep reporting on this issue until I stop hearing from parents who get stuck at the airport with their young kids.
In the meantime, I hope you will share your stories with me if you have had an experience (good or bad) with car seats at a rental car agency. I hope you will also join me in warning parents to bring their own car seats when they travel.
Related Links
ABC's Blog: A Behind The Scene's Look at the Advantage Rent A Car Story
July 2008: Unsafe Car Seats at Advantage Rent A Car
Dec 2007: Advantage Rent A Car's Unsafe Car Seats
ABC News: New Complaints about Advantage Rent A Car's Unsafe Car Seats
3 comments | Posted on August 15, 2008 |

Save to del.icio.us



Subscribe to our feed