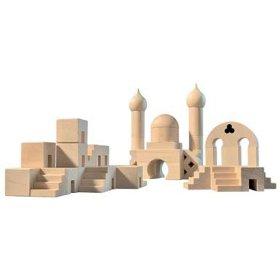 Like most families, we will be scaling back our holiday giving this year. Instead of mountains of new toys, we'll be looking for gifts that will last a long time, have lots of play value, and that are in keeping with our family's values. I always look for one or two things that help the kids expand their cultural horizons, I thought I would share some of our current favorites as well as the toys I'm considering for this year.
Easy-to-Weave Dream Catcher Kit

E has terrible nightmares, and though he doesn't always tell us about them, he is sometimes scared to go to sleep at night. We've developed a little ritual that seems to help (I sing bad dreams go away, to the tune of "rain rain go away") but still, I'd like to do more. I like the idea of hanging a Native American Dream Catcher over his bed. Native Americans believe that the web-like dream catcher protects it's owner from bad dreams by catching them in the web while allowing good dreams to pass through. The bad dreams evaporate in the light of day. These kits seem like a great way to go. He'll enjoy making his own dream catcher, and I'll have fun tying the project back to our experiences in Taos Pueblo this summer
Little Travelers DVD - Japan, Bali and British Isles

My kids love watching the adventures of the two sisters in the Little Travelers DVD explore the world, and these are among the few DVDs that I actually enjoy sitting down to watch with them. Over time, it's been really fun for me to watch the kids act out scenes from the movies. Their current favorite is pretending to make Mochi by pounding on the ground with sticks. I previously published a full review of Little Travelers Japan DVD.
World Map Wall Hanging
We've hung various US and World maps in E's room, but somehow the kids always seem to love them to death after a few months. I'd love to invest in a high quality canvas map (like this one from IKEA for the whole family. As the kids grow, I know it will be a great way for us to learn about the places we're headed as well as places in the news.
Easy-to-Make Pueblo Village

When we returned from Santa Fe this summer, E and I made this Pueblo Village together. At 3, he needed a lot of help, but we really enjoyed having a project to do together (I'm not a particularly crafty mom, so pre-made projects are always welcome in my house) and he loved acting out some of his memories. The same company makes a variety of other travel-related kids, including a Northwest Coast Punch-Out Indian Village
, Mayflower
, Early New England Village
, Western Frontier Town
Lego Taj Mahal

We are a Lego family, and I have to admit that I'm a little obsessed with this Lego Taj Mahal
set. It's way out of my price range, but I love the idea of building well known buildings like the Lego Make & Create Eiffel Tower 1:300
(on sale now for $159) or the Lego Sears Tower (just $20) or better yet, buy some Basic Lego Bricks
and try to recreate some of your favorite buildings.
Middle Eastern Blocks

My kids have a set of basic wooden blocks that they come back to over and over again. The way they play with them changes over time, but they never seem to fall out of fashion. It would be fun to familiarize the kids with other architectural shapes, and I love this Middle Eastern Blocks
from Haba. The company also makes a Russian House
, Antiquity Architectural Blocks
, Japanese House Building Blocks
and many other architecturally themed building blocks.
Wooden Sushi Set

We've had this sushi set in our car for over a year now, and we grab it each time we enter a restaurant with the kids. Of course it's especially fun when we happen to be eating Japanese food! The set is simple, but the kids like rearranging the blocks, sticking the sushi rolls together (each piece has velcro) and cutting them apart again. Pretending to eat each piece usually takes up enough time that they don't even notice the long wait for our food & we think there's nothing cuter than watching E dip his real sushi in the fake soy sauce.
Related Links
Toys, Gear and More for Traveling With Kids
4 comments | Posted on December 11, 2008 |

Save to del.icio.us



Subscribe to our feed