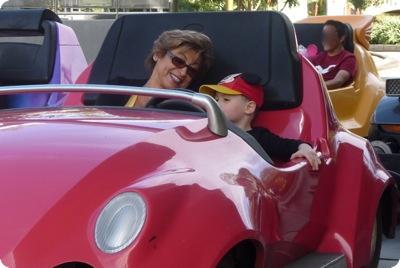 We approached Disneyland a bit more prepared today than on our last visit. Armed with tips from my readers a few healthy snacks, and two tired but excited kids we entered the park via the Monorail that runs from the hotel area to Tomorrowland.
Tomorrowland was the perfect first stop because E has been begging us for months to buy him a car. Not a Fred Flintstone-like Little Tykes car, but a real car that he can paint his name on and drive around (without a car seat, thank you very much). Autopia, where kids drive around an outdoor track in gas powered cars seemed sure to be a hit. It is also a ride that I loved during my own childhood visits to Disneyland (at least until I was old enough to realize that the cars pretty much steer themselves).
We tried Disney's fast pass system, where you swipe your park tickets and in return are given passes that entitle you to come back within a specified time window to wait in a shorter line. Our passes said to return in an hour. That was just enough time to rent strollers, ride on the Astro Orbiter, and return.
The last time we were in Disneyland D raced towards the Astro Orbiter shrieking (a ride where rocket ships circle around in the sky), while E absolutely refused to ride. This time we got smart and had D ask him to join her. Remembering the history, she begged. It worked like a charm, and he climbed on board enthusiastically. He loved the sensation of flying, and for the first time, he climbed off a ride happy instead of traumatized. Whew!
Autopia too (not surprisingly) was a hit. E is old enough to drive himself (but not to ride alone) and felt so grown up climbing into the car, putting on a lap-belt (instead of buckling into a car seat) and steering. D squeezed in a car with Peyman and I, and had a harder time reaching the wheel (even very small children must sit on the seat and not on a lap), but was equally delighted. When the ride ended, E begged to go on again, and the single low point in our day was gently steering him to the parade with the knowledge that riding Autopia again would mean another hour-and-a-half of waiting.
Today's parade is a "Christmas Parade" and in general, the park has been absolutely taken over by Christmas. For some that makes it a wonderland, but since we celebrate Hanukkah I'm less enthusiastic. Sure, there was the classic nod to other cultures in sometimes using the word "Holiday" but I saw no holiday symbols other than Santa and Christmas trees.
As a Jewish mother, that puts me in an interesting position. My son is at a Jewish preschool, and here in Seattle, Christmas celebrations and decorations tend to be understated. My kids haven't encountered Santa yet, and I dread the day that we have to have "The Santa Talk..." Every Jewish mother knows it... the talk where you tell your kids that Santa is imaginary, but that we need to keep that tidbit of information a secret from our friends who believe in him. . . and then you struggle to explain what a secret is, why it's ok to sometimes keep one, etc. etc. etc. Believe me, I'd rather talk about where babies come from.
As usual, I was unnecessarily worried. Despite all the announcements about presents from Santa on Christmas morning, my kids were so infatuated with the Disney characters that they barely noticed Santa. They probably thought he was one of the supporting characters in the star-studded lineup. The fact that they know Mickey and Minnie are adults in costume will probably make it easier for me to talk to them about Santa when the time comes. Still, it felt strange to be in a place that was so completely Christmas focused, and I wish I had seen a few nods to my own family's traditions in the park.
Like last night, the parade route was incredibly crowded, but we managed to find ourselves a spot at the edge of Main Street and sat down to wait while my husband ventured off in search of food. He returned just as the parade started, and we rested while the kids enjoyed the parade. D screeched with recognition and delight as each of the characters she had met at the mom blogger's party appeared. For her, they were all celebrities, and I think that if she'd known how, she would have said "I can't believe this is really happening to me." The next morning, when she woke up horse, I worried for about 10 minutes until I remembered back to this moment.
By the time the parade ended, it was well past D's naptime, and yet she seemed to be going strong. We decided that she could handle one more ride, and hightailed it to "Small World." Small World was my own favorite ride as a child, and on our last visit I was disappointed to find it closed for renovation. This time, though, armed with Fast Passes (a gift to each of the mom bloggers from Disney) we skipped past the line and got directly onto the ride. The kids were surprised and excited. Suddenly overtired and fussy, D recovered the instant her bum hit the boat's seat and announced "this makes me happy." As a mom it was fun to watch my kids faces light up as we journeyed through each "land" with its singing characters (albeit to the tune of "jingle bells" mixed with "small world" and lots of Christmas Decorations).
Nobody wants their childhood memories to be renovated. I had been worried that the renovation wouldn't be true to my memories of the ride, that the draw of high tech animatronics might prove too strong to resist, or that princesses might somehow force their way in, but none of those things was true. I would be hard pressed to say what had changed. The ride seemed a little more sparkly, a little prettier, and I suspect that the portrayals of different cultures were modernized a bit. The ride remained what it has always been, a sweet and nostalgic journey through different lands that is appropriate for all ages.
After we exited, poor overtired D put her head down on daddy's shoulder and fell asleep. Knowing that she would have a meltdown if she woke to find herself outside of the park, we hung out for another few hours, but we were all essentially as exhausted as she was. There were no more rides for us that day, just Ice Cream, a visit to Tune Town and story hour with the princesses. We left just as D was starting to wake up and headed to Grandma's house for dinner and a solid night of sleep before returning to Seattle in the morning.
Was Disneyland perfect? Did we have a carefree day with the kids? Of course not, but the kids had a wonderful time, and the magic of the Disney characters seemed to tap into a secret, gleeful spot that my normally contemplative son almost never gets to reach. As a mom, that made the journey worthwhile.
Related Links
Disneyland Mom Blogger's Event
Disneyland on the Spur of the Moment
10 Activities Near Disneyland that Kids and Adults Will Both Enjoy
What to do in Orange County, CA with kids
14 comments | Posted on December 16, 2008 |

Save to del.icio.us



Subscribe to our feed