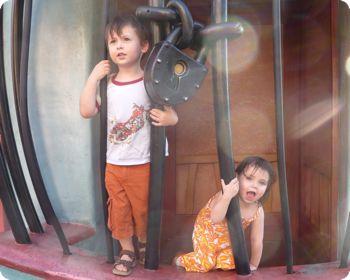 There must be thousands of articles about how to get the most out of your visit to Disneyland. The Internet is littered with them. So how many do you think I read before visiting? Me, the person who usually plans our trips down to meals and snacks? The person who researches the best bakery and ice cream in every city we visit? Zero.
Our kids first-ever trip to Disneyland was a whim. My husband's parents live nearby, and we've always planned to take the kids to visit the theme park when they were old enough to enjoy it. Suddenly, on our most recent trip, we realized that they were, and finding ourselves with an afternoon free we decided to visit.
Like most parents, I have fond memories of my own childhood visits to Disneyland. Like most parents, I look forward to sharing those experiences with my kids as they grow up. As a parent who has made a decision not to limit our travels exclusively to the theme parks and all inclusive resorts that seem to be the mainstay of family travel, I was also interested to see how our experience at Disneyland compared with our independent travels to destinations like Paris, Barcelona, Santa Fe, New York and Chicago. Would it be tons easier? Would the kids have way more fun? Would our memories be more special? Or would it feel too manufactured and perfect to satisfy me?
We did everything wrong. Not having planned even an hour ahead, we showed up with no advance tickets, no water bottles and no snacks. We waited in the heat, in an unshaded line for 20 minutes to buy tickets, and before we were even in the door, we had spent almost $250! (2 adult tickets, 1 child ticket, two stroller rentals and parking + our first round of snacks and water)
E was overwhelmed by the crowds along Main Street, and we quickly hustled him into the penny arcade where he delighted in making a squished penny with "Chip" the Chipmunk's image on it. As we emerged from the arcade, crowds were beginning to form along the sidewalk for a midday parade. We parked our strollers, using them to save our places, but with over 30 minutes left before the parade would start, we high-tailed it over to the "Astro Orbiter" a low key rocket-ship ride just at the edge of Tomorrowland. Our first thought had been that E would love the ride, while D, perhaps too young, would wait it out down below. Instead, D raced to the rockets screaming while E held back, refusing to ride even after watching his sister take a turn. A little worried about whether he'd ever warm up, we headed back to the parade.
The parade was possibly the hi-light of our visit. Our kids don't watch much TV and weren't familiar with any of the characters, but they were enchanted with the costumes, the music, and the dancing. The opportunity to sit quietly and watch helped E settle in a bit too, and when the parade was over he seemed more relaxed and open to exploring.
Our next stop was Toon Town. It was late afternoon on a Friday, and with the parade over, the park was beginning to clear out a bit. The kids were thrilled to run around and explore the cartoon-like buildings, play in a playground, and unwind a little. It was here, though, that we made our first critical mistake. With no written guide to the park, we assumed that the ride in this particularly toddler friendly area would be a good bet for our young kids. As we waited in a characteristically long and winding line for the ride, we should have clued in to the offbeat entertainment and dark atmosphere. Roger's Cartoon Spin was absolutely terrifying for our two little kids, and by the end of the ride they were both crying and had their heads buried in Daddy's chest. Needless to say, we worried that the kids would have nightmares for weeks and that that we'd never get cautious E on another ride again. Now I know why there are so many shops at Disneyland. Our first (if not best) parenting instinct was to herd the kids into the closest one and let them choose anything they wanted. Two very-fancy-sippy-cups later we, and our rejuvenated offspring were on our way to our next adventure.
We shuttled the kids over to Mikey Mouse's house where a sign advertised the opportunity to meet Mickey. The kids wandered through the house and gradually made their way to the "back yard" where Mikey would be filming his latest movie. I was surprised at how effective the theatric build up was. By the time the kids made it in to meet Mickey, the character was, in their minds a huge celebrity worthy of adoration. Each of them was thrilled to stand next to Mickey as I snapped the pictures that now hang on their bedroom walls. It's this experience that the kids come back to over and over, and when friends ask them about Disneyland they beam as they tell the story of their meeting with Mickey.
With the sun beginning to set, we took one final ride, a train trip around the park that the kids absolutely adored. The trip through the "Grand Canyon" especially resonated with them, since Daddy had returned his river rafting trip down the Grand Canyon just a few weeks before. They were obviously very curious to see "first hand" what the canyon looked like.
We hustled out of the park before the final parade began, and D fell asleep in my arms before we stepped aboard the shuttle that would take us back to the parking garage. E was still awake, though, and as we stepped off the shuttle, Disneyland's end-of-day fireworks filled the sky. As we stopped and watched, it was clear that what had started as a stressful outing for little E, and ended well after his regular bedtime, was in his mind one of his most spectacular days.
I think it is that potential that makes Disneyland special. There were certainly rough spots throughout the outing. For us, it wasn't any easier than a day out in Paris, Rome, or Santa Fe. It was expensive too, and I was surprised at how much pressure I felt to make magic moments happen for the kids, rather than just exploring and letting them find us. There's tremendous value in encouraging kids to explore the real world and in letting them learn first hand that not everything is sanitized and perfect, so I'm glad that not every family trip is a Disney vacation. But an occasional dose of magic and wonder are healthy too, and that is what Disney know how to make it happen better than anyone.
Related Links
Crystal Cove State Beach - an Antidote to Disneyland?
Why Travel With Young Kids?
3 comments | Posted on November 3, 2008 |

Save to del.icio.us



Subscribe to our feed