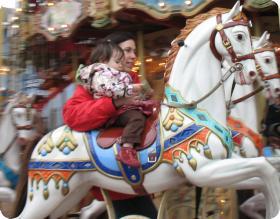 My earliest experiences exploring a major city were in San Francisco. I grew up about 20 minutes south of San Francisco. On weekends, my parents would often take us up to "the city" to explore attractions like the Steinhart Aquarium, Chinatown and the Exploratorium. As we got older, the excursions included eating "exotic" new foods at Chinese, Mexican, Italian, Vietnamese, and Russian restaurants. It was a great feeling to return "the city" this week with my two kids to rediscover San Francisco.
Our first stop was the recently restored Ferry Building The ferry building marketplace is the center of a transit hub that connects all of San Francisco's neighborhoods and the surrounding bay communities (perfect for our transit loving toddler) It's also a marketplace for specialty food producers, restaurants and cafes, and food-related shopping. We grazed our way through the building (what child wouldn't want to snack at a chocolate shop, a cheese shop, and more) and devoured some delicious sandwiches at Mastrelli's Delicatessen. The beautiful Saturday Farmer's market was just closing up out back, and we let the kids run for a while we browsed beautiful local produce and gourmet meats. What a great way to unwind and recharge after our plane flight!
It was cold and threatening rain, so we decided to save a ferry ride for another trip, and instead took a short streetcar ride to Pier 39. While everyone knows about San Francisco's hill-climbing Cable Cars, most are not as familiar with its historic streetcar system . The electric rail vehicles serve Market street and the waterfront… a perfect route for tourists. Cars were taken from historic streetcar lines around the world. We rode a beautiful Italian car from Milan complete with "Uscita" (exit) signs over the doors for our short ride to Pier 39, and of course the kids loved every minute.
Pier 39 would normally be too touristy for me, but with the kids it was fun to relive my memories of awe at fire juggling, cotton candy, and the opportunity to look for a pearl in an oyster. Little D was entranced with the stairs and ramps, running back and forth to visit them all as we slowly made our way to the pier overlooking the sea lion filled docks. Every winter, hundreds of Sea Lions winter at Pier 39, slumbering, swimming, and lumbering around the docks. We have few opportunities to see animals more exotic than squirrels and birds in their natural habitat at home, and the kids were totally entranced, wanting to watch the sea lions from both the upper and lower viewing decks and mimicking their sounds.
We finished the day with a great dinner at Shanghai 31, an upscale (but authentic) Chinese restaurant. They accommodated our tired kids with grace, keeping hot dishes away from them, rushing out noodles and steamed rice, and not flinching as D insisted on climbing the steep staircase at the entrance for the 100th time.
Related Links:
San Francisco Family Travel Guide
Planning a Day on Your Family Vacation
4 comments | Posted on February 1, 2008 |

Save to del.icio.us



Subscribe to our feed