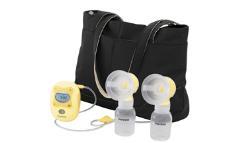 Whew, I had a lot more to say about breastfeeding and pumping when you travel than I realized! In this post, I'll cover what you should bring with you in your carryon bag if you plan to pump or breastfeed on your flight. My next post will cover what you need for formula or bottle feeding.
Breastpump
Pull your breastpump out of its carrying case and find a way to pack it in your carryon bag. If you travel a lot, consider investing in a travel pump. The Medela Freestyle Breastpump is lightweight and compact, and seems like a great choice. I wish it had been available during the time when I had to bring the (heavier) Pump In Style everywhere I went.
Pumping Accessories
Pack the pumping accessories (breast shields, membranes, etc) in a ziplock bag to keep them clean (and to keep them from getting anything else dirty). Membranes area always the most fragile part of the pump, and can be time consuming to find and replace, so pack an extra set. Consider bringing the hand pump adaptor that came with your breastpump in case something happens to your pump. If you are traveling internationally, you might also consider packing a second set of pumping accessories in your checked bag.
Extra Batteries
Some airplanes have power adaptors at every seat, but not all do, and you may have a difficult time finding a power outlet in the airport, so bring plenty of batteries. You'll also want to pack your power adaptor and whatever converters you'll need for your destination and any city where you have a layover
Milk Collection
I prefer to pump into Medela Pump and Save Bags instead of bottles. Why? The bags take up less room in my luggage, so I can bring plenty of them, and they're a bit more comfortable to use in the small airplane seats. Even better, I don't need to wash them out once they're used. The downside, of course, is that the bags are more easily spilled than screwtop bottles. You'll need to have a sturdy cooler to put them in or be careful with them. Also, you'll need to pour the milk from the bags into baby bottles (choose a time when there isn't any turbulence).
Another good option is to use your pumping bottles as baby bottles, that way you don't need to pack and carry two sets of bottles.
Refrigeration
Freezer Gel Packs (and ice) need to conform to the 3oz size limitations. Look for cooler packs that are clearly marked as being 3oz or less or bring along some frozen peas or lima beans in an insulated bag. You can also pack a few empty ziplock bags and ask one of the restaurants for ice once you have cleared security. I haven't tried them, but these reusable dry-ice cubes look like they could work great.
Cleaning
The best way to clean pumping accessories and baby bottles is with hot water and soap. Unfortunately, airplane tap water is not considered safe for drinking and should not be used to clean baby bottles. I use Medela quick clean breastpump and accessory wipes to wipe out bottles or pumping accessories and then rinse with bottled water.
Carryon Bag/Cooler
Bring along a small, collapsable cooler (not gel filled) to store expressed milk. Even if you don't have ice, it will help. The airplane floor is sometimes warm, so be careful not to place the bag on the floor. For the past three years, we've used and enjoyed the Baby Sherpa Backpack, in part because it has a built in insulated compartment to keep things cold.
What To Wear
Wear comfortable, loose fitting clothing, and make sure it is easy for you to hook up your pump. For travel, I like the Blue Canoe Jane Bras. They're not supportive enough for elegant evening wear, but they're comfortable and provide easy access for baby or a pump with no clips to fasten and unfasten. I also love the The Hands Free Pumping Bustier, which you zip on under your shirt when you need it. You can hook the pumps up without needing to see what you are doing, and it keeps your hands are free to help baby, use a laptop, or read a book once you are set up.
Bottled Water
If you are pumping or nursing, you need to drink lots of extra water, and it can be hard to get what you need from busy flight attendants. You can also use bottled water to clean pumping accessories or bottles and to prepare formula for baby. Buy water after security, or pack your own empty bottles in your carryon bag and fill them after you clear security.
Baby Bottles or Sippy Cups
Besides the pump, baby bottles are the biggest space filler in my carryon bag. I bring two or three baby bottles or sippy cups and rotate between them, cleaning as I go. That lets me always have one fresh, clean bottle available for use. I switched over from baby bottles to sippy cups as soon as my kids allowed it because the Take and Toss sippy cups nest inside eachother and are easy to pack (they are also BPA free). If you decide to try a new kind of bottle or sippy for your trip, let your child try it before you leave home and make sure that he or she is willing to use it.
Related Links:
Packing Lists for Family Travel
Finding A Quiet Place to Nurse or Pump in the Airport
Pumping and Nursing in the Airport
Pumping and Nursing on a Plane
3 comments | Posted on June 3, 2008 |

Save to del.icio.us



Subscribe to our feed