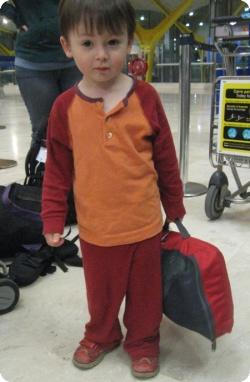 Now that it is Spring Break season, it seems like almost everyone I talk with is stressed about bringing their kids on a plane ride, and trying to figure out how to encourage them to be on their best behavior. As with everything else, a little advance preparation and having a few tricks up your sleeve won't guarantee perfect behavior, but it sure helps!
Here are my top ten11 tips for helping young children to behave well on a plane.
Tell her (or him) all about it…
Good behavior starts by helping your child understand exactly what is going to happen. With kids one year old and up, you can begin to talk about the trip a few days before you leave. Talk about where you'll be going (e.g. grandma's house) and how you'll be getting there (on a plane). On the day of the flight, lay out exactly what is going to happen. For example: first we'll take a taxi to the airport, then we'll go through security, and then we'll get on the plane and fly to grandma's. Children can begin to help pack a small bag when they are about 2 1/2, and it is comforting for them to know that some familiar items will be coming with them. Even very young toddlers understand more than you think, and even if they don't understand the details, they'll understand that there is a plan and that everything is ok.
Pack Light
It is a delicate balance to pack all the critical items in your carryon and still travel light . As you put each item in your bag, ask yourself whether there is a clever way that you can do without it. For example, would your child do just as well with a straw as a sippy cup? Also remember that having more than one or two bags can get overwhelming, especially at the security checkpoint. It can be better to pack a few bigger bags rather than lots of small ones. Our Packing Lists cover all the basics for family travel (and a some tips that will help even seasoned travelers).
Set Expectations
At each stage of the trip (especially through security) point out what is happening, and explain to your child what you expect of them. "Look, there's the conveyor belt, we get to put our shoes, sippy, and lovey on the conveyor belt and then we will get them on the other side." Knowing what is expected of them (before they're in trouble) will help keep your child from getting stressed out and loosing it. Allowing plenty of time for each stage of the trip also helps keep everyone calm. Worried about airport security? Here are our favorite tips for surviving airport security with kids
A Well-Fed Child is a Content Child
Bring some hearty (not sweet) snacks and pack them where they're easy to reach. Here are some of our favorites: Ritz crackers, freeze dried fruit, sandwiches, cheese slices, oatmeal packets. Remember that any liquids need to be packed separately, so it's easiest to avoid bringing liquid snacks like applesauce. Our Guide to Packing a Carryon Bag with Kids has more tips on packing snacks for your flight.
Divide and Conquer
Send one parent ahead to do some of the trickier tasks (checking baggage, buying snacks, pre-board & install car seats, etc) while the other waits nearby with the kids.
Wear them Out
A kid who has been cooped up too much already is not going to sit well on a plane. After you've cleared security, give your kids some time to run. Many airports have play areas, so be sure to ask the gate agent for details. If there's no play area, you can often find an empty gate area to play in.
Clear their Ears
Takeoff and landing are hard on toddlers because they don't know how to clear their ears. Bring a sippy or a straw so that your child can drink milk or water during takeoff (try to avoid juice as the sugar will only make the flight more difficult for everyone). Not every airline has milk on board (and some reserve it for coffee only), so buy some in the airport (preferably in a sealed container you can toss in your bag) or bring some powdered formula from home.
Set Your Own Expectations Right Too…
Expect that you'll spend the entire flight tending to your child (or children). If you start off on the right foot, the kids will be delighted with the extra attention, and you'll feel rewarded when they do get in some independent play time or a nap (instead of bitter when they don't).
An Engaged Child is a Happy Child Bring a variety of toys, books, music, and audio books (even a one year old can use adult earbuds). Be creative. Make toys out of everything around you. Barf bag puppets, scavenger hunts in the airline magazines, old fashioned seatbelt buckles. Teach yourself a few new finger rhymes (e.g. where is thumbkin) and games before you leave home. When it comes to toys, our rule of thumb is one new toy per hour that we expect our children to be awake. Introduce toys one at a time, making sure that your child has exhausted its play value before moving on to the next. There's nothing more fun than unwrapping gifts, so try wrapping each toy before you leave home. While I'd never spoil the kids like that at home, it's useful to have them associate long play rides with fun . Check out our Top Ten Tips for Keeping a Child Busy on a Plane and our list of Ten Great Travel Toys You Already Have At Home
Bring the Binky
Don't forget (or check) your child's comfort object, whatever it might be. Travel is stressful. They'll need it.
Sleep is Golden
If you think that your child is sleepy, do everything you can to create a comforting, sleep inducing environment. Sing quietly or play music (with headphones) for them. Go through their sleeptime ritual, and them that it will be a long plane ride, and they'll have more fun at grandma's house if they get some sleep now. Here are our tips for Helping Your Baby or Child Sleep on a Plane
When all else fails, remember, it's not whether your child is the best behaved on the plane. it's whether anyone else's child is worse.
Related Links:
Flying with Babies, Toddlers and Kids
Ten Tips for Keeping Your Child Busy on a Plane
Helping Your Baby or Child Sleep on a Plane

2 comments | Posted on March 25, 2008 |

Save to del.icio.us



Subscribe to our feed