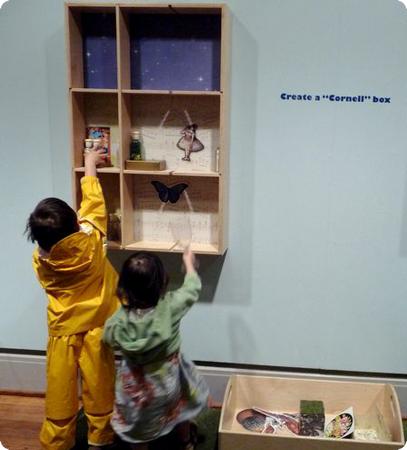 If you're participating in Photo Friday this week, don't forget to link back to this post... linkbacks are how more people find out about Photo Friday and how we keep the carnival growing from week to week, which ultimately brings more traffic back to you!
In the basement of Chicago's Art Institute is a small children's museum, the "Kraft Education Center." The center does a great job of getting kids engaged with art. There are art projects, a reading room, sculptures that can be touched, and this... my kids' favorite exhibit.
Artist Joseph Cornell assembled collages inside segmented boxes using found objects. Just off camera, a real Cornell box sits in a glass case for kids to view. What my kids loved, though, was this kid-friendly large scale model. They could have spent hours assembling and re-assembling their box, and in fact, they only left when the museum finally closed.
In researching this article, I found this great toy-version on Amazon: The Joseph Cornell Box: Found Objects, Magical Worlds
. Guess what the kids are getting for Chanukah!
Related Links
Chicago With Kids
Photo Friday: Please Share Your Photos Too:
Share a favorite travel photo by adding your link below. First timers, here is more Information about Photo Friday
6 comments | Posted on November 6, 2008 |

Save to del.icio.us



Subscribe to our feed