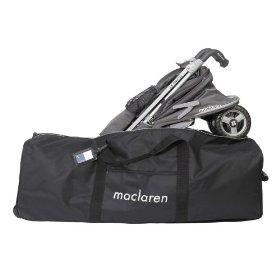 I recently received this question from a reader. It's a good one, and I thought it would be useful to share the answer
I am flying back East and will be gate checking my stroller. I am traveling with two kids and have one layover. I need my stroller to get the two kids between flights. I'm curious if people have found stroller travel bags a good idea? Sounds difficult, but maybe is good to protect your stroller? Let me know you experience. Thanks!
Here is my response:
Most airlines consider strollers and car seats to be fragile items and will not reimburse you for damage that happens when a stroller or car seat is checked. One way to avoid this is to travel with an inexpensive umbrella stroller or a small stroller, like the Quinny Zapp
that fits in the overhead bin.
A stroller bag, as you point out, is another great way to protect your stroller (or car seat). I particularly like (and own) the heavy duty Maclaren Buggy Bag Single Carbon
. With this bag, there's enough space to stuff in heavy jackets or other items that you don't need in-flight. It also works well as a cover for kid-carrier backpack. That said, it is large, and best suited for trips where you plan to check your stroller at the baggage check instead of bringing it to the gate.
A less expensive and lighter weight alternative is the Gate Check Umbrella Stroller Bag
Finally, you can consider one of my favorite travel-light options. Just fold up a large garbage bag in your carry on bag, and when you get to the gate put your stroller inside and knot it. It's not as heavy duty as a purchased stroller bag, but it will afford you some protection from damage and grime and you can use the bag for trash when your trip is finished.
Do you have a question about traveling with kids? Send me email: debbie at deliciousbaby dot com
Related Links:
Favorite Products For Traveling With Babies, Toddlers & Kids
3 comments | Posted on November 25, 2008 |

Save to del.icio.us



Subscribe to our feed