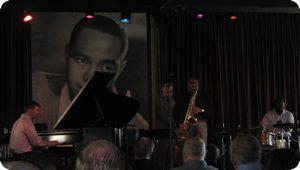 This afternoon's outing, a trip to Jazz Showcase with E to hear Benny Golson play, is simultaneously the activity I have most been looking forward to, and been most nervous about. E loves live music, and he does well when we find opportunities to listen to great music outdoors. But will he enjoy a real indoor concert that wasn't designed for kids? I want to find out, because with so many wonderful museums and other kids activities, I'm finding it hard to "connect" with "the real" Chicago. A Jazz concert in a historic club seems like a great way to do that. It's also something I probably wouldn't try back at home.
But first, we have a morning outing planned. We're headed to the Field Museum of Natural History. I have been looking forward to this too. Up until now, I have skipped over the Natural History museums in the cities we've visited, thinking that the kids were just too young to enjoy them. I didn't exactly start small, the Field Museum is widely regarded as having one of the finest collections of its kind in the world. Having seen the building and collection over and over in popular movies, our visit started with an almost nostalgic tone.
The kids have been fascinated with bugs, dirt and plants in the Seattle Tilth Gardening Camp they've been attending at home, so I thought we would start out with the Field Museum's Underground Adventure. In this exhibit, families pretend to "shrink down" to microscopic size and then wander through an underground garden, learning about bugs, worms, and organisms that live in the soil. D ran enthusiastically into the exhibit, but E was more reticent, saying that he didn't want to go "under the dirt" and ultimately he decided to stay outside with my mom while I wandered through with D. Our trip upstairs to see "Sue" the giant T.Rex was a similar bust, but our venture in to the Native American wing was a hit. The kids loved the dioramas showing Native American life, the costume displays, and especially the opportunity to go inside a reconstructed Pawnee Earth Lodge. The kids lay down on the beds, played with the pawnee toys, and E even worked up the courage to ask the docent a question... "Where did the kids sleep" He got a great answer too. A young Pawnee boy his age would sleep with him maternal grandmother until he was old enough to join the older boys and the men on the floor. Good thing he had my mom with him to snuggle!
When it was finally time to leave, we headed out to the bus. Those who don't know me personally might get the impression that I'm always organized, with a clear itinerary, a map, and everything the kids might need packed neatly in my purse. The truth is that I certainly have the skills to make that happen, but life with two little kids has left me... scattered. I left my guidebook, with the address for Jazz Showcase safely tucked inside it. My cell phone died as I tried to look up the address on DeliciousBaby.com and the phone number in the phone book was out-of-service (Jazz Showcase recently moved). Not only did I not want to skip the show, but I knew that my babysitter was waiting there to take D for her naptime. Standing up your trusted babysitter in a strange neighborhood doesn't seem like a great way to maintain a good relationship, does it? Can you feel me getting more frantic by the moment?
My slightly crazed but mostly inspired plan of action had us take the bus back to the central library (I remembered that it was just a few blocks from Jazz Showcase on the map) and use the Internet access there to search for Jazz Showcase online. Luckily, the bus we had taken to the Field museum passed right by the library, so I knew just how to get there. Time was ticking away as we were dropped off in front of the museum, as E insisted on opening the heavy metal doors himself, and as I raced in to the lobby. Luckily a kind receptionist offered to look up the address for me (I remembered the URL) and we were, indeed, just a few blocks away from the venue. As we dashed off, desperate not to be late, D fell asleep in her Ergo.
I was relived to arrive at the Jazz Showcase a little late, a little sweaty, but before the show actually started and with D sound asleep. Since there was no need for the babysitter to take D back to the hotel room, I invited her to join us instead, and we settled into our seats. Jazz Showcase's Sunday Matinees are a good choice for kids who enjoy music. There is a flat-fee admission, but kids are free. The admission covers all of your costs, and you are not expected to buy drinks once inside (though a full bar is available). The entire venue is smoke free, and seating is at comfortable tables. The music itself is not "dumbed down" in any way. Jazz Showcase is able to attract top-notch performers, and during our visit, Benny Golson, who played with (and wrote songs for) Benny Goodman, Dizzy Gillespie and Lionel Hampton literally filled the stage with his presence. This is very much a sophisticated adult's performance that has been made available to kids to enjoy.
E was excited to see all the instruments on the stage, and clapped politely as each musician took their place, but would he enjoy the show I wondered? Would we be forced to leave within minutes? For the first few songs, E was on the edge of his seat. Then he started to settle in, taking note when there was a particularly interesting solo, but mostly playing quietly with a toy and listening to the music. I kept waiting for the moment when he would ask to leave, but it simply never came. There's something about being in an environment with exceptional live music that is very fulfilling, and I think E was responding to that. D slept through everything (as only a very young child can), waking up for the last three songs.
After the show, E, who is normally very shy, ran up to the stage to thank Mr. Golson, and was thrilled as Golson scooped him up in his lap, giving him a kiss and a squeeze while my mom took a photo. Not sure what to do, E said "thank you for the nice music" a few times, and then climbed down. What a lovely way to wrap up our day, and what a perfect way for me to remember Jazz in Chicago.
Related Links:
City Guide: Chicago With Kids
Chicago With Kids Day 1: Rain Rain Go Away
Chicago With Kids Day 2: Millennium Park and Chicago Art Institute
Chicago With Kids Day 3: Lego Store and More
Chicago With Four Kids: What to See and Tips for Making it Work
5 comments | Posted on October 1, 2008 |

Save to del.icio.us



Subscribe to our feed