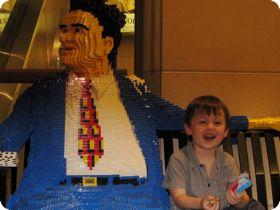 One of the delights of bringing our babysitter with us this trip is that I get a vacation instead of just a trip away from home. I mostly enjoy seeing new places with the kids, so I've mostly used that time to go out for grown-up dinners with my mom. Today, though, I left the kids with the babysitter in the morning to take the Architecture River Tour. Architecture and huge unchanging buildings can sometimes be a dry subject, but our guide did a fantastic job of sharing the drama and history of the buildings that line the river. The kids probably would have done ok with this (boat rides are fun, and the constantly changing scenery makes it easier to sit still) but I'm glad that they went to the Children's Museum and Navy Pier instead. My mom and I also revisited the Art Museum, and it was a rare treat for me to enjoy the art at my own pace, without trying to keep the kids entertained.
I picked up the kids after naptime. With most museums closing at 5pm, we looked for activities close to the hotel instead. First stop was an early dinner at Heaven on Seven Heaven on Seven is a popular Cajun restaurant, and it turned out to be a perfect spot with the kids. They were thrilled from the moment they say the kitschy decor and were handed their carnival beads, but I thought the menu was something special too. We started with fried green tomatoes, perfectly cooked and delivered warm. I also ordered sweet potato polenta for D, who devoured it, screaming with glee each time I refilled her bowl. My mom and I both had the restaurant's signature po-boy sandwiches, while the kids enjoyed (adorable) mini-corn dogs with cheese grits from the children's menu. Our server really went out of his way to bring the kids small spoons and bowls, suggest menu items they might like, and generally make sure that they were comfortable and happy.
Having decided to forgo the LEGOLAND Discovery Center (Lego's newest amusement park, located in the hard-to-reach Chicago suburbs), I took the kids to the next best place... the Lego Store on Michigan Avenue. Both E and D love to play with Lego, and it's an addiction my husband and I are happy to encourage. At 3 1/2 E is just beginning to be able to follow instructions to build a simple lego kit, and D is finally old enough that she's not tempted to stick them in her mouth. The kids had so much fun playing in the huge bins of Legos, that when bedtime finally came, it was tough to drag them away, even with the enticement of getting to choose one thing to take home.
In the hopes of tiring them out before bedtime, I encouraged both kids to walk all the way back to the hotel. Bedtime has been a challenge on this trip. Usually my husband and I sleep in separate beds, each with a child safely in our arms. That made sense when the kids were little, and likely to roll off (or worse, we worried, the big one might squish the little one), but it has gotten old lately. We want to move to a model where the kids sleep together in one bed while we sleep in another. Between the two of us, I have more patience for nighttime shenanigans (or at least greater stamina) so it made sense for me to start the trend on this trip.
We talked about the bedtime plan before leaving home, and the kids were excited... perhaps a little bit too excited. Bedtime has become a frolic, with the kids climbing over one another, singing silly songs, and generally doing anything except sleeping. In the un-babyproofed hotel room (and this one is particularly hard to babyproof), I'm wary of leaving them to their own devices the way I would in their own rooms at home. Soothing stories, special songs, exercise, and even bribes have failed, and I'm not planning to enter the dangerous territory of "empty threats." Tonight I tried lying down with the kids with the hope that peer pressure would help them drift off to sleep with me. Not so much. I woke perhaps moments or perhaps after quite a while to D bouncing on me. Oh well, eventually they'll be old enough that I won't have to worry about floor lamps and electrical outlets, and going to sleep will be their problem instead of mine. For now, we'll keep them separated when we can.
Related Links:
City Guide: Chicago With Kids
Chicago With Kids Day 1: Rain Rain Go Away
Chicago With Kids Day 2: Millennium Park and Chicago Art Institute
Chicago With Four Kids: What to See and Tips for Making it Work
Kid Friendly Itinerary & Map: Chicago's Near North Side & Miracle Mile With Kids
5 comments | Posted on September 30, 2008 |

Save to del.icio.us



Subscribe to our feed