This article includes a review of a complimentary stay at the Great Wolf Lodge in Grand Mound, WA (about 90 minutes south of Seattle by car). I received no other compensation besides the hotel stay and waterpark admission, and the hotel did not express any requirement that I express a particular point of view. I do not accept pay-per-post or pay-per-positive reviews, and on the rare occasion that I do accept a free service from a sponsor I will always let you know..
I'm not sure exactly what I imagined when I first conceived of the idea of visiting the Great Wolf Lodge a month before my due date. A kid focused destination in the middle of nowhere isn't our usual M.O. but somehow it seemed only fair to give my "big kids" a last chance at their own wild "babymoon" before boppy pillows, nap schedules and a sling slow us all down. Great Wolf seemed like an appropriate choice - the close location meant that we could drive instead of flying. With both kids more interested in being in the water lately, I imagined they'd love the opportunity to splash and play at an indoor waterpark for an entire weekend. I also envisioned sitting poolside with a book - a reality that didn't quite come to fruition, but more on that later.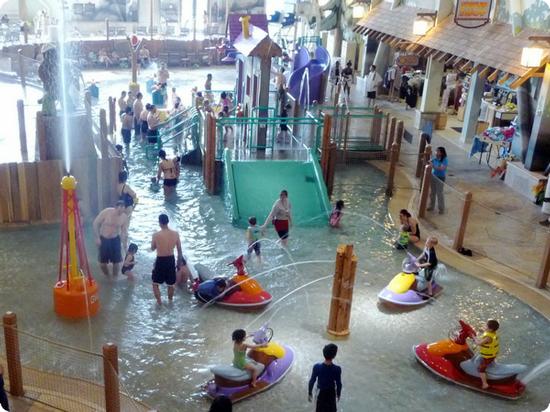 Pulling up at the hotel was a totally different experience than winding our way down the path to the Four Seasons a few weeks before. With a parking lot full of SUVs and Mini-Vans, there was no doubt about who was in charge here.
As I waited in line Vegas-style to check in at the reception desk, my husband marched the kids to the back of the grand lobby where floor-to-ceiling windows showcased the indoor waterpark. A zero depth entry toddler pool (complete with mini waterslides) featured prominently in the foreground, with the larger slides and a wave pool in the background. Above the "big kids" area, an enormous bucket gradually filled with water. D watched the process with wide eyes, laughing riotously each time it tipped, dumping its contents on whoever was below. As I walked up with the wristbands that would admit us to both the waterpark and our room, she struggled to put her thoughts into words, "Mommy, look, it's a funny cup."
We dragged the kids away from the window and into the waterpark itself where we changed into swim gear in the locker rooms (our hotel room would be ready later in the day) and parked our clothing in a locker.
Lifejackets were readily available, and while they seemed like overkill at first in the shallow water, we quickly realized that D, (always willing to take risks when it seems like there's fun to be had) needed one in order to keep herself above the waterline on the slides and occasional slips.
Both kids were a little intimidated at first by all the activity - both from the splashing, spurting, water features and toys - and from the other kids. As we splashed through the water exploring spraying "waterskis," mini-waterslides and other water activities I remembered the simple wading pools (with complete sight lines from poolside chairs) of our last few vacations with fondness. Still, as the kids got comfortable, they started to really enjoy the activities, and the consistently warm air and water would be a true treat in mid-winter.
And the book I had packed with the hopefulness that only a soon-to-be mother to three can muster? Buried in the suitcase. At this age, even with the watchful lifeguards that were stationed around the tot area, my kids still needed to be within my sight (if not at arms reach) at all times - something the sightlines just didn't allow. Even with older children, the waterpark would be too noisy to focus on a book or grown-up conversation.
Though there are several kid friendly meal options right inside the hotel (including a Pizza Hut Express, a burger shack, a bakery and a buffet), we chose to head to nearby Centralia, for dinner. La Tarasca, a family run Mexican restaurant that served some of the most authentic sit-down Mexican food I've eaten outside of Mexico California or Arizona was everything I'd hoped for. Pork carnitas, the house specialty were flavorful and tender while the chicken with Mole sauce was juicy and just spicy enough that i needed to wrap each bite in a fluffy house-made corn tortilla. We wished we could try more of the menu, and our meal was good enough that La Tarasca is likely to become a regular stop on road trips down to Portland.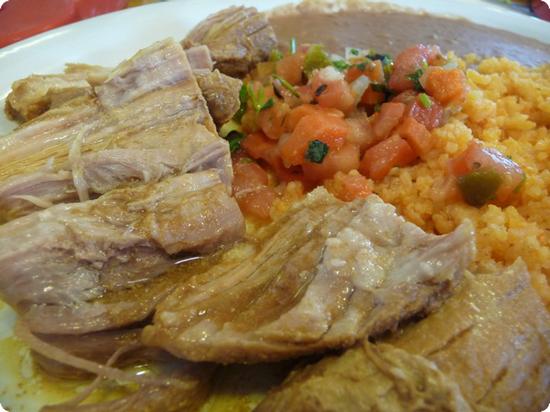 After dinner, the kids put on PJs and headed to the hotel lobby for a "show" and story time. This was the perfect incentive to get the kids ready for bed without the usual drama, and it was easy to pick up their pre-bed milk cups at the lobby's Starbucks. The show itself was a modernized version of the shows I remember at Chuck-E-Cheese in my childhood, with animated forest animals singing about how lovely the forest is (a theme I found ironic given where we were). E cuddled on my lap, a little intimidated by the talking and singing animals, while D would have walked up on stage and doled out kisses if she could.
Completely exhausted, we headed back upstairs to our room for bedtime. Our "Wolf Den Suite", one step up from a standard room included an in-room "cave" complete with bunk beds for the kids. E, who has been begging us for a bunk bed for at least a year could not believe his luck, making even the "get into bed" part of bedtime easier than usual.
I've written before about the trials of getting both kids to sleep when we're on vacation, so I won't rehash the details - but suffice it to say that E was delighted to sleep on the top bunk and settled down fairly quickly (perhaps he was afraid that we'd remove that privilege) D on the other hand couldn't manage being in the bottom bunk alone with me so nearby, and I fell asleep moments after her, snuggled up in the grown up bed - an experience that was made bittersweet with my knowledge that in a few weeks someone else will take poor D's place as youngest and snuggliest at bedtime.
Related Links:
Centralia and Grand Mound WA with Kids
5 comments | Posted on April 27, 2009 |

Save to del.icio.us



Subscribe to our feed