By now, you've probably heard about a recent Continental Airlines flight in which extreme turbulence injured 26 people and caused the flight to make an emergency landing.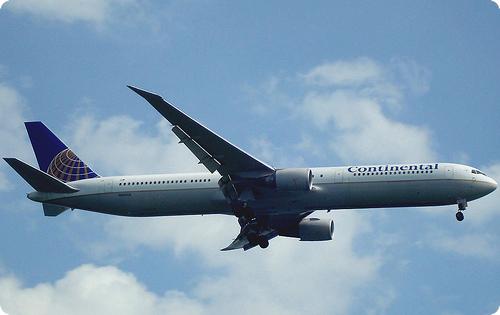 It's easy to ignore the dangers of turbulence. We have all experienced mild turbulence at some point, and injuries are rare. Most of us assume that there will be time to assume a brace position, or in the case of a lap infant, to hold them tight, as the turbulence begins. That's why I found these two quotes from the article particularly frightening.
... passenger, Fabio Ottolini, said some flight attendants who were standing in the aisles when the turbulence hit were thrown against the roof.

"People didn't have time to do anything," AP news agency quoted him as saying.
Without a doubt, the safest place for an infant or young child is properly secured in a car-seat or an FAA approved safety harness like CARES
.
With the high cost of airfares, though, a separate seat for a child under two can seem like a luxury. The FAA allows parents to carry infants on their laps instead of requiring them to buy a seat because statistically it is safer than having them all drive to their destination. If you cannot purchase a separate seat for your child, I recommend flying at a time of day when flights are typically not full so that you can place the child (in their restraint) in an empty seat.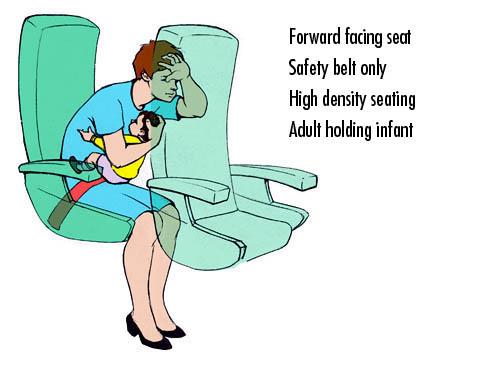 In the event that you do find yourself in turbulence with a child on your lap, what should you do with your child?
An
FAA Advisory on passenger safety
advises:
Adults holding infants should provide as uniform support as possible to the infant's head, neck, and body, and lean over the infant to minimize the possibility of injury due to flailing.
and
Transport Canada advises
:
The infant should be held sitting upright (so that his/her back is in a "vertical" position) and face the adult. A larger infant may need to straddle the adult's hips.
The adult should place one arm around the infant's torso and head and place the other arm against the seat back ahead of the adult, and rest his/her head firmly on this arm.
The adult should then lean forward so the infant is held in the space formed between the adult and the forward seat back. It is very important for the adult to lean forward as much as possible to protect the infant; the closer the adult is to the seat back ahead, the better.

An infant should not be placed across the adult's lap (in a horizontal position); this could result in the infant's head impacting the arm rests during lateral aircarft movements.
Reader Question: Has the recent spate of emergency landings and crashes changed your mind about flying with a lap infant?
13 comments | Posted on August 5, 2009 |

Save to del.icio.us



Subscribe to our feed