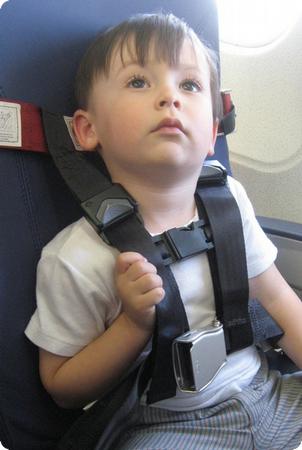 There is lots of speculation and uncertainty about the specifics of the new TSA rules for international flights landing in the United States. There is one thing that seems to be consistent between first-hand passenger reports and TSA document leaks: for the last 60 minutes of flight passengers must remain seated are not allowed to hold any personal items. For parents traveling with kids, that's going to make the final 60 even more tricky than usual, and I hope the rules will be relaxed soon. Still, for anyone flying into the US in the next few weeks, here are my best tips to help you through the last hour of your long-haul flight.
Before Your Trip

Learn some new Finger Rhymes before you go
Pack pullups even if your child is fully potty trained
Pack a marker - you'll see why later
Just Before the "Final 60"

Explain to your child that once the fasten seatbelt light is on they won't be able to get up or play with toys
Give your child a chance to stretch their legs
Offer a final snack. A protein rich snack will help your child feel full
Take a restroom break and put on a pullup - remember the final descent may take more than 60 minutes if there are air traffic or weather delays
If your child wears a diaper, this is the time for one last diaper change in order to avoid a diaper leak
If you are worried your child won't want to put their seatbelt on, do it before stowing toys so that you have a way to distract your child
If possible, try to put your child to sleep, but remember that all loveys, blankets and pillows will need to be stowed for the final 60 minutes of flight.
If your child uses a pacifier to help clear his or her ears in flight, clip it onto their clothing. With any luck, your flight attendant will consider it to be part of the clothing (but never argue with a flight attendant who insists that it is not)
Ask a flight attendant whether a bottle will be allowed, and if so, prepare it in advance so that you do not have to reach into your diaper bag during the "final 60."
Draw "finger puppets" on your fingers
During the "Final 60"

Sing some songs. Even if your neighbors don't love your signing voice, they'll prefer it to the sounds of a fussy child
Finger rhymes and other hand games will help keep your child and their hands occupied
Tell stories or take turns acting out the "parts" in a well loved story
If your child has trouble clearing their ears (bottles and sippies are no longer allowed) let them suck on your (hopefully clean) knuckle or teach them to pretend they are chewing.
Use your drawn on "Finger Puppets" to act out stories and plays
Readers: What suggestions do you have for keeping a child entertained without any books, toys, or electronic devices?
23 comments | Posted on December 27, 2009 |

Save to del.icio.us



Subscribe to our feed