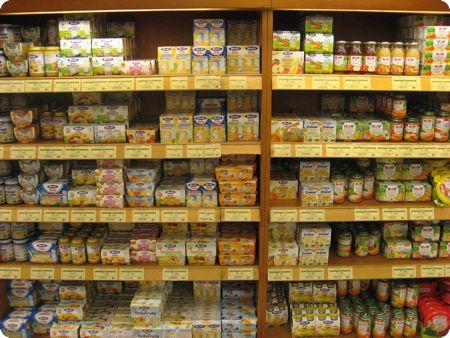 Here is a reader question from Lil, a mom from Charleston, SC who asks:
I've recently discovered your valuable site and just in time too: my husband and I will be taking our 13 month old to England in early February. I love all the helpful advice you give and have already put lots to good use in my planning! However, I have one question I can't seem to answer through my own research and thought you might be able to help.

What are the rules for bring food into the UK? I know in one article you mentioned that you needed to eat all your snacks while on the plane so as not to run into problems declaring them, which I get, but I am wondering about jarred (or plastic-packed, more likely) baby food. My son will eat most anything now, but his comfort food is jarred sweet potatoes, so I wanted to bring a few bottles along to have something familiar on hand while we traveled. Do you know have any experience with this issue or know where I can turn to find the answer? I'd really appreciate the help!

Thanks for all you do and your adventuresome spirit! Your site has made my trip better before I've even left the house!

With thanks,

Lil
Charleston, SC
Thanks so much for your nice note! I hope you have a lovely trip to the UK. Rules and restrictions regarding what fresh fruits, vegetables and animal products may be brought across an international border vary by country, and may depend on how the item is packaged, it's size, or where it originated. The US and Australia tend to be more restrictive than most countries, while the UK is relatively lax.
In general, a good rule of thumb is to eat or discard any open packages or fresh items before your deplane at your destination, but to keep any food that is still in its original packaging (e.g. jarred baby food). You may be asked to list food items at the border, but packaged goods in reasonable quantities are almost never a problem. I have brought jarred baby food with me into Italy, France, the UK, Spain and Canada without any trouble.
If you want to bring something specific with you on a trip, you can consult the local customs regulations to make sure that it is allowed. For the UK, you can find the regulations here DAEFRA: What Food May I bring into the UK. It's interesting to note that infant food and formula (in reasonable quantities) are specifically exempted
A limited quantity that does not exceed that which could be reasonably consumed by an individual of powdered infant milk, infant food and special foods required for medical reasons in personal luggage is permitted. Such items must not require refrigeration before opening, and must be proprietary brand products for direct sale to the final consumer in unbroken packaging unless in current use. A reasonable amount for the length of stay and the number of infants involved will be allowed.
Jarred baby food (including organic) is widely available in the UK, but you are right that sweet potatoes might not be, so you are smart to bring along a few jars! In order to avoid having the baby food confiscated by an overzealous TSA officer before you even leave the ground, consider packing it carefully in your checked baggage. Extra baby diapers make a great cushion for fragile items without adding unnecessary bulk to your luggage.
Good luck! I hope you have a wonderful trip.
If you have a question about traveling with kids, send me email at Debbie AT DeliciousBaby DOT com
Related Links
London With Kids
Meals and Snacks on a Family Vacation
Does Travel With Kids = The McDonalds World Tour
TSA Confiscates Baby Food
1 comment | Posted on February 3, 2009 |

Save to del.icio.us



Subscribe to our feed