If you are participating in Photo Friday this week, don't forget to link back to this post. Linkbacks help new people find out about Photo Friday keep the carnival growing from week to week, ultimately bringing more traffic back to you!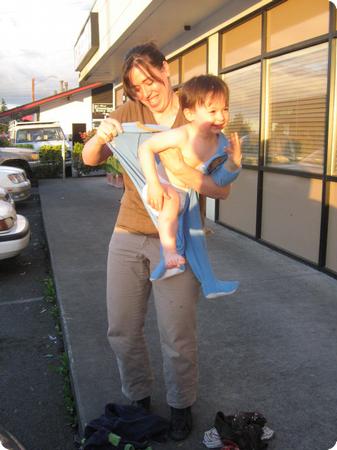 Most parenting experts say that routine is incredibly important for young children. When we're at home, I have to agree, but when we're traveling I'm always surprised at how much the kids delight in the deviations.
In this picture, I'm changing E into his PJs after dinner so that he'll know he should fall asleep in the car. Does he look upset to be taken out of his normal routine? Mad that he's naked outside an (excellent) korean restaurant in a random city? Of course not - putting on Pajamas in a parking lot is the funniest thing he's done all day.
Related Links
Helping Your Baby or Child Sleep on a Plane
Photo Friday: Please Share Your Photos:
Share a favorite travel photo by adding your link below. First timers, here is more Information about Photo Friday
7 comments | Posted on February 12, 2009 |

Save to del.icio.us



Subscribe to our feed