This is a reader question from Kerry, new reader who wants to know how to co-sleep safely while traveling
Hi, I have recently started reading your blog - so much great information! I saw on the Travel Crib Light giveaway that you generally co-sleep on your trips. Do you do anything to make the beds in hotels safer for your kids? Do you have any portable rails or anything like that? We are traveling with our 1-year-old soon on a cruise, and I have been thinking about whether we want to find something portable to make the bed safer. Thanks for any tips that you can offer!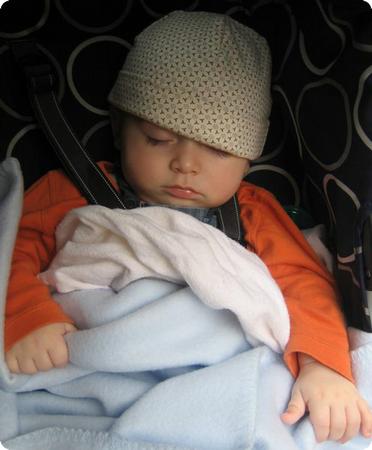 First a disclaimer: I am not a co-sleeping or safety expert, and while we've never had a problem, it is important to recognize that babies do die each year from suffocation or other dangers while co-sleeping. That said, we often co-sleep when we are traveling because it is so much easier for the kids to adjust to a new place when they are snuggled up with a parent.
Before we go to sleep each night, we take time to make sure that our sleep environment is as safe as possible (whether it is a hotel crib, a pack and play, or an adult bed). I jam pillows or rolled towels into any gaps between the bed and headboard, and the child sleeps between my husband and I. I am also careful to clear the area around the bed so that if the child were to fall (say when I got up to go to the restroom) they would not land on anything hard. Co-sleeping also means that we cannot use the thick cozy comforters on most hotel beds. Instead, we turn up the heat, wear pj's, and sleep under a sheet. Finally, many co-sleeping deaths occur because a parent who is sleep deprived, on medication, or has been drinking rolls onto a child in their sleep.
Another alternative is to use a hotel crib, and we often do this when we will spend more than one or two nights in a single location. That said, hotel cribs have a reputation for being old and unsafe. Even at the most diligent hotels, there have been so many recalls of cribs and play yards in the past year, it would be hard to keep up. It is important to inspect any crib you will place your baby or child in carefully, using this handy CPSC Checklist for Inspecting Hotel Cribs.
Readers: Do you have other tips for sleep safety when you travel?
Related Links:
Step By Step Guide to Babyproofing a Hotel Room
12 comments | Posted on March 24, 2009 |

Save to del.icio.us



Subscribe to our feed