New parents who haven't yet flown with their baby for the first time often write in to ask how (and where) to change a baby's diaper on an airplane. My most recent flight was a good reminder of how cumbersome this can actually be! After changing countless in-flight diapers, here are my best tips.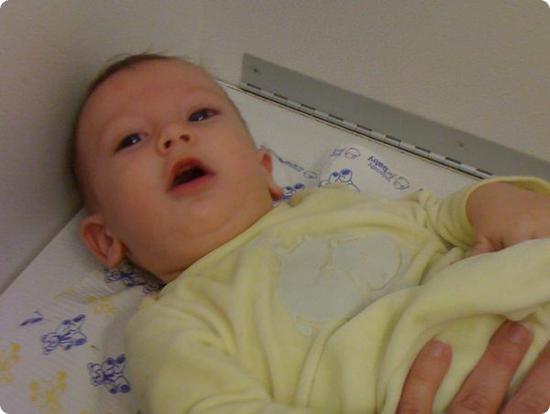 Change 'em before you board: If that diaper is starting to get wet and heavy, change it just before boarding. Not only will you avoid one in-flight diaper change, but you might just avert the dreaded in-flight blowout.
Ask for a changing table Most midsized and large airplanes have a changing table in at least one bathroom. The door is generally marked, but if you aren't sure where to look ask a flight attendant
Have a helper Even with a changing table, a slippery surface and turbulence mean that you won't want to root around in a diaper bag searching for the wipes. Gather everything you need in one hand before heading to the bathroom, and if possible have a traveling companion stand just outside the bathroom and hand you what you need as you need it.
Use a disposable changing pad Disposable changing pads are less bulky than cloth pads, and if one gets soiled in-flight you won't be wondering how to manage the next diaper change.
Use your seat When there is no changing table available, the next best option is to use an empty seat. Be sure to cover the seat carefully and raise the armrest between your seat and the "changing seat" to give yourself a little more room. Expect to dispose of that dirty diaper in the bathroom yourself. Remember that a flight attendant might be in the process of handing out drinks or snacks and it would not be sanitary for him or her to dispose of it..
Stand up baby When even using a seat isn't possible, stand baby up on your lap (with the changing pad covering your legs) and do your best.
Don't expect perfection If you are worried about the low quality diaper changes you'll probably be giving in the air, slather on the ointment before you leave home and expect to give baby's bum a thorough cleaning upon arrival.
Bring a Bag Pack a few disposable plastic bags in your diaper bag. Your fellow passengers will thank you for bagging a soiled diaper before you throw it in the trash, and you can also use plastic bags to store any clothes that become soiled en-route.
Bring Your Sense of Humor You'll land soon!
Do you have any other tips or tricks? Tell me in comments.
Related Links
Tips: Bring Diapers For Potty Trained Kids
Airplane Carryon Checklist for Flying With Baby
10 comments | Posted on March 30, 2010 |

Save to del.icio.us



Subscribe to our feed