This is a guest post by Sarina Behar Natkin, a Parent Educator and Consultant in the Seattle area. Sarina has very generously shared some of her best advice about how you can help your kids understand the process of going through TSA security at the airport, the new backscatter imaging devices, and TSA's enhanced pat downs.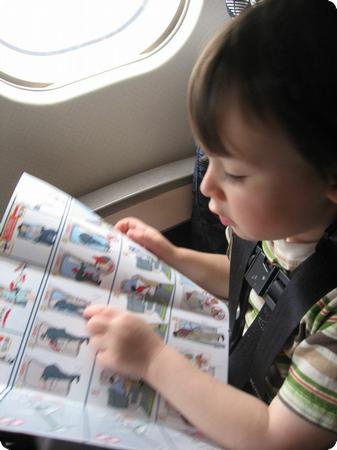 The new TSA airport screening measures are creating a great deal of anxiety for parents. Many parents are not willing to use the new body scanners until we know more about whether they are safe for kids. The other option, the full body pat down, is creating just as much fear and anxiety in parents.
We are so careful to teach our children that their body is their own and that they do not have to be touched by anyone they do not want to be touched by. So what do we tell them now?
This is a conversation to have at a time when we are calm and have the time to really be present. The conversation should be short and in very simple terms.

Here is what I would say:
For our safety, we need to be checked at the airport to make sure everything we bring with us is safe.
Some people may bring things that are unsafe and the airport must check us pretty close.
There are two options- a scan like an x-ray or someone feeling our body to make sure we don't have anything unsafe under our clothes. They have to do these things to everyone even though we know we do not have anything unsafe with us.
We are concerned about the scanning machine, because it is really new and we don't know much about it. So for now, we are going to be checked by hand.
This is one of those times that it is ok to be touched, like when mommy or daddy or the doctor touches your body to check and make sure everything is ok.
I will be here with you and if anything feels uncomfortable to you, please tell me.
On the day of travel, be sure to:
Remind your child what will happen when you get to security.
Go through security, do your very best not to project your own anxiety outward. If we are calm, our children are more likely to be as well.
Afterwards, I would just do a very brief check in. Was that ok for you? don't press it if they don't respond.
As always, leave the door open for more conversation.
Our own anxiety in this situation is a big predictor of how our children make meaning of the experience. This means taking care of ourselves to keep our own anxiety in check.
Leave yourselves lots of time. Being rushed will only make it more stressful and scary.
Allow yourself to change your mind if you feel like the other option might be better at that time.
Be careful how we talk to and interact with TSA in front of our kids.
This is new for all of us parents just as it is for our kids. You can tell your kids that too! It makes it a learning process for all. As we know more about the possible health risks of the scanner and hopefully get some protections in place for the pat downs, hopefully this will become less scary for all of us.
Here's more about Sarina: Sarina Behar Natkin is a Licensed Clinical Social Worker, Certified Gottman Educator and Certified Positive Discipline Parent Educator with over 15 years of experience helping families. She currently provides parent education and consulting in the Seattle area.
17 comments | Posted on November 18, 2010 |

Save to del.icio.us



Subscribe to our feed