We were the hosted guests of the Great Wolf lodge two years ago, and decided to make this return trip entirely at our own expense. Nobody (except the computer reservations system) from the lodge knew that we would be returning or that we would be writing about our adventure, and my writing always reflects my own opinion. Whenever I accept a free product or service I will always let you know.
The last time we were at Great Wolf Lodge, Eilan was still in my "tummy," Darya was 2 1/2 and Everest was just about to turn 4. The kid focused trip was my guilt-ridden suprise for the kids, one last chance for them to have our complete attention before Eilan would be born. Now, two years later, we returned to Great Wolf lodge as a quick getaway at the tail end of midwinter break. This was a cheap and easy substitute to the longer vacation to Hawaii, or Palm Springs or.... Bali that I wish I'd been able to manage.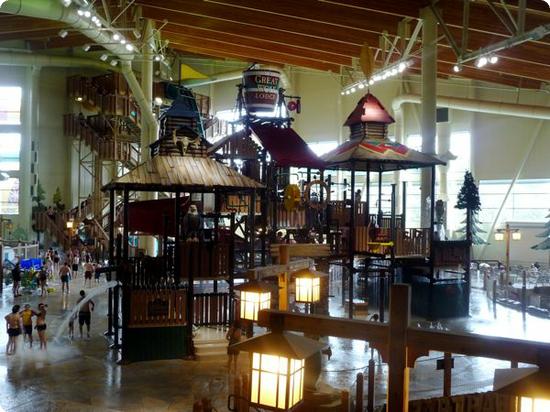 The kids weren't pining for anything else though. In fact, I undersold this vacation in every possible way. Let's go stay in a hotel for a night, I said. I'll try to find something with a pool if you want. It wasn't until we pulled off the freeway in snowfall heavy enough that it was beginning to make driving difficult that the kids started to put it all together. Wait a minute, mommy, that looks like Great Wolf Lodge announced Darya. After a few minutes, Everest (who is really starting to realize how useful it is to know how to read) confirmed that she was right. I wish I'd had my video camera out at that moment. The chatter in the back seat of the car was ADORABLE
My husband dropped us off in the hotel drive, and without even grabbing our snow jackets we rushed out of the snow and into the warm air of the hotel lobby. The kids jetted past the checkin line and straight back to the huge floor to ceiling windows that showcase the waterpark. We'd return in a few minutes to join the other families waiting to check in, get their wristbands, and gain entry to the waterpark (Every guest at Great Wolf gets a wristband to wear. The wristbands give you access to the waterpark from 1pm on your checkin day until closing on the day you check out. The can also be used to open your room door and to charge food and other items to your room.
With our room not yet ready (the hotel would page us later with a room number) we headed straight into the water park, changing in the huge locker rooms next to the kiddie pool.
And then we were off to the races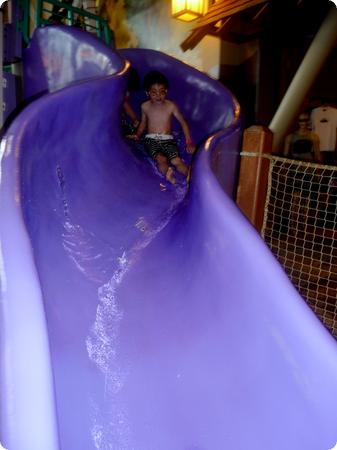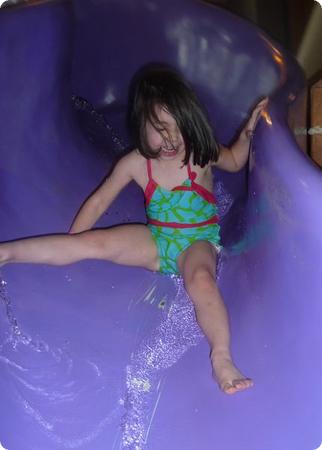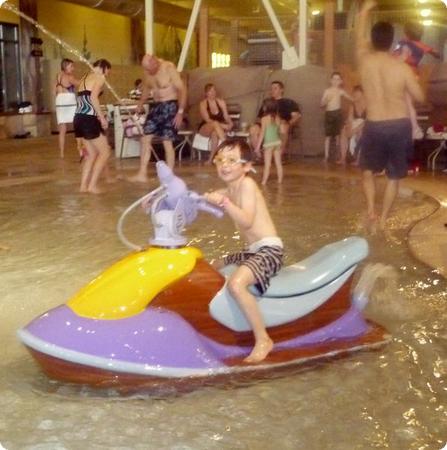 Eilan wasn't so sure about all the noise and splashing, and he stayed in my arms most of the time, and finally retired to the sidelines for a snack.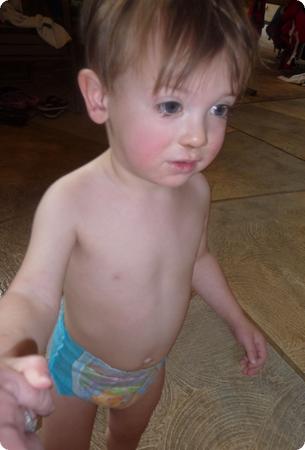 And finally, drenched and tired, we decided to check out the room. The kids loved climbing in and out of the bunk beds in their own little nook, and at the end of the day they actually raced into bed (though not without the required drama about teeth-brushing).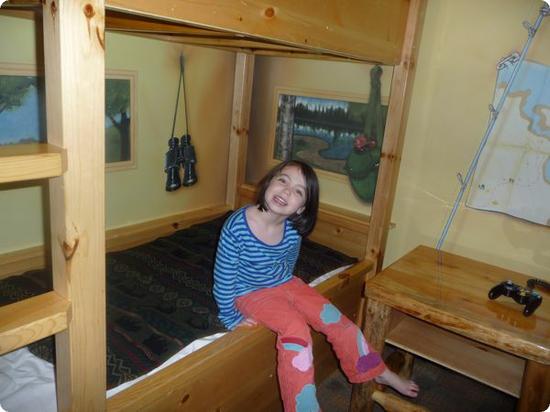 I won't bore you with more pictures from day two - imagine splashing, pizza and a truckload of arcade tokens and you've pretty much got the picture. As the sun set, we piled our tired kids in the car and drove back home to Seattle, and I think all of us were ready for a day or two of quiet. Still, in the midst of a dreary cold winter, it was nice to make a quick and easy getaway and to be active and warm for a few days!
Related Links:
Kid Friendly City Guide: Great Wolf Lodge Grand Mound
Family Vacation at Great Wolf Lodge
Great Wolf Lodge with Toddlers

10 comments | Posted on March 9, 2011 |

Save to del.icio.us



Subscribe to our feed