This is a guest post written by Kristen Stewart. Kristen is a freelance writer whose work has appeared in Parenting, Parents and AARP: The Magazine, and I feel very lucky to have her writing here. Kristen's kids are 13, 10 and 6.
If you're looking for a peaceful Florida getaway spot then keep looking. The Nickelodeon Suites Resort is not for you.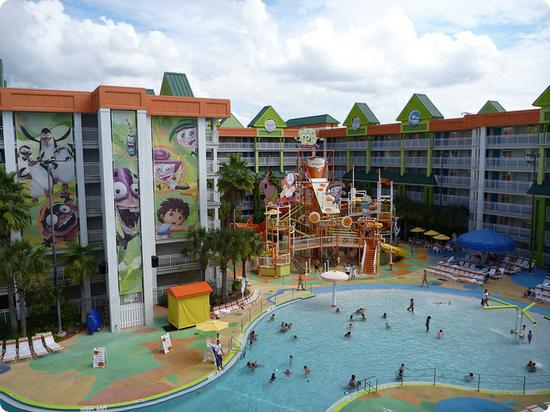 But if your kids sing the SpongeBob SquarePants theme until you think your head might explode, then you've come to the right place.
This resort is all about Nickelodeon. From the bright orange and neon green colors to the gigantic cartoon faces painted on the top of each building you will not forget why you came. This is definitely a resort for the young—and young at heart—wanting to have fun in a variety of ways.
When we arrived it was almost hard to know where to start. By the time we left we had hit almost everything.
We began the afternoon at the large courtyard pools and water park enjoying water slides, mini golf and even the mass sliming where people gather for a countdown before getting covered in green liquid. (It looked suspiciously like green water to me but when I asked an employee I was told that the answer is top secret.)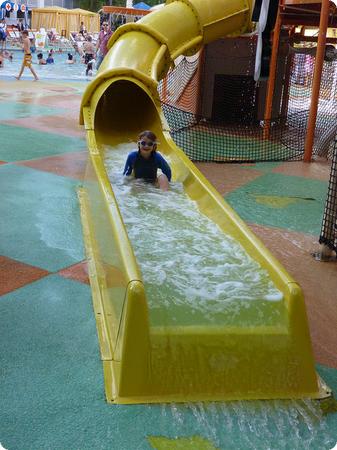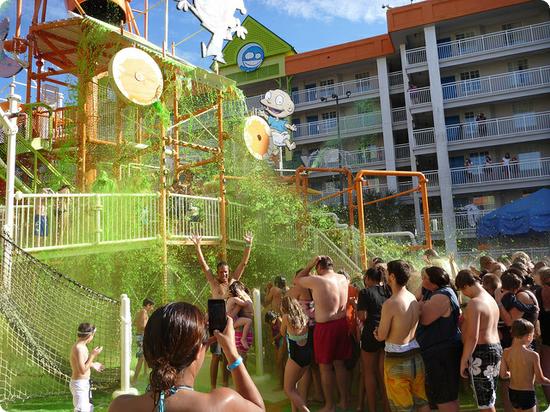 In our time at the resort we also attended a character breakfast with SpongeBob and Squidward, saw two of seven 4-D movies at the onsite theater and wandered the arcade. Other entertainment options include several live interactive shows like Slime Time Live! full of pies and of course slime. For a fee they even offer a kids' spa complete with hair braiding, manicures and temporary tattoos.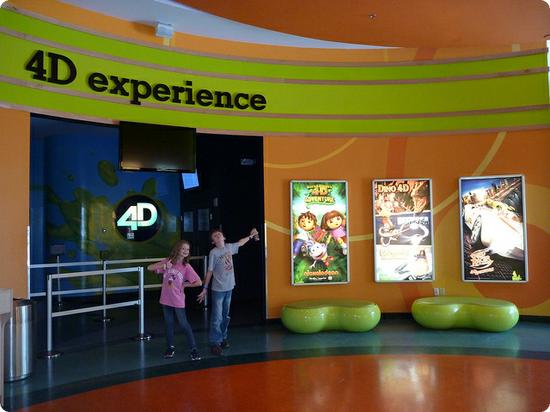 In the end we enjoyed all of the activities we did. This is clearly a resort designed for families so there were a lot of kids at the pools but it wasn't excessively crowded. One morning we went to the character breakfast which was nice. Several characters visited the table and we were able to take pictures with SpongeBob in the entry way. The food was buffet style with a wide variety of cooked-to-order omelettes, pancakes, waffles, french toast sticks, fruit, bagels, etc. Definitely something for everyone.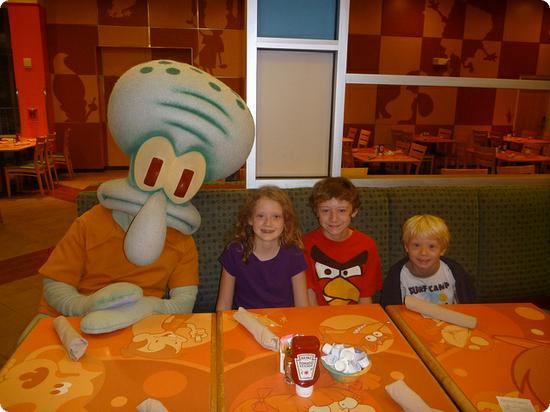 It was fun to do the special breakfast once but we were also perfectly happy with the regular buffet. The choices were a bit more limited (scrambled eggs already cooked and french toast sticks but no waffles or pancakes) but my gang still easily filled up on all that plus bacon, potatoes, cereal, bagels, muffins, etc—and the price was a little less expensive than the character breakfast.
Note there are other counter food places onsite as well—Subway, Uno Express, a grill place for sandwiches, salads and hot dogs, etc along with a tea and coffee counter and even a bar for the grownups. We grabbed a snack the first afternoon and enjoyed our grilled cheese and hot dogs (not to mention the biggest container of chocolate milk my kids had ever seen). It was tough finding a table that didn't have crumbs all over it even though the place wasn't busy but we did finally succeed.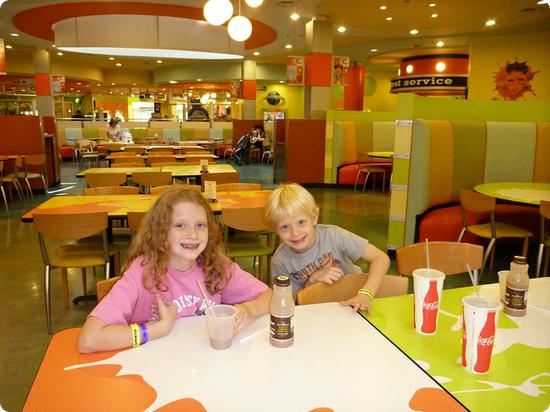 During our stay we saw the SpongeBob SquarePants and Extreme Log Ride movies and would have liked to see others if time had allowed. They are short—the two we saw were between 5 and 10 minutes—but in that quick time they still made ample use of squirting water (be warned).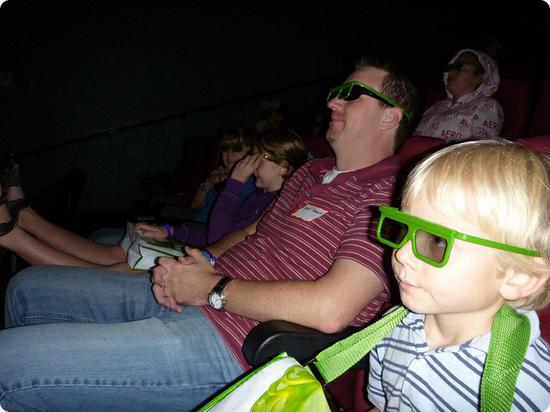 The arcade offered a wide choice of games—though buyer beware they use a point system that worked out to about $1.50 to $2 per game so it can add up quickly.
All in all for families looking for a fun atmosphere with a lot going on the Nickelodeon Suites Resort will not disappoint. In my next post I'll give you the inside scoop on the rooms themselves…
Related Links
LEGOLAND Grand Opening Part 1
LEGOLAND Grand Opening Part 2
Orlando With Kids
LEGOLAND California with Kids
Kristen was the invited guest of the Nickelodeon Suites Resort. Neither the resort, nor LEGOLAND required that she express a particular point of view, and the opinions expressed in this article are her own.
0 comments | Posted on November 2, 2011 |

Save to del.icio.us



Subscribe to our feed