Personal commitments kept me from attending the LEGOLAND grand opening in Florida last week, but I'm so lucky to have an East Coast friend with kids who was able to check it out and write about her experience! Kristen Stewart is a freelance writer whose work has appeared in Parenting, Parents and AARP: The Magazine, and I feel very lucky to have her writing here. Kristen's kids are 13, 10 and 6.
My previous posts offered our personal experiences at Legoland Florida. Today I'd like to answer some common questions and provide some facts to consider when thinking about a Legoland visit.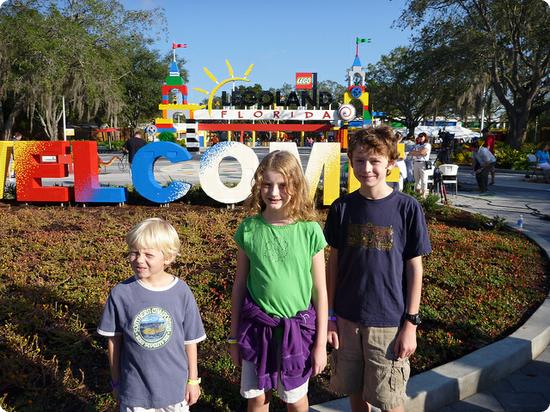 Where is Legoland Florida? How can I get to Legoland Florida?
The park is located in Winter Haven, Florida which is 45 minutes southwest of Orlando and 45 minutes east of Tampa. On our trip we stayed in Orlando and made the trip in about 40 minutes. Even on a week day (in our case a Friday) we did not hit any traffic either direction despite traveling at what would generally be rush hour times (8:30-9:15 am and 5:00-5:45 pm).
If you are staying in Orlando, another option is the Legoland Shuttle. It leaves from the Orlando Premium Outlets® on Vineland Ave. at 9am on park opening days and costs $10 per person.
How many Lego blocks are used at Legoland Florida?
More than 50 million. Wow!"P>
Should I spend two days at Legoland? Should I stay overnight in Winter Haven?
For our family one day at Legoland would be the perfect amount of time. We would be able to do everything we wanted to and still ride the roller coasters multiple times. (Crowd levels naturally will dictate how long lines are and how many rides you will be able to go on.)
At the moment Legoland Florida is the big highlight of the area though park officials said they are working on a water park and Lego-themed hotel and resort for the future. (For people who do want to say in Winter Haven there are basic hotels in the area—I could see a Best Western from the Legoland park itself—but no full featured resort experiences.)
For us the drive was easy enough and we preferred staying in Orlando with the option of eating dinner and shopping at Downtown Disney and taking advantage of bigger family-friendly hotels.
Has much of Cypress Gardens been preserved? How much remains the same?
I had never been to Cypress Gardens but from what I understand it had a southern plantation feel complete with southern belles. Legoland has tried to pay homage to its predecessor in several ways. A southern belle made out of Legos greets guests.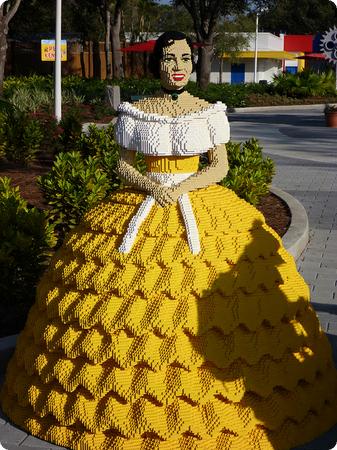 The Flying School and Coastersaurus were renovated from roller coasters that existed at the previous park and a lot of the trees and landscaping around Coastersaurus were retained to give it a nice shady feel. Island in the Sky and the water ski show are also holdovers (though the water ski show is now Lego-themed).
Most familiar will be the actual gardens which are off to the west side of the park. We were surprised at how little signage there was either directing people there or even when you got there. There was a big bridge leading into the area with absolutely no signs at all—we half wondered if we were in the right place and asked an employee to make sure.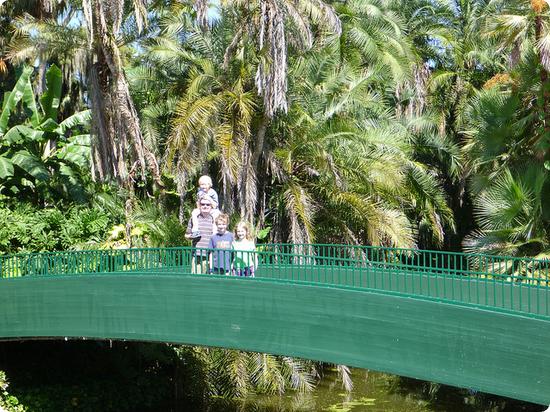 If I have already visited Legoland California, should I make a special trip to see Legoland Florida?
The answer to this really depends on how much you like Legos and these particular attractions. There is a very large overlap (probably about 75 percent) so if someone liked them in California they'll like them in Florida. However, it is not so unique that you'd be getting a truly new experience for the most part.
What hours is Legoland Florida open?
Be sure to check out the official Legoland hours and opening days for the park calendar and hours. While the schedule could change it's important to note from November 2011 through February 2012 Legoland Florida is closed on Tuesdays and Wednesdays (except during holiday weeks), and that the park is typically open from 10 to 5.
How much does Legoland Florida Cost?

As of this writing, adults ages 13 to 59 are $75 plus tax while kids 3-12 and seniors (60+) are $65 plus tax. Kids under 3 are free. If you plan to visit the park for a second day, you can upgrade your one day ticket to a two day pass at the Guest Relations.
Parking is $12.
How can I save money on a trip to Legoland?
Before booking a trip to Legoland Florida, do your homework. A number of hotels both in Winter Haven and in the Orlando area have partnered with LEGOLAND to offer packages and deals.
If you are considering a trip to Legoland, sign your kids up for a LEGO Club magazine subscription at two years free for residents of the U.S., Canada, Ireland and the UK). Not only will they enjoy the magazine full of comics, activities, etc but as of this writing it contains coupons to Legoland California so it may conceivably add coupons to Legoland Florida in the future. (The September/October 2011 issue has a coupon for a free child's ticket with the purchase of an adult ticket to Legoland California and SEA LIFE Carlsbad Aquarium.) One last thing to note—the coupon does not seem to appear in the LEGO Club Jr. magazine so be sure to indicate on the subscription form at least one child in the 7-12 or 13+ age range to receive the regular version of the magazine.
If you live nearby, there are two additional options that might work well:
Consider a standard annual pass at $129 plus tax for adults and $99 plus tax for kids and seniors. (Other passes with greater benefits—and a larger price tag—also exist.)
Check Costco.com or your local Costco for discounted tickets. At this writing, Costco sells a Legoland California pass that can be used for any three days over the course of one year, plus a visit to the Legoland Water Park for $99. Other options or passes may become available over time.
Beware of buying discounted passes online as they may not always be valid once you arrive at the park
Anything else to know?
One last tip to leave you with. Be sure not to miss the Factory Tour. While "tour" is a little bit of a stretch—my older kids weren't fooled for a minute into thinking the Legos they saw coming down the conveyer belt had actually been made onsite—everyone was pleased to receive the free Lego block imprinted with Legoland Florda as a keepsake.
Related Links
LEGOLAND Grand Opening Part 1
LEGOLAND Grand Opening Part 2
Orlando With Kids
LEGOLAND California with Kids
Clearwater Beach Florida with Kids
5 comments | Posted on October 31, 2011 |

Save to del.icio.us



Subscribe to our feed