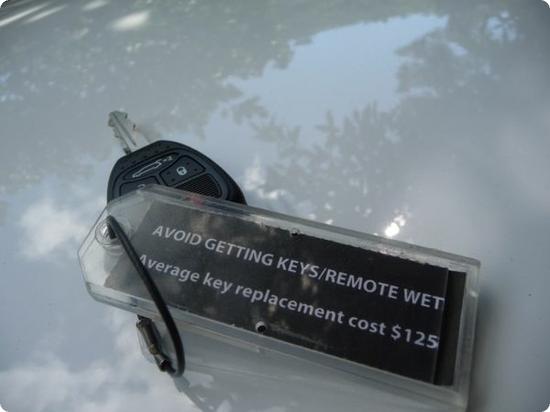 While we were in Hawaii, Eilan and I rented a car and took a daytrip to Oahu's North Shore. Our rental car keys were tagged with a warning I'd never seen before. Clearly it's needed because the keys end up in someone's pocket in the ocean, but somehow it struck me as funny that it might be just as appropriate in Seattle where hardly anything escapes the rain.
Related Links
Honolulu and Greater Oahu with Kids (City Guide)
Aulani Resort in Pictures (Part 1)
Aulani Resort in Pictures (Part 2)
What is Photo Friday?
Post a travel photo on your site. It can be about any topic, as long as it is G-rated.
The focus of the post should be on your photo.
You don't need to be a professional photographer (I'm not), but do showcase your best work, and make it big enough to see well!
It's nice to include a few sentences about the photo, but it is not required.
Link back here so that your readers can see all the other great Photo Friday posts.