Cars land is officially open, and I was lucky to visit with my husband and three kids during the Californa Adventure Grand Reopening Celebration! I wanted to share a few pictures and early thoughts. I'll be sharing more stories this week, culminating in a giveaway next Monday for four passes to Disney's California Adventure so that you can check it out for yourself!
Darya and I were in such a rush to get out in the morning, that we forgot how cool California mornings can be. She's wrapped in my windbreaker, but happy as a clam!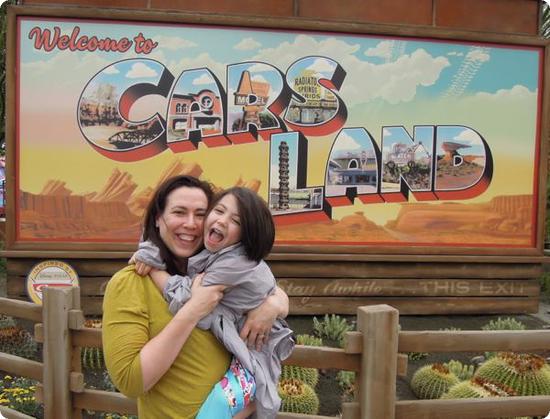 If you follow me on Instagram, you already know that my kids hadn't seen the Cars Land movie. A hastily scheduled movie night the weekend before our trip, was just what the doctor ordered... It's the travel blogger version of cramming for exams. The upside of all that "hard work" was that the movie was fresh as we walked on what felt like a real-life set straight out of the movie. Honestly, having an animated world come to life in such vivid detail was a strangely disorienting feeling.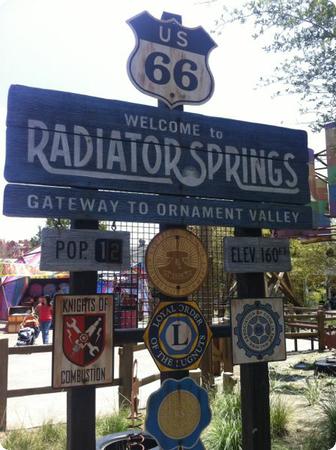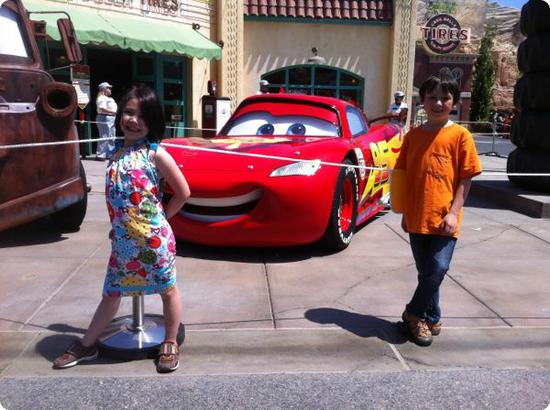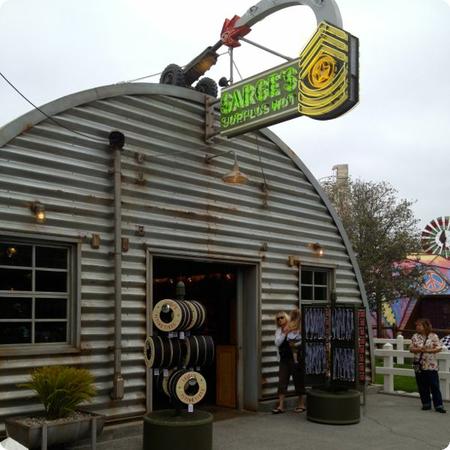 A massive rockwork serves as the backdrop to Cars Land. It's hard to tell the scale in pictures, but this is 280,000 square feet and 125 feet tall at its peak. For me, it was an element that transported me back to our own family road trips through New Mexico and Arizona. In the early evening it reflects the warm glow of the sun to an absolutely beautiful effect.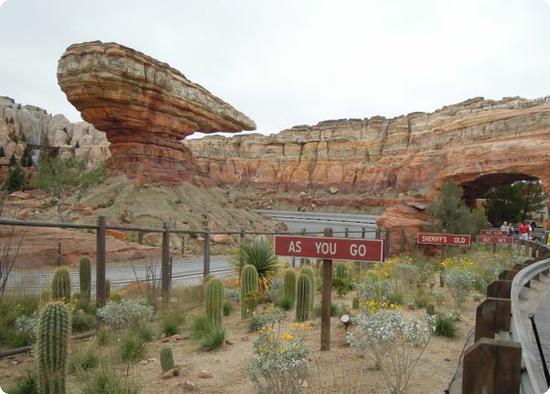 The rockwork isn't just ornamental though, it's the race track for Cars Land's "E-ticket" ride, the Radiator Springs Racers. Even if you're not up for the fast moving ride, there are benches where you can sit and watch as the cars roar by, or grab a bite to eat at Flo's V8 Café which overlooks the track.
If the Rockwork and the Radiator Springs Ride are your ultimate destination, Route 66 is the route you'll take to get there. And along the way, you'll see many familiar sites, reworked to house the essentials of a Disney attraction.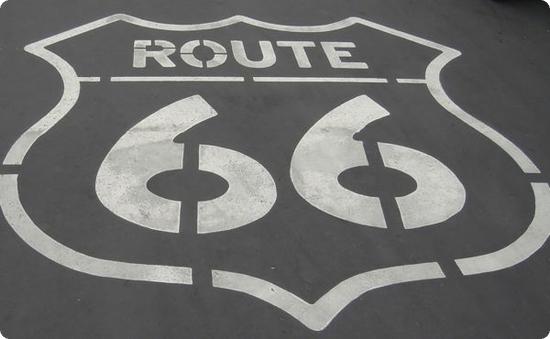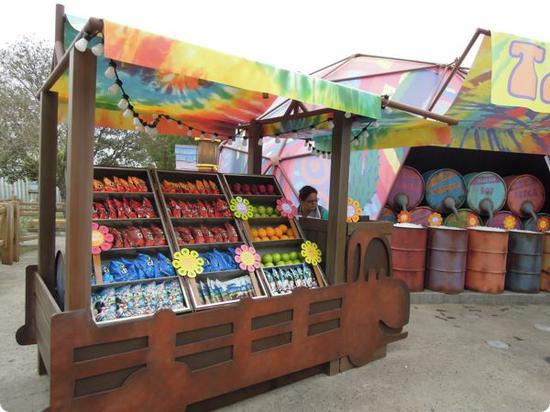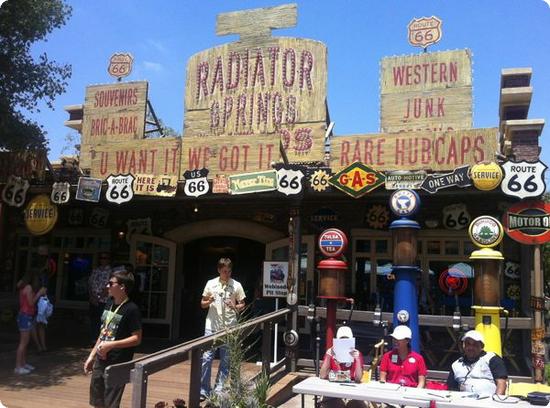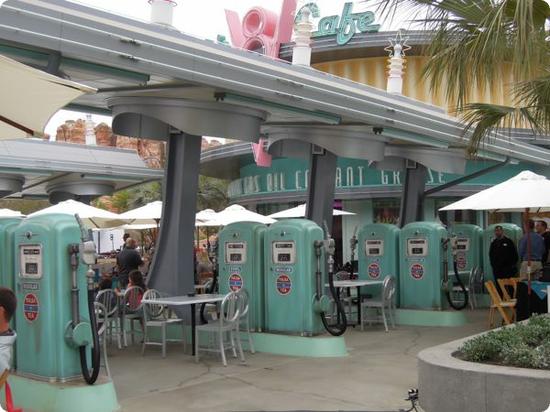 The Cozy Cone Motel is here too. Somehow these cones just seem to cute to be real, and as we approached them, I heard Darya let out a deep breath and say "ooooohhhhhh, mommy, look, there's something inside."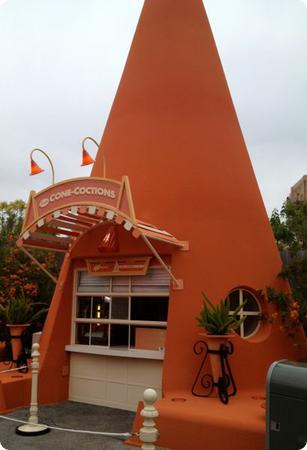 Each cone houses a different fast-food option (served in a cone of course). I thought these pretzels were too adorable to pass up.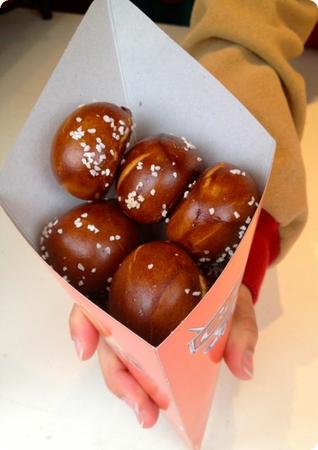 Somehow the rockwork and the retro color scheme work together to create an environment that's very pleasant to be in. The incredible level of detail adds to the experience too. No element is too insignificant to be overlooked.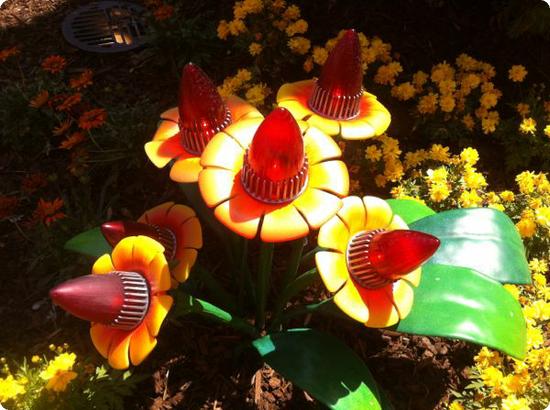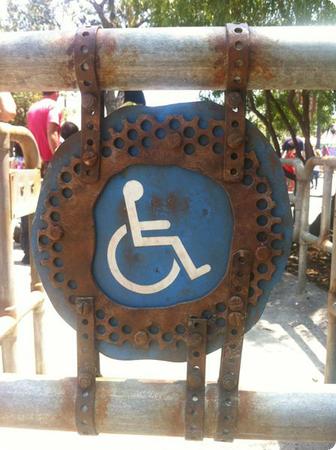 At nighttime, the neon lights on Route 66 flicker to life and together, signs like this one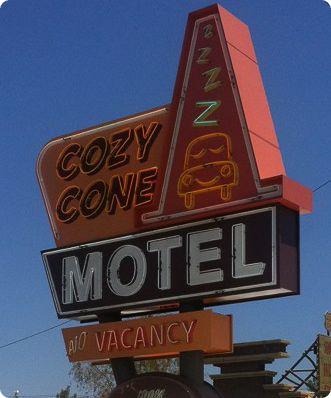 Create an effect like this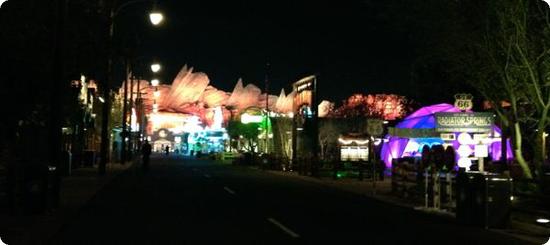 I hope I've given you a good visual taste of what it feels like to be in the new Cars Land. Up next: I'll post about the rides inside Cars Land!
Related Links:
Orange County, California with Kids
Cars Land: A Sneak Peak at Disney's Newest Themed Land
Disneyland by Memory
10 Activities near Disneyland that Kids and Adults will both love
Disney paid for my flight to Orange County, a hotel room at the Grand Californian Hotel, and gave us advance admission to Disney's California Adventure so that we could check out all the new attractions that have been added over the past few years. They did not ask that I express that any particular point of view.
12 comments | Posted on June 18, 2012 |

Save to del.icio.us



Subscribe to our feed