Cars Land is officially open, and I was lucky to visit with my husband and three kids during the Californa Adventure Grand Reopening Celebration! Everyone's big question (including my own before we went) is "what are the rides like?" I'm excited to be able to share peek at each of three rides in Disney's new Cars Land
The first ride you'll see (and hear) as you enter Cars Land is Mater's Junkyard Jamboree. At first glance, this looks like a slow ride or maybe a Cars themed update to the teacups. Twenty two tractors circle around doing a sort of square-dance to music from Mater's jukebox. Riders sit in a cart pulled behind each of the tractors. As the tractors do-si-do and switch tracks you are whipped from side to side, sliding around in your seat. Brace yourself, this is way more fun, and significantly less sleepy than it looks from the outside.
This ride is for 32" high and above, and you'll want brace yourself if you're riding with little kids so that you don't slam into them.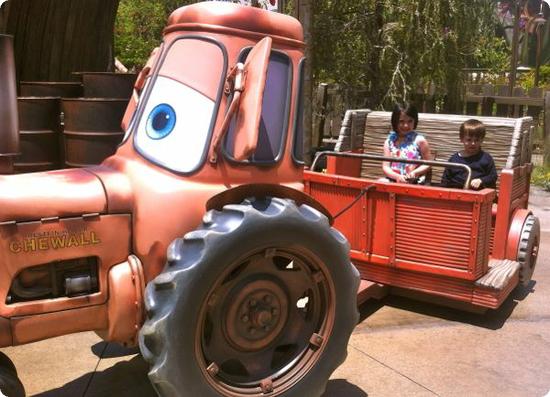 They look tentative here, but once the ride started, all three of us were laughing and screaming each time our cart whipped around.
I'm a fan of details, and like everything else in Cars Land, this ride really does transport you to another place. Darya's bright colors hardly look like they belong in this environment.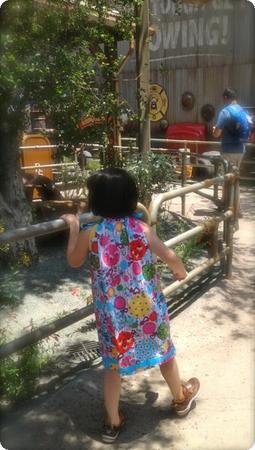 Here's a peekabo view of the ride from the waiting area - don't you just love that pillar covered in (faux) old license plates?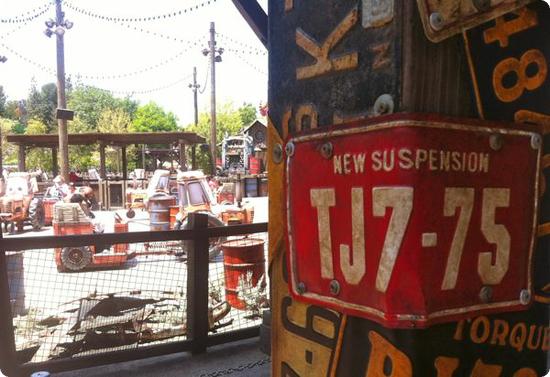 And each tractor is a little different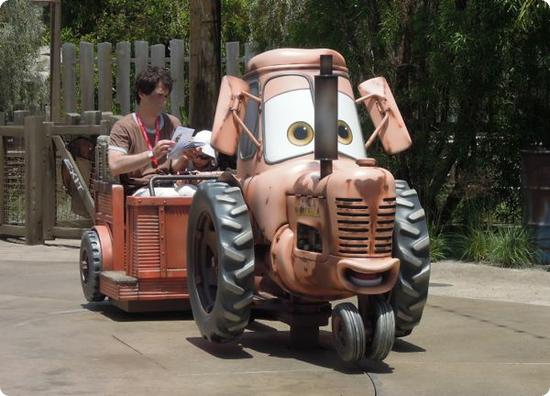 And here are a few things you won't see if you visit the park today - early previews and sketches for the Mater's Junkyard Jamboree ride.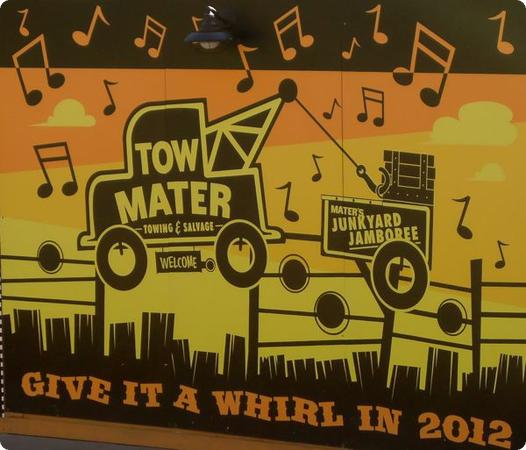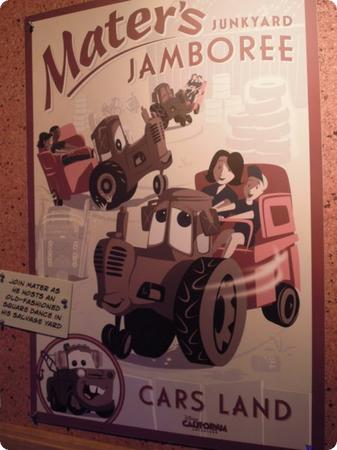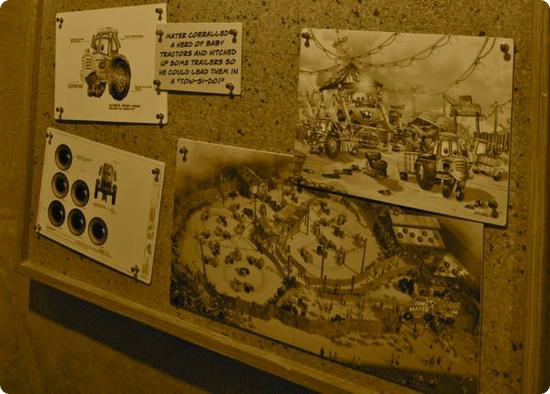 I hope you enjoyed this peek into Mater's Junkyard Jamboree Ride! Tomorrow I'll tell you about Luigi's Flying Tires, and I hope to have some video up soon too.
Related Links
Orange County and Cars Land with Kids
Bravery at Disney's California Adventure
Cars Land's Route 66 in Pictures
Mater's Junkyard Jamboree Review
Disney paid for my flight to Orange County, a hotel room at the Grand Californian Hotel, and gave my family advance admission to Disney's California Adventure so that we could check out all the new attractions that have been added over the past few years. They did not ask that I express that any particular point of view.
0 comments | Posted on June 25, 2012 |

Save to del.icio.us



Subscribe to our feed